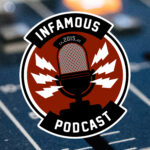 Rebels Mutants and the End of an Era!
This week on the podcast Johnny and Brian are talking the change in ownership at Valiant, The Gifted on Fox, and the final season of Star Wars Rebels!
Valiant Comics Gets a New Owner
Valiant Entertainment's foray into fleshing out a cinematic universe for its stable of comic book characters may be about to get a whole lot more ambitious. Under a newly-announced buyout that puts Valiant in the hands of DMG Entertainment, it looks like we'll be getting a whole lot more character crossover — and a whole lot more movies.
Source: SyFy Wire
The Gifted
The Gifted is an American television series created for Fox by Matt Nix, based on Marvel Comics' X-Men properties. It is connected to the X-Men film series, set in an alternate timeline where the X-Men have disappeared. The show is produced by 20th Century Fox Television in association with Marvel Television, with Nix serving as showrunner.
Cast & Crew
Created by
Matt Nix
Based on The Marvel Comics by
Stan Lee
Jack Kirby
Executive producer(s)
Stan Lee
Alan Fine
Karim Zreik
Joe Quesada
Jim Chory
Jeph Loeb
Len Wiseman
Simon Kinberg
Bryan Singer
Lauren Shuler Donner
Matt Nix
Main Cast
Stephen Moyer as Reed Strucker
Amy Acker as Caitlin Strucker
Sean Teale as Marcos Diaz / Eclipse
Natalie Alyn Lind as Lauren Strucker
Percy Hynes White as Andy Strucker
Coby Bell as Jace Turner
Jamie Chung as Clarice Fong / Blink
Blair Redford as John Proudstar / Thunderbird
Emma Dumont as Lorna Dane / Polaris
Hayley Vovitt as Sage
Dlena Satine as Sonya Simonson / Dreamer
Skyler Samuels as Stepford Cuckoos
Episodes
eXposed
rX
eXodus
eXit strategy
boXed in
got your siX
eXtreme measures
threat of eXtinction
outfoX
eXploited
3 X 1
eXtraction
X-roads
Star Wars Rebels
Disney XD finally released a trailer for the final countdown (watch it above). It shows Emperor Palpatine making his Rebels debut, voiced by Ian McDermid, who played the character in The Empire Strikes Back, Return of the Jedi and all three prequel films.
The Emmy-nominated series that blasted off in 2014 is ending as Disney's Star Wars: The Last Jedi continues its billion-dollar assault on Planet Earth. Disney XD will air back-to-back 30-minute episodes on February 19 and 26, culminating with another new half-hour and the 90-minute series finale on March 5. All of the new episodes will be available on VOD and digital platforms the day after their TV airings.
Star Wars Rebels Mid-Season 4 Trailer (Official)
Cast & Crew
Freddie Prinze Jr, Vanessa Marshall, Steve Blum Tiya Sircar, Taylor Gray, Dee Bradley Baker, David Oyelowo, Mary Elizabeth McGlynn, Lars Mikkelsen and Warwick Davis lead the voice cast of Star Wars Rebels. Dave Filoni, Simon Kinberg and Carrie Beck created the series, with Filone and Kinberg executive producing. Henry Gilroy is the co-EP.
Source: Deadline
New Comics This Week – Sponsored by comiXology
When you check out make sure to use the code 'Infamous' to get $5 off when you spend $15!


Johnny
ASTRO CITY #50
BIG TROUBLE IN LITTLE CHINA OLD MAN JACK #5
ETERNITY #4
MOON GIRL AND DEVIL DINOSAUR #27
OUTCAST BY KIRKMAN & AZACETA #33
QUANTUM & WOODY (2017) #2
STAR TREK BOLDLY GO #16
STAR WARS ADV FORCES OF DESTINY ROSE & PAIGE
STAR WARS DOCTOR APHRA #16
STAR WARS LAST JEDI DJ #1
Brian
AMAZING SPIDER-MAN RENEW YOUR VOWS #15
DETECTIVE COMICS ANNUAL #1
INCREDIBLE HULK #712
JEAN GREY #11
PHOENIX RESURRECTION RETURN JEAN GREY #5
STAR TREK BOLDLY GO #16
STAR WARS DOCTOR APHRA #16
STAR WARS LAST JEDI DJ #1
Contact Us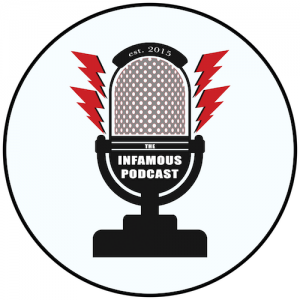 The Infamous Podcast can be found wherever podcasts are found on the Interwebs, feel free to subscribe and follow along on social media. And don't be shy about helping out the show with a 5-star review on Apple Podcasts to help us move up in the ratings.
@infamouspodcast
facebook/infamouspodcast
instagram/infamouspodcast
stitcher
Apple Podcasts
Google Play
contact@infamouspodcast.com
The music in this episodes is Moose from Bensound.com. The Infamous Podcast is Johnny Pottorf and Brian Tudor, and is produced and edited by Brian Tudor.

Subscribe today!