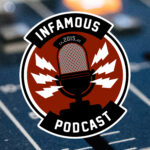 Gorgeous Ladies Flying Thur the Air!
This week on the show Johnny and Brian visit the world of GLOW, the latest hit Netflix Original series. They also talk YouTube Red's order of the Dough Liman Jumper series Impulse, Explain the Marvel/Sony Spider-Man deal in preparation for the upcoming Spider-Man: Homecoming release and Comic-Con is staying put in San Diego!
News Bites
YouTube Red Orders Doug Liman's Jumper Series 'Impulse'
Marvel and Sony Spider-Man Deal Explained
Comic-Con International To Remain in San Diego
Summary
GLOW is an American comedy-drama television series created by Liz Flahive and Carly Mensch. The series revolves around a fictionalization of the characters and gimmicks of the 1980s syndicated women's professional wrestling circuit, the Gorgeous Ladies of Wrestling (or GLOW) originally created by David McLane. The first season consists of 10 episodes[4] and was released via Netflix on June 23, 2017.
Created by
Liz Flahive
Carly Mensch
Executive Producers
Liz Flahive
Carly Mensch
Jenji Kohan
Tara Herrmann
Series Cast
Alison Brie … Ruth Wilder/Zoya the Destroya
Betty Gilpin … Debbie Eagan/Liberty Belle
Sydelle Noel … Cherry Bang/Junkchain
Britney Young … Carmen Wade/Machu Picchu
Marc Maron … Sam Sylvia
Britt Baron … Justine Biagi/Scab
Kimmy Gatewood … Stacey Beswick/Ethel Rosenblatt
Rebekka Johnson … Dawn Rivecca/Edna Rosenblatt
Sunita Mani … Arthie Premkumar/Beirut the Mad Bomber
Kate Nash … Rhonda Richardson/Britannica
Marianna Palka … Reggie Walsh/Vicky the Viking
Gayle Rankin … Sheila the She-Wolf
Kia Stevens … Tammé Dawson/The Welfare Queen
Jackie Tohn … Melanie Rosen/Melrose
Ellen Wong … Jenny Chey/Fortune Cookie
Chris Lowell … Bash
Bashir Salahuddin… Keith
Rich Sommer … Mark
GLOW Bites
Pro Wrestling Easter Eggs in Netflix's GLOW
Is 'GLOW' Based On A True Story? A Documentary About The Original Gorgeous Ladies Of Wrestling Series Is Now On Netflix
New Comics This Week
Johnny
BLOODSHOTS DAY OFF #1
GREEN LANTERNS #26
NIGHTWING #24
PREDATOR HUNTERS #3
SKYBOURNE #4
STAR WARS #33
STAR WARS ROGUE ONE ADAPTATION #4
WALKING DEAD #169
WOODS #33
Brian
ALL NEW GUARDIANS OF GALAXY #5
BATMAN #26
CHAMPIONS #10 SE
DEADPOOL KILLS MARVEL UNIVERSE AGAIN #1
JUPITERS LEGACY VOL 2 #5
NIGHTWING #24 VAR ED
STAR WARS #33
WALKING DEAD #169
X-MEN GOLD #7 SE
Contact Us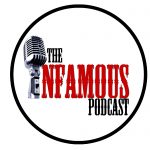 The Infamous Podcast can be found wherever podcasts are found on the Interwebs, feel free to subscribe and follow along on social media. And don't be shy about helping out the show with a 5-star review on iTunes to help us move up in the ratings.
@infamouspodcast
facebook/infamouspodcast
instagram/infamouspodcast
stitcher
iTunes
Google Play
contact@infamouspodcast.com
The music in this episodes is Moose from Bensound.com. The Infamous Podcast is Johnny Pottorf and Brian Tudor, and is produced and edited by Brian Tudor.

Subscribe today!