In Brightest Day…
On this week's episode Johnny and Brian are looking at the greatness that is the Green Lantern Corps! They are talking about who and what the Corps is, some of their favorite non-human Green Lanterns, and why they like this particular series so much. They also share their thoughts on The Tick pilot from Amazon, Thor: Ragnarok news, and wonder aloud if Marvel can live up to the hype with the new Champions series.
News Bites
The Tick on Amazon
A Thor: Ragnarok Magical Marvel Cameo
Marvel Promises CHAMPIONS Will 'Change The World'
The Green Lantern Corps
The Green Lantern Corps is an intergalactic military/police force appearing in comics published by DC Comics. They patrol the farthest reaches of the DC Universe at the behest of the Guardians, a race of immortals residing on the planet Oa. According to DC continuity, the Green Lantern Corps has been in existence for three billion years, surviving multiple conflicts both internal and foreign. Currently operating divided as pairs amongst the 3600 "sectors" of the universe, there are 7202 members (known commonly as Green Lanterns), two lanterns for every sector except sector 2814 which has 4 members. Each Green Lantern is given a power ring, a weapon granting the use of incredible abilities that are directed by the wearer's own willpower.
Fave Non-Human Lanterns
New Comics This Week
Johnny
ACTION MAN #3
BACK TO THE FUTURE CITIZEN BROWN #4
CAPTAIN AMERICA STEVE ROGERS #4
FAITH (ONGOING) #2
FLASH #5
GENERATION ZERO #1
HAL JORDAN AND THE GREEN LANTERN CORPS #3
INVINCIBLE #130
JUDGE DREDD (ONGOING) #9
MOON GIRL AND DEVIL DINOSAUR #10
OUTCAST BY KIRKMAN & AZACETA #20
RAI #16
ROM #2
STAR WARS #22
STAR WARS FORCE AWAKENS ADAPTATION #3 (OF 6)
VALIANT UNIVERSE HANDBOOK 2016 #1
VOLTRON LEGENDARY DEFENDER #2
Brian
ARCHIE #11 CVR B VAR ANWAR
BLUE BEETLE REBIRTH #1 VAR ED
CAPTAIN AMERICA STEVE ROGERS #4 CW2
CIVIL WAR II ULYSSES #1
DETECTIVE COMICS #939
EXTRAORDINARY X-MEN #13
INTERNATIONAL IRON MAN #6
INVINCIBLE #130
MOON GIRL AND DEVIL DINOSAUR #10
ROM #2 VAR C ACTION FIGURE VAR
STAR WARS #22
THIEF OF THIEVES #34 (MR)
TITANS #2 VAR ED
UNCANNY INHUMANS ANNUAL #1 LAND VAR
VOLTRON LEGENDARY DEFENDER #2
WONDER WOMAN #5 VAR ED
Contact Us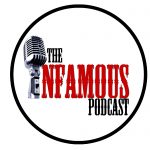 The Infamous Podcast can be found wherever podcasts are found on the Interwebs, feel free to subscribe and follow along on social media. And don't be shy about helping out the show with a 5 star review on iTunes to help us move up in the ratings.
@infamouspodcast
facebook/infamouspodcast
stitcher
iTunes
Google Play
contact@infamouspodcast.com
The music in this episodes is Pomade by Silent Partner. The Infamous Podcast is Johnny Pottorf and Brian Tudor, and is produced and edited by Brian Tudor.

Subscribe today!