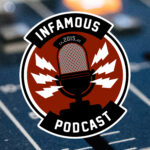 Hallways of Justice!
On this week's episode, Johnny and Brian discuss that Walking Dead episode where Carol and Maggie show what a bad ass really is, and the news bout a zombie-filled Halloween maze going up at Universal Studios Hollywood. They both went to see 10 Cloverfield Lane this week so they share their thoughts with a mini review. Plus on the eve of Daredevil season 2 they look back at some of the standout moments from season 1 and give some background on Elektra, the Punisher and some of the behind the scenes changes from seasons 1 and 2.
The Walking Dead
The Lion and The Witch in the Wardrobe… Maggie and Carol show the Saviors just why they should be scared.
In other Walking Dead news… Walking Dead theme park attraction coming permanently to Universal Studios The zombie-filled Halloween maze will now be a year-round attraction at Universal Studios Hollywood
10 Cloverfield Lane
Mini Review
Thoughts
That ending!
Daredevil Season 2
Favorite moments from Season 1
What we want to see.
What to expect. New showrunner.
Who is Elektra?
Who is the Punisher?
How will this tie in to Jessica Jone, Luke Cage and Iron Fist?
Daredevil poster raffle click for details!
Comics This Week
Johnny
A&A #1
ASTRO CITY #33
BIG TROUBLE IN LITTLE CHINA #22
CLEAN ROOM #6
GHOSTBUSTERS DEVIATIONS
HUCK #5
IMPERIUM #14
JAMES BOND #5
KANAN #12
LUCIFER #4
POWER MAN AND IRON FIST #2
RED THORN #5
TRANSFORMERS DEVIATIONS
WEB WARRIORS #5
WRATH OF THE ETERNAL WARRIOR #5
Brian
ALL NEW X-MEN #6
ASTONISHING ANT-MAN #6
AVATAR LAST AIRBENDER TP VOL 12 SMOKE & SHADOW PART 3
BATMAN AND ROBIN ETERNAL #24
EXTRAORDINARY X-MEN #8
GREEN ARROW #50
HUCK #5
JAMES BOND #5
POWER MAN AND IRON FIST #2
ROBIN SON OF BATMAN #10
STAR-LORD #5
TITANS HUNT #6
UNCANNY INHUMANS #6
Contact Us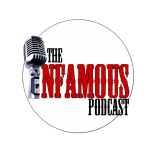 The Infamous Podcast can be found wherever podcasts are found on the Interwebs, feel free to subscribe and follow along on social media. And don't be shy about helping out the show with a 5 star review on iTunes to help us move up in the ratings.
@infamouspodcast
facebook/infamouspodcast
stitcher
iTunes
theinfamouspodcast@gmail.com
The music in this episodes is Pomade by Silent Partner. The Infamous Podcast is Johnny Pottorf and Brian Tudor, and is produced and edited by Brian Tudor.

Subscribe today!