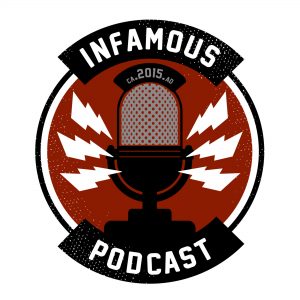 #CertifiedInfamous Reading List Old Man Logan
This week Johnny and Brian hit the road in the Spider-buggy as they talk about one of the most epic road trips of all time… Old Man Logan, the newest addition to the #CertifiedInfamous Reading List. That, Spider-man news, a new Logan Trailer and more!
News Bites
Logan Trailer 2
Miles Morales is the animated Spider-man
Star Trek Discovery Delayed Again!
Old Man Logan (2008)
"Wolverine: Old Man Logan" is an eight-issue storyline from the Wolverine ongoing series by writer Mark Millar and artist Steve McNiven, published by Marvel Comics. It began in June 2008, ran through Wolverine #66–72 and ended in Wolverine Giant-Size Old Man Logan in September 2009. It is set in an alternate universe designated as Earth-807128.
Publisher Marvel Comics
Publication date June 2008 – September 2009
Main character(s) Wolverine
Creative team
Writer Mark Millar
Penciller Steve McNiven
Source: Wikipedia
New Comics This Week
Johnny
BLACK HAMMER GIANT SIZED ANNUAL #1
CURSE WORDS #1 CVR B YOUNG
DESCENDER #18
DIVINITY III ARIC #1
FEW #1
GENERATION ZERO #6
GREEN LANTERNS #15
HARBINGER RENEGADE #3
HE MAN THUNDERCATS #4
KAMANDI CHALLENGE SPECIAL #1
KONG OF SKULL ISLAND #7
MANIFEST DESTINY #25
NIGHTWING #13
STAR TREK WAYPOINT #3 (OF 6)
STAR WARS DOCTOR APHRA #3
Brian
ALL NEW X-MEN #17
AMAZING SPIDER-MAN #23
ARCHIE #16
BATMAN #15
CAPTAIN AMERICA SAM WILSON #18
CLONE CONSPIRACY #4 (OF 5) BAGLEY VAR
DRIFTER #16
INVINCIBLE IRON MAN #3
NIGHTWING #13
STAR WARS DOCTOR APHRA #3
STAR-LORD #2
UNCANNY INHUMANS #18
Contact Us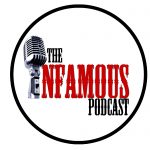 The Infamous Podcast can be found wherever podcasts are found on the Interwebs, feel free to subscribe and follow along on social media. And don't be shy about helping out the show with a 5-star review on iTunes to help us move up in the ratings.
@infamouspodcast
facebook/infamouspodcast
stitcher
iTunes
Google Play
contact@infamouspodcast.com
The music in this episodes is Moose from Bensound.com. The Infamous Podcast is Johnny Pottorf and Brian Tudor, and is produced and edited by Brian Tudor.

Subscribe today!