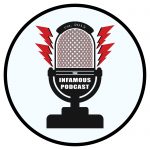 Just Who Do You Think Will Form the Head?
This week on the pod Johnny and Brian are breaking down Voltron: Defender of the Universe Season 3! They give a pseudo-spoiler-y review of all the high points from the 7 episode season and make predictions for season 4 (due out in October). They also look at a dream match up with King Kong coming to (hopefully) rule the Planet of the Apes. The X-Men are getting an event that might actually change the Mutant's status quo. And Robert Kirkman's Skybound has a new home for new TV projects.
News Bites
KING KONG Coming To PLANET OF THE APES
Why X-Men: Grand Design Is the X-Franchise's Best Idea in a Decade
ROBERT KIRKMAN & SKYBOUND Moves From AMC to AMAZON In Overall TV Deal
Netflix Acquires Millarworld
Shonda Rhimes' move to Netflix is a gut punch to ABC
Voltron: Defender of the Universe Season 3
The third season premiered on Netflix on August 4, 2017, and consisted of 7 episodes, and season 4 will debut on October 13, 2017.
Season Summary
The Paladins must adjust to using only their lions until they can figure out a new means to form Voltron. As they free the people of Puiga, Zarkon's son Lotor takes over the empire in his place, and covertly begins a nefarious plan.
Episodes
0301 Changing of the Guard
0302 Red Paladin
0303 The Hunted
0304 Hole in the Sky
0305 The Journey
0306 Tailing a Comet
0307 The Legend Begins
Cast & Crew
Cast
Steven Yeun – Keith
Jeremy Shada – Lance
Bex Taylor-Klaus – Pidge
Josh Keaton – Shiro
Tyler Labine – Hunk
Kimberly Brooks – Princess Allura
Rhys Darby – Coran
Neil Kaplan – Emperor Zarkon
Cree Summer – Witch Haggar
A.J. Locascio – Prince Lotor
Crew
Executive Producers
Joaquim Dos Santos
Lauren Montgomery
Ted Koplar
Bob Koplar
Yoo Jae Myung
Producers
Choi Goun
Kim Young Hyun
Kim Seul Ki
Lee Soo Kyung
Production Companies
DreamWorks Animation
World Events Productions
Studio Mir
Distributors
Netflix
New Comics This Week
Johnny
ASTRO CITY #46
BITCH PLANET TRIPLE FEATURE #3
BRIGGS LAND LONE WOLVES #3
DARK NIGHTS METAL #1
DESCENDER #23
DIVINITY #0
FUTURE QUEST PRESENTS #1
GREEN LANTERNS #29
INVINCIBLE #139
MAGNUS #3
NIGHTWING #27
STAR TREK TNG MIRROR BROKEN #3
STAR WARS #34
STAR WARS POE DAMERON #18
WAR FOR PLANET OF THE APES #2
Brian
ALL NEW GUARDIANS OF GALAXY #8
AMAZING SPIDER-MAN RENEW YOUR VOWS #10
ASTONISHING X-MEN #2
BATMAN #29
INVINCIBLE #139
NIGHTWING #27
SPIDER-MEN II #2
STAR TREK TNG MIRROR BROKEN #3
STAR WARS #34
STAR WARS POE DAMERON #18
SUPER SONS #7 VAR ED
TOTALLY AWESOME HULK #22
X-MEN BLUE #9
Contact Us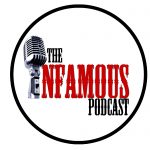 The Infamous Podcast can be found wherever podcasts are found on the Interwebs, feel free to subscribe and follow along on social media. And don't be shy about helping out the show with a 5-star review on iTunes to help us move up in the ratings.
@infamouspodcast
facebook/infamouspodcast
instagram/infamouspodcast
stitcher
iTunes
Google Play
contact@infamouspodcast.com
The music in this episodes is Moose from Bensound.com. The Infamous Podcast is Johnny Pottorf and Brian Tudor, and is produced and edited by Brian Tudor.

Subscribe today!