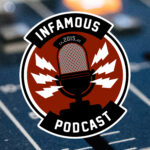 Is that a roll of quarters in your pocket?
This week on the show Johnny and Brian review the latest Steven Spielberg masterpiece, Ready Player One! They also discuss Marvel announcing Dan Slott as the writer of the new Fantastic Four comic book, The CW's Fall Line Up, and do a little MCU Fancasting for John Boyega!
News Bites
Dan Slott to write new Fantastic Four comic
The CW re-ups on all of the superhero shows (except iZombie… for now)
Ready Player One (2018)
Summary
In the year 2045, the world has been gripped by an energy crisis from the depletion of fossil fuels and the consequences of global warming, and overpopulation, causing widespread social problems and economic stagnation. To escape the decline their world is facing, people turn to the OASIS, a virtual reality simulator accessible by players using visors and haptic technology such as gloves. It functions both as an MMORPG and as a virtual society, with its currency being the most stable in the real world. It was created by James Halliday who, when he died, had announced in his will to the public that he had left an Easter egg inside OASIS, and the first person to find it would inherit his entire fortune and the corporation. The story follows the adventures of Wade Watts, starting about five years after the announcement when he discovers one of the three keys pointing to the treasure.
Cast & Crew
Directed by
Steven Spielberg
Produced by
Steven Spielberg
Donald De Line
Dan Farah
Kristie Macosko Krieger
Screenplay by
Zak Penn
Ernest Cline
Based on Ready Player One by
Ernest Cline
Music by
Alan Silvestri
Cinematography by
Janusz Kamiński
Edited by
Michael Kahn
Sarah Broshar
Cast
Tye Sheridan as Wade Watts / Parzival, a Gunter and one of the "High Five", who wishes to win the Quest so he can leave the stacks.
Olivia Cooke as Samantha Cook / Art3mis, a famous Gunter and one of the "High Five", who works with various allies to ensure the OASIS is kept free and out of the hands of IOI.
Ben Mendelsohn as Nolan Sorrento, the CEO of Innovative Online Industries, who seeks full control over the OASIS.
Lena Waithe as Helen Harris / Aech, a Gunter and one of the "High Five", who is male in the OASIS and female in reality, and longtime friend of Wade's. Aech runs a virtual garage in his free time to create and fix various vehicles and items.
T.J. Miller as i-R0k, a freelance weapons and magic item dealer and bounty hunter, who is often employed by IOI.
Simon Pegg as Ogden Morrow / The Curator, a co-creator of the OASIS, who eventually left the company due to personal reasons. He harbors a concern about how much people have grown to have an unhealthy dependency on the game.
Mark Rylance as James Halliday / Anorak, the deceased co-creator of the OASIS, who includes an Easter Egg hidden in the OASIS after his passing that grants control over the OASIS to its winner.
Philip Zhao as Akihide Karatsu / Sho, a Gunter and one of the "High Five".
Win Morisaki as Toshiro Yoshiaki / Daito, a Gunter and one of the "High Five".
Hannah John-Kamen as F'Nale Zandor, the head of IOI's operations in the physical
world, as well as their indentured servitude programs.
New Comics This Week – Sponsored by comiXology
When you check out make sure to use the code 'Infamous' to get $5 off when you spend $15!


Johnny
ANALOG #1
ASTRO CITY #51
DOCTOR STAR & KINGDOM LOST TOMORROWS #2
HORRORHOUND 2018 SPRING ANNUAL SPECIAL
I HATE FAIRYLAND #18
MARVEL TWO-IN-ONE #5
STAR TREK DISCOVERY ANNUAL
STAR WARS #46
THANOS INFINITY SIBLINGS OGN HC
TRUE BELIEVERS AVENGERS VS THANOS #1
TRUE BELIEVERS THANOS THE FIRST #1
WALKING DEAD #178
Brian
ASTONISHING X-MEN #10
BATMAN #44
NIGHTWING #42
SEX CRIMINALS #23
STAR WARS #46
WALKING DEAD #178
X-MEN GOLD #25
Contact Us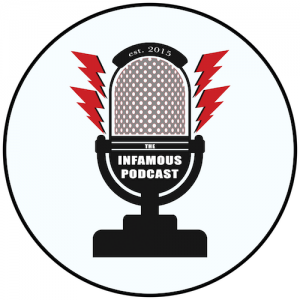 The Infamous Podcast can be found wherever podcasts are found on the Interwebs, feel free to subscribe and follow along on social media. And don't be shy about helping out the show with a 5-star review on Apple Podcasts to help us move up in the ratings.
@infamouspodcast
facebook/infamouspodcast
instagram/infamouspodcast
stitcher
Apple Podcasts
Google Play
contact@infamouspodcast.com
The music in this episodes is Moose from Bensound.com. The Infamous Podcast is Johnny Pottorf and Brian Tudor and is produced and edited by Brian Tudor.

Subscribe today!