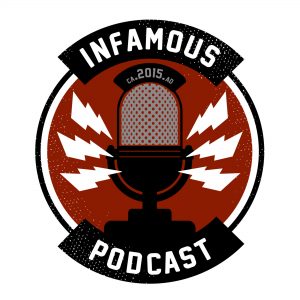 Something About Violent Delights and Ends
This week on the podcast Johnny and Brian take in the "Natural" Splendor of Westworld season 2 and share their thoughts on the visits to the Raj, Shogun World and more!
Westworld (2018)
Season 2 Summary
The second season follows in the aftermath of Dolores' uprising, as she recruits a number of hosts to fight off arriving Delos security forces, while looking for the key to the Valley Beyond, believed by the Ghost Nation to be a door to the next world. Maeve continues to search for her daughter, learning that there are other parks like Westworld. William finds that Ford has left him clues to find "the door", a new game for him to play, during which he encounters his estranged daughter Emily, who blames him for her mother's death. Delusional, William kills Emily, thinking she is a host. Dolores, with Bernard's help, finds the Forge, where memories from all the guests to the park have been kept. Bernard helps a number of hosts transfer their programming to a digital space. Dolores wants to wipe out the guests' records, and seeks a means to kill them in the real world. With more Delos forces converging on the park to suppress the uprising, Dolores manages to fool them and escape the park to the real world, taking with her Bernard's and a few other hosts' cores. She recreates the Bernard host, as she expects she will need his help for the hosts to survive outside of the park, even if he is her enemy in that effort.
Cast & Crew
Created by
Jonathan Nolan
Lisa Joy
Based on Westworld by
Michael Crichton
Composer(s)
Ramin Djawadi
Executive producer(s)
J. J. Abrams
Jonathan Nolan
Lisa Joy
Jerry Weintraub
Bryan Burk
Richard J. Lewis
Roberto Patino
Athena Wickham
Ben Stephenson
Producer(s)
Cherylanne Martin
Michael Polaire
Carly Wray
Stephen Semel
Cinematography
Paul Cameron
Brendan Galvin
Robert McLachlan
Jeffrey Jur
David Franco
Darran Tiernan
John Grillo
M. David Mullen
Editor(s)
Stephen Semel
Marc Jozefowicz
Mark Yoshikawa
Andrew Seklir
Tanya Swerling
David Eisenberg
Anna Hauger
Ron Rosen
Mako Kamitsuna
Running time
57–91 minutes[1][2]
Production company(s)
HBO Entertainment
Kilter Films
Bad Robot Productions
Jerry Weintraub Productions (season 1)
Warner Bros. Television
Distributor
Warner Bros. Television Distribution
Cast
Evan Rachel Wood as Dolores Abernathy/Wyatt
Thandie Newton as Maeve Millay
Jeffrey Wright as Bernard Lowe
James Marsden as Teddy Flood
Ingrid Bolsø Berdal as Armistice
Luke Hemsworth as Ashley Stubbs
Simon Quarterman as Lee Sizemore
Rodrigo Santoro as Hector Escaton
Angela Sarafyan as Clementine Pennyfeather
Shannon Woodward as Elsie Hughes
Ed Harris as the Man in Black
Anthony Hopkins as Robert Ford
Ben Barnes as Logan Delos
Clifton Collins Jr. as Lawrence / El Lazo
Jimmi Simpson as William
Tessa Thompson as Charlotte Hale
Fares Fares as Antoine Costa
Louis Herthum as Peter Abernathy
Talulah Riley as Angela
Gustaf Skarsgård as Karl Strand
Katja Herbers as Emily
Zahn McClarnon as Akecheta
Episodes
Episode 1 – Journey into Night
Episode 2 – Reunion
Episode 3 – Virtù e Fortuna
Episode 4 – The Riddle of the Sphinx
Episode 5 – Akane no Mai
Episode 6 – Phase Space
Episode 7 – Les Écorchés
Episode 8 – Kiksuya
Episode 9 – Vanishing Point
Episode 10 – The Passenger
New Comics This Week – Sponsored by comiXology
When you check out make sure to use the code 'Infamous' to get $5 off when you spend $15!


Johnny
Brian
ASTONISHING X-MEN #13
BATMAN #50
JOE HILL THE CAPE FALLEN #1
NIGHTWING #46 VAR ED
PAPER GIRLS #22
STAR WARS #50 (Action Figure Cover)
TRANSFORMERS LOST LIGHT #19
X-MEN GOLD #31
Contact Us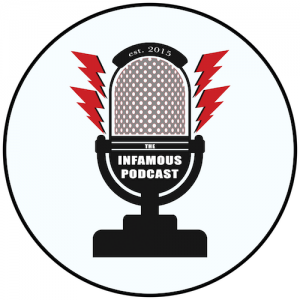 The Infamous Podcast can be found wherever podcasts are found on the Interwebs, feel free to subscribe and follow along on social media. And don't be shy about helping out the show with a 5-star review on Apple Podcasts to help us move up in the ratings.
@infamouspodcast
facebook/infamouspodcast
instagram/infamouspodcast
stitcher
Apple Podcasts
Google Play
contact@infamouspodcast.com
The music in this episodes is Moose from Bensound.com. The Infamous Podcast is Johnny Pottorf and Brian Tudor and is produced and edited by Brian Tudor.

Subscribe today!