Welcome Back, Johnny… welcome back, welcome back
This week Johnny is back in the hot seat to talk about the latest slate of trailer that hit the web while he was at Disney World! The guys are talking about the trailers for, Justice League, Star Wars: The Last Jedi, The New Mutants, and Black Panther. Then they will talk about Johnny's trip to Disney World and all the adventure/hi-jinx that ensued.
Hot Trailers Trailers
Justice League
Star Wars The Last Jedi 
The New Mutants
Black Panther
The Punisher
New Comics This Week
Johnny
ASTRO CITY #48
BITCH PLANET TRIPLE FEATURE #5
CABLE #150
DESCENDER #25
FAITH AND THE FUTURE FORCE #4
FUTURE QUEST PRESENTS #3
GREEN LANTERNS #33
INCREDIBLE HULK #709
INVINCIBLE #141
JOURNEY SW LAST JEDI CAPT PHASMA #4
MIGHTY THOR #700
NIGHTWING #31
SHERLOCK FRANKENSTEIN & LEGION OF EVIL #1
STAR WARS ADVENTURES #3
STAR WARS POE DAMERON #20
Brian
BATMAN #33
CABLE #150 LEG
CHAMPIONS #13 LEG
INCREDIBLE HULK #709 LEG
INVINCIBLE #141
MIGHTY THOR #700 LEG
NIGHTWING #31
OPTIMUS PRIME FIRST STRIKE #1
STAR WARS ADVENTURES #3
STAR WARS POE DAMERON #20
SUPER SONS #9 VAR ED
TRANSFORMERS LOST LIGHT #10
X-MEN GOLD #14 LEG
Contact Us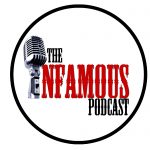 The Infamous Podcast can be found wherever podcasts are found on the Interwebs, feel free to subscribe and follow along on social media. And don't be shy about helping out the show with a 5-star review on iTunes to help us move up in the ratings.
@infamouspodcast
facebook/infamouspodcast
instagram/infamouspodcast
stitcher
iTunes
Google Play
contact@infamouspodcast.com
The music in this episodes is Moose from Bensound.com. The Infamous Podcast is Johnny Pottorf and Brian Tudor, and is produced and edited by Brian Tudor.

Subscribe today!