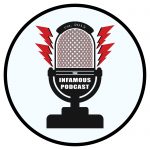 Paladins Assemble
This week Johnny and Brian mourn the loss of Battlestar Galactica's Richard Hatch, Take a look at the new full-length Iron Fist trailer from Netflix, and talk about the ah-mazing second season of Voltron Legendary Defender, also on Netflix. Fair warning the guys get a little loopy near the end as they throw out some pretty fantastic theories on where Voltron will go next!
News Bites
RIP Richard Hatch
Richard Hatch, star of the original "Battlestar Galactica" and the Syfy remake, died on Tuesday, February 7th, after a battle with pancreatic cancer, his manager confirmed to Variety. He was 71.
Hatch died around 1:30 p.m. at his home in Santa Clarita, Calif., with his son Paul by his side.
Source: Variety
Iron Fist Trailer/Release Date
Fifteen years after being presumed dead in a plane crash, Danny Rand (Finn Jones) mysteriously returns to New York City determined to reclaim his birthright and family company. However, when a long-destined enemy rises in New York, this living weapon is forced to choose between his family's legacy and his duties as the Iron Fist.
Marvel's Iron Fist premieres March 17, 2017 exclusively on Netflix.
Voltron Legendary Defender Season 2
The lions fall out of the wormhole in different places, while Coran and Allura are trapped in a seemingly endless time loop. Meanwhile, Zarkon seeks to uncover the person responsible for the Paladins escape. Pidge exits the corrupted wormhole in a junk nebula with debris from various alien technologies, which she uses to send a homing beacon to the Castle, thus breaking the time loop. Keith and Shiro crash on a nearly dead moon. With Shiro growing weaker from the wound Haggar inflicted on him in the previous episode, they work together to survive the local wildlife until their lions are back on-line.
Source: Wikipedia
New Comics This Week
Johnny
DIVINITY III SHADOWMAN #1
FLASH #16
HAL JORDAN AND THE GREEN LANTERN CORPS #14
MOONSHINE #5
NINJAK #24
STAR WARS DOCTOR APHRA #4
Brian
AMAZING SPIDER-MAN RENEW YOUR VOWS #4
GUARDIANS OF GALAXY #17
IVX #4
STAR WARS DOCTOR APHRA #4
TOTALLY AWESOME HULK #16
UNCANNY INHUMANS #1.MU
UNWORTHY THOR #4
Contact Us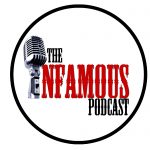 The Infamous Podcast can be found wherever podcasts are found on the Interwebs, feel free to subscribe and follow along on social media. And don't be shy about helping out the show with a 5-star review on iTunes to help us move up in the ratings.
@infamouspodcast
facebook/infamouspodcast
stitcher
iTunes
Google Play
contact@infamouspodcast.com
The music in this episodes is Moose from Bensound.com. The Infamous Podcast is Johnny Pottorf and Brian Tudor, and is produced and edited by Brian Tudor.

Subscribe today!