Unboxing the Marvel Collector Corps Guardians of the Galaxy Box
In this latest unboxing video Johnny and Brian take a look at the latest Marvel Collector Corps blind box featuring the Guardians of the Galaxy! In this box we get a sweet ass Groot scarf, a couple of Rocket and Groot mini-Pops! themed for the holidays, a variant of Guardians of Infinity #1 and a Pop! head Star-Lord coffee mug.
Contact Us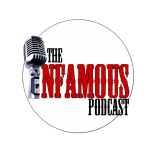 The Infamous Podcast can be found wherever podcasts are found on the Interwebs, feel free to subscribe and follow along on social media. And don't be shy about helping out the show with a 5 star review on iTunes to help us move up in the ratings.
@infamouspodcast
facebook/infamouspodcast
stitcher
iTunes
theinfamouspodcast@gmail.com
The music in this episodes is Pomade by Silent Partner. The Infamous Podcast is Johnny Pottorf and Brian Tudor, and is produced and edited by Brian Tudor.