Mr. Pointy Slayer of the Vampire
Oooohhhh it is October a month filled with ghouls and goblins! To kick off the month Johnny and Brian are taking a trip to the Hellmouth, no not Cleveland, but the bright and sunny and seemingly never-ending town of Sunnydale. That's right, the guys are talking Buffy the Vampire Slayers and all the Scooby Gang goodness that goes along with this geek staples of the early 2000's. They also share their thoughts on the latest Netflix smash hit Marvel's Luke Cage!
Buffy The Vampire Slayers (1997)
Synopsis
Buffy the Vampire Slayer is an American television series created by Joss Whedon under his production tag, Mutant Enemy Productions with later co-executive producers being Jane Espenson, David Fury, David Greenwalt, Doug Petrie, Marti Noxon, and David Solomon. The series premiered on March 10, 1997, on The WB and concluded on May 20, 2003, on UPN. The series narrative follows Buffy Summers (played by Sarah Michelle Gellar), the latest in a line of young women known as "Vampire Slayers", or simply "Slayers". In the story, Slayers are "called" (chosen by fate) to battle against vampires, demons, and other forces of darkness. Like previous Slayers, Buffy is aided by a Watcher, who guides, teaches, and trains her. Unlike her predecessors, Buffy surrounds herself with a circle of loyal friends who become known as the "Scooby Gang".
Source: Wikipedia.com
History
Buffy the Vampire Slayer was a mid-season replacement series and featured only 12 episodes in its first season: 22 were to follow in each of the remaining six seasons. The first season begins several months after the events of the movie, with Buffy Summers arriving in Sunnydale with her mother, Joyce. After moving with the hopes of leaving her born slayer duties behind, Buffy inevitably comes into contact with her Watcher, the librarian Rupert Giles who helps convince her to slay again. She also meets social outcasts Xander Harris and Willow Rosenberg, her two best friends for the remainder of the series, and snobby cheerleader Cordelia Chase. They soon realize that Sunnydale High is located on a Hellmouth, a portal to demon dimensions, which attracts supernatural phenomena to the area.The first season included mostly standalone episodes, exploring the problems faced by the student population as a result of the centrality of the Hellmouth that it has. Such issues explored include: ignored students turning invisible; witches; demon teachers; and the never-ending supply of vampires.
Source: Buffy.Wikia.com 
Top Ten Episodes
Johnny
Becoming (Season 2, Ep 21 & 22)
Chosen (Season 7, Ep 22)
Graduation Day (Season 3, Ep 21 & 22)
Halloween (Season 2, Ep 6)
Hush (Season 4, Ep 10)
Once More, with Feeling (Season 6, Ep 7)
Prophecy Girl (Season 1, Ep12)
Restless (Season 4, Ep 22)
The Body (Season 5, Ep 16)
The Wish (Season 3, Ep 9)
Brian
The Prophecy Girl (s01e12)
Passion (s02e17)
Faith, Hope & Trick (s03e03)
Band Candy (s03e06)
Doppelgangland (s03e16)
The Initiative (s04e07)
Hush (s04e10)
The Body (s05e16)
The Gift (s05e22)
Once More With Feeling (s06e07)
New Comics This Week
Johnny
A&A #8
ART OPS #12
AUTUMNLANDS TOOTH & CLAW #13
BIG TROUBLE LITTLE CHINA ESCAPE NEW YORK #1
BLOODSHOT REBORN #18
CANNIBAL #1
CHAMPIONS #1
CLEAN ROOM #12
ENCHANTED TIKI ROOM #1
EVERAFTER FROM THE PAGES OF FABLES #2
FLASH AN ADULT COLORING BOOK TP
FUTURE QUEST #5 (both covers)
GREEN LANTERNS #8
HE MAN THUNDERCATS #1
MOONSHINE #1
NIGHTWING #6
PAPER GIRLS #10
REVOLUTION #2
SHADE THE CHANGING GIRL #1
SPIDER-MAN 2099 #16
WALKING DEAD #159
WOODS #26
Brian
AMAZING SPIDER-MAN #19 BDNM
AVATAR LAST AIRBENDER ADULT COLORING BOOK TP
BATMAN #8
CHAMPIONS #1 NOW
DEATH OF X #1 (OF 4) CHOI CONNECTING A VAR
DOCTOR STRANGE #12
ENCHANTED TIKI ROOM #1 (Jody Daily Variant)
INVINCIBLE IRON MAN #14 CW2
NIGHTWING #6
PAPER GIRLS #10
REVOLUTION #2 (OF 5) SUBSCRIPTION VAR D
SPIDER-MAN 2099 #16
UNCANNY X-MEN #14
VOLTRON LEGENDARY DEFENDER #3
WALKING DEAD #159
Contact Us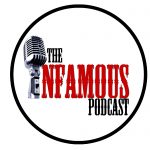 The Infamous Podcast can be found wherever podcasts are found on the Interwebs, feel free to subscribe and follow along on social media. And don't be shy about helping out the show with a 5 star review on iTunes to help us move up in the ratings.
@infamouspodcast
facebook/infamouspodcast
stitcher
iTunes
Google Play
contact@infamouspodcast.com
The music in this episodes is Pomade by Silent Partner. The Infamous Podcast is Johnny Pottorf and Brian Tudor, and is produced and edited by Brian Tudor.

Subscribe today!