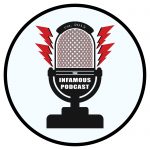 You Can Make the Kessel Run Much Faster In a Mini-Lion Robot
This week Johnny and Brian are talking about their adventures in Free Comic Book Day, Cap's Box Office success, an all-new Defender of the Universe and Han Solo!
Free Comic Book Day Round Up
Johnny and Brian spent their FCBD helping out at Queen City Comics in Pleasant Ridge, Cincinnati, OH… this is their story.
Captain America Civil War Box Office Number
Captain America Civil War opened to just north of $179 million and currently stands at $700 million, which puts it in the top 5 for all-time movie openings openings. How many times did you hit up the theaters?
Voltron Legendary Defender Trailer Reaction
Holy hell! Have you seen this trailer yet? If not check out the first look for this great new Netflix series, animated by Studio MIR (the same saints who gave us Avatar the Last Airbender and the Legend of Korra!).
Star Wars Has a New Han Solo
The Han Solo (solo pic?) has its scruffy nerf herder in the form of actor Alden Ehrenreich, who Stephen Spielberg discovered at a bat mitzvah of all places. Is this your pick? Are you ready to see how Han as a young man?
New Comics This Week
Johnny
4001 A.D. X-O MANOWAR # 1
A&A #3
AGENTS OF SHIELD #5
ALL NEW ALL DIFFERENT AVENGERS #9
AMERICAN MONSTER #3
BACK TO THE FUTURE CITIZEN BROWN #1
BIG TROUBLE IN LITTLE CHINA #24
BLACK PANTHER #2
DARK AND BLOODY #4
DARTH VADER #20
FIX #2
GEORGE PEREZ SIRENS #5
GREEN LANTERN CORPS EDGE OF OBLIVION #5
GRIZZLY SHARK #2 GRIZZLY SHARK RETURNS
HOUSE OF PENANCE #2
NEW ROMANCER #6
NINJAK #15
PACIFIC RIM TALES FROM THE DRIFT #4
ROCKETEER AT WAR #3
SATELLITE FALLING #1
SILK #8
SOUTHERN BASTARDS #14
STAR TREK ONGOING #57
WEB WARRIORS #7
Brian
4001 A.D. X-O MANOWAR #1 CVR A CAFU
ALL NEW X-MEN #9 AW
ARCHIE #8
BLACK PANTHER #2
DARTH VADER #20
FASTER THAN LIGHT #6
GREEN LANTERN CORPS EDGE OF OBLIVION #5
GUARDIANS OF GALAXY #8
JUPITERS CIRCLE VOL 2 #6 CVR A SIENKIEWICZ
PACIFIC RIM TALES FROM THE DRIFT #4
UNCANNY INHUMANS #8
Contact Us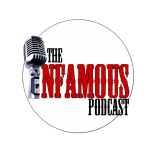 The Infamous Podcast can be found wherever podcasts are found on the Interwebs, feel free to subscribe and follow along on social media. And don't be shy about helping out the show with a 5 star review on iTunes to help us move up in the ratings.
@infamouspodcast
facebook/infamouspodcast
stitcher
iTunes
contact@infamouspodcast.com
The music in this episodes is Pomade by Silent Partner. The Infamous Podcast is Johnny Pottorf and Brian Tudor, and is produced and edited by Brian Tudor.

Subscribe today!