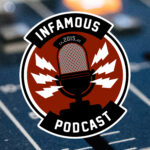 Time Travel, Conspiracies and Comic Book Ultra-Violence 
On this week's exciting new Infamous Podcast, Johnny and Brian are talking R-Rated Comic Book Movies, 11.22.63 on Hulu and the Finn Jones casting as Danny Rand for the upcoming Netflix Iron Fist series.
Rated R Comic Book Movies
With Deadpool crossing the $600 million mark in the box office it is time for us to take a look at some of the other R-rated comic book movies that didn't fair quite as well an discuss why we think that happened.
R-Rated Comic Book Movies:
Deadpool (2016)
Kingsman: the Secret Service (2014)
Kick-Ass 2 (2013)
Dredd (2012)
Kick-Ass (2010)
Watchmen (2009)
Punisher: War Zone (2008)
Wanted (2008)
30 Days of Night (2007)
300 (2006)
Constantine (2005)
V for Vendetta (2005)
The Punisher (2004)
Ghost World (2001)
Blade (1998)
Spawn (1997)
Tank Girl (1995)
Judge Dredd (1995)
The Crow (1994)
Darkman (1990)
11.22.63
High school teacher Jake Epping travels back in time to prevent the assassination of President John F. Kennedy – but his mission is threatened by Lee Harvey Oswald, falling in love, and the past itself, which doesn't want to be changed and shouldn't be changed.
11.22.63 is an American science fiction thriller limited series based on the book 11/22/63 by Stephen King, and will consist of eight episodes.
The series is executive produced by J.J. Abrams, Stephen King, Bridget Carpenter and Bryan Burk, and premiered on February 15, 2016 on Hulu.
Staring:
James Franco as Jake Epping
Chris Cooper as Al Templeton
Cherry Jones as Marguerite Oswald
Sarah Gadon as Sadie Dunhill
Lucy Fry as Marina Oswald
Kevin J. O'Connor as the Yellow Card Man
George MacKay as Bill Turcotte
Daniel Webber as Lee Harvey Oswald
Leon Rippy as Harry Dunning
T. R. Knight as Johnny Clayton
Brooklyn Sudano as Christy
Josh Duhamel as Frank Dunning
Iron Fist
Character History:
Publisher Marvel Comics
First appearance Marvel Premiere #15 (May 1974)
Created by Roy Thomas & Gil Kane
Iron Fist, Danny Rand, is a fictional superhero appearing in American comic books published by Marvel Comics. Created by Roy Thomas and Gil Kane, he first appeared in Marvel Premiere #15 (May 1974). He is a practitioner of martial arts and the wielder of a mystical force known as the Iron Fist, which allows him to summon and focus his chi.
Netflix Series:
Game of Thrones actor Finn Jones (Ser Loras Tyrell) in the lead role of Netflix's Marvel series, Iron Fist.
Jones will portray the character in his live-action debut in an Iron Fist television series developed for Netflix, the fourth and final in a series of shows that will culminate in a Defenders miniseries incorporating Daredevil, Jessica Jones and Luke Cage.
Casting Reactions:
Marvel writer slams Netflix for casting Finn Jones in 'Iron
Fist' role
Marjorie Liu tweets that the part should have gone to an Asian actor… read all about it HERE.
Comics This Week
Johnny
AVENGERS STANDOFF ASSAULT ON PLEASANT HILL ALPHA #
DARTH VADER #17
DISCIPLINE #1
GREEN LANTERN #50
OLD MAN LOGAN #3
PREDATOR LIFE AND DEATH #1
SHERIFF OF BABYLON #4
SURVIVORS CLUB #6
UNFOLLOW #5
VIOLENT #3
WALKING DEAD #152
Brian
BATMAN AND ROBIN ETERNAL #22
DARTH VADER #17
GREEN LANTERN #50
INVINCIBLE IRON MAN #7
MIGHTY MORPHIN POWER RANGERS #1
NOVA #5
SPIDER-MAN #2
UNCANNY X-MEN #4
UNFOLLOW #5
WALKING DEAD #152
Contact Us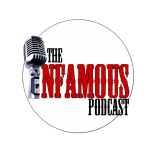 The Infamous Podcast can be found wherever podcasts are found on the Interwebs, feel free to subscribe and follow along on social media. And don't be shy about helping out the show with a 5 star review on iTunes to help us move up in the ratings.
@infamouspodcast
facebook/infamouspodcast
stitcher
iTunes
theinfamouspodcast@gmail.com
The music in this episodes is Pomade by Silent Partner. The Infamous Podcast is Johnny Pottorf and Brian Tudor, and is produced and edited by Brian Tudor.

Subscribe today!