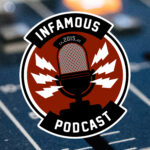 Happy Birthday Infamous Podcast!
This week Johnny and Brian FINALLY celebrate the 1 year anniversary of the Infamous Podcast! How do they celebrate this milestone? By talking Star Wars Celebration News, Frank Cho vs. Greg Rucka and looking back at season 1 of the Netflix suspense series Stranger Things!
New Bites
Game of Thrones Season 7 News
2016 Emmy Nominations 
Matty Collector Shutting Down
Star Wars Celebration News
Rebels Season 3 Update
Rogue One News
Young Han Solo Confirmed
Episode VIII Details 
Frank Cho vs. Greg Rucka
Frank Cho Walks Off Wonder Woman After Sixth Cover
According to comments published by Bleeding Cool, Cho's departure comes as a result of his frustration over perceived censorship of his covers, which he believes stems from the demands of series writer Greg Rucka.
"All the problem lies with Greg Rucka," Cho told the site. "Greg Rucka has been trying to alter and censor my artwork since day one."
Source: Bleeding Cool
Stranger Things Review
Stranger Things is an American science fiction supernatural horror television series created by the Duffer Brothers. It was written and directed by Matt and Ross Duffer and executive produced by Shawn Levy. The show is set in 1980's Indiana, where a young boy vanishes mysteriously, and a telekinetic girl appears, who helps the boy's friends in their attempt to find him. Stranger Things was released by Netflix on July 15, 2016. It has been met with positive reviews by critics, and was praised for its characterization, pacing, atmosphere, acting, and homage to 1980's Hollywood.
Duffer Brother's Talk Stranger Things
New Comics This Week
Johnny
A&A #5
ASTRO CITY #37
BACK TO THE FUTURE CITIZEN BROWN #3
BATGIRL AND THE BIRDS OF PREY REBIRTH #
BLACK HAMMER #1
CONTEST OF CHAMPIONS #10
DARTH VADER #23
FAITH (ONGOING) #1
GRANT MORRISONS AVATAREX #1
GREEN LANTERNS #3
HUNT #1
I HATE FAIRYLAND #7
JUSTICE LEAGUE #1
LETTER 44 #26
MANIFEST DESTINY #21
RAI #15
STAR WARS #21
TALES FROM THE DARKSIDE #2
THUNDERBOLTS #3
VELVET #15
Brian
ASTONISHING ANT-MAN #10
BATMAN #3
BETTY & VERONICA #1
DARTH VADER #23
GREEN ARROW #3
GREEN LANTERNS #3
NOVA #9
STAR WARS #21
UNCANNY X-MEN #10
Contact Us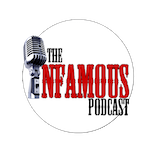 The Infamous Podcast can be found wherever podcasts are found on the Interwebs, feel free to subscribe and follow along on social media. And don't be shy about helping out the show with a 5 star review on iTunes to help us move up in the ratings.
@infamouspodcast
facebook/infamouspodcast
stitcher
iTunes
Google Play
contact@infamouspodcast.com
The music in this episodes is Pomade by Silent Partner. The Infamous Podcast is Johnny Pottorf and Brian Tudor, and is produced and edited by Brian Tudor.

Subscribe today!