A Shot in the Darhk!
In what should have been a pretty slow week for comic fans, we have Arrow silencing a main cast staple, the Suicide Squad movie isn't as done as it was before BvS, the Emerald City Comic Con and Image Expo gave us more comic book news, and Black Panther #1 hit spinner racks everywhere (note, we do not condone the use of spinner racks, they ruin comic books and thus should be destroyed).
Arrow Fallout
Thoughts on last week's big Arrow Death (Spoiler) took an arrow to the chest, did the right character die for the story? Is this the character in "the grave" or do we have more carnage to look forward to as season 4 wraps up?
Suicide Squad Reshoots
Suicide Squad is back in the editing bay as they try to pump up the "humor" and tone of the movie in response to the Batman v. Superman criticism of being "too dark" and "utterly joyless".
Is it too late for Warner Bros.? Should Disney step in a buy DC Comics to make one ultra shared universe?
Emerald City Comic Con/Image Expo Recaps
Johnny and Brian talk about the highlights coming out of ECCC and the Image Expo…
Who is Superwoman?
Tarzan and the Planet of the Ape coming from Dark Horse
Black Panther #1 Review
This week Marvel kicked off a new era for Black Panther with an all new #1 issue from Ta-Nehisi Coates (@tanehisicoates) and Brian Stelfreeze (@Stelfreeze)
New Comics This Week
Johnny
A&A #2
AGENTS OF SHIELD #4
ALL NEW ALL DIFFERENT AVENGERS #8
AUTUMNLANDS TOOTH & CLAW #10
BLACK ROAD #1
DARK AND BLOODY #3
DARTH VADER #19
FABLES THE WOLF AMONG US #16
HERCULES #6 $3.99
HOUSE OF PENANCE #1
NEW ROMANCER #5
SLASH & BURN #6
STAR WARS SPECIAL C-3PO #1
WEB WARRIORS #6
WRATH OF THE ETERNAL WARRIOR #6
Brian
ALL NEW X-MEN #8
AMAZING SPIDER-MAN #10
DARTH VADER #19
GUARDIANS OF GALAXY #7
DRIFTER #10
GREEN LANTERN CORPS EDGE OF OBLIVION #4
JUPITERS CIRCLE VOL 2 #5
MOON KNIGHT #1
STAR WARS SPECIAL C-3PO #1
X-MEN 92 #2
Contact Us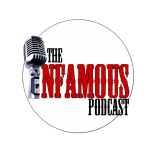 The Infamous Podcast can be found wherever podcasts are found on the Interwebs, feel free to subscribe and follow along on social media. And don't be shy about helping out the show with a 5 star review on iTunes to help us move up in the ratings.
@infamouspodcast
facebook/infamouspodcast
stitcher
iTunes
theinfamouspodcast@gmail.com
The music in this episodes is Pomade by Silent Partner. The Infamous Podcast is Johnny Pottorf and Brian Tudor, and is produced and edited by Brian Tudor.

Subscribe today!