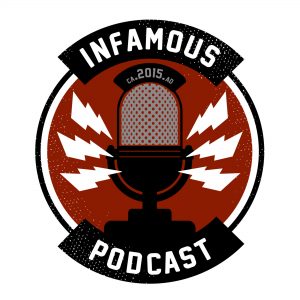 Robin's Home To Roost
In the second episode of the Infamous Podcast, the Brians start the discussion, arguing about the merits of Robin, give an overview of the characters history, and ponder his place in comic book culture history.
The Brians also talk about favorite comic book writer Grant Morrison, and his place in comic book-dom.
We Introduce a new segment called Top 5! This week our hosts go over the Top 5 Books they picked up this week from their local comic book shop. Top 5 will be a rotating list of geekery, as the Brians share what they are geeking out about. Have a suggestion or want to know how you're Top 5 stacks up? Email us at theinfamouspodcast@gmail.com
This Week's Top 5:
Brian Williams:
Descender, Robin: Son of Batman, We Are Robin, Grayson, Batman
Brian Tudor:
Lazarus #18, Star Wars #7, Sex Criminals #11, Lobster Johnson One-Shot, The Shrinking Man.
In Throwback (Yet another new segment) Brian Williams introduces his special guest this week… Batman and the Outsiders #1!
In last new  new segment of the week, we introduce… Blasphemy!
This is where one of our hosts reveals how much they like something consider so faux pas in geekdom it is usually only spoken of in whisper around friends and family.
Brian Williams blasphemy this week? … He likes the theatrical release of the Daredevil movie!!!!
The Infamous Podcast can be found wherever podcasts are found on the Interwebs, here's where to go:
@infamouspodcast
facebook/infamouspodcast
soundcloud
stitcher
iTunes
theinfamouspodcast@gmail.com
The intro and outro music is Pomade by Silent Partner. The Infamous Podcast is produced and edited by Brian Tudor.