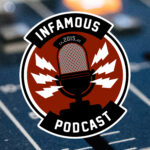 Powers, The Pride and Old Lace!
This week on the show Johnny and Brian are talking about the Hulu Original Marvel TV series Runaways. The show is based on the wildly popular comic series of the same name by Brian K Vaughan and Adrian Alphona. Plus we learn more about the Incredibles 2, Where is Dan Slott going to after Amazing Spider-Man, and the 2018 Oscar Nominations! And don't forget to use the code 'Infamous' at comiXology.com to get $5 off when you spend $15 on digital comics!
News Bites
Incredibles 2 Voice Cast and Character Descriptions
Dan Slott Leaving Amazing Spider-Man Will Write Iron Man Series
The 2018 Oscar Nominations Have Been Announced
Runaways (2017)
Summary
There are times when pretty much every teenager thinks his or her parents are evil — but what if it was actually true? That's the situation six Los Angeles teenagers find themselves in when they stumble upon a terrible secret and realize that their parents have been lying to them for their entire lives. The offspring begin an investigation to try to figure out what their guardians are after, while the adults wonder if their kids are hiding secrets of their own. The unlikely crew of teens bands together — led by de facto leader and primary strategist Alex Wilder — to stop their parents before it is too late. The Marvel series is from executive producer Josh Schwartz, whose resume of young-adult fare includes "The O.C." and "Chuck".
Cast & Crew
Created by
Josh Schwartz
Stephanie Savage
Based on Runaways by
Brian K. Vaughan
Adrian Alphona
Starring
Rhenzy Feliz as Alex Wilder
Lyrica Okano as Nico Minoru
Virginia Gardner as Karolina Dean
Ariela Barer as Gert Yorkes
Gregg Sulkin as Chase Stein
Allegra Acosta as Molly Hernandez
Angel Parker as Catherine Wilder
Ryan Sands as Geoffrey Wilder
Annie Wersching as Leslie Dean
Kip Pardue as Frank Dean
Ever Carradine as Janet Stein
James Marsters as Victor Stein
Brigid Brannagh as Stacey Yorkes
Kevin Weisman as Dale Yorkes
Brittany Ishibashi as Tina Minoru
James Yaegashi as Robert Minoru
Episodes
S01 E01 · Reunion Nov 21, 2017
S01 E02 · Rewind Nov 21, 2017
S01 E03 · Destiny Nov 21, 2017
S01 E04 · Fifteen Nov 28, 2017
S01 E05 · Kingdom Dec 5, 2017
S01 E06 · Metamorphosis Dec 12, 2017
S01 E07 · Refraction Dec 19, 2017
S01 E08 · Tsunami Dec 26, 2017
S01 E09 · Doomsday Jan 2, 2018
S01 E10 · Hostile Jan 9, 2018
New Comics This Week – Sponsored by comiXology 
When you check out make sure to use the code 'Infamous' to get $5 off when you spend $15!

Johnny
DISSONANCE #1
HORRORHOUND #69
MANIFEST DESTINY #33
MARVEL TWO-IN-ONE #2
NINJA-K #3
SHERLOCK FRANKENSTEIN & LEGION OF EVIL #4
SOUTHERN BASTARDS #19
STAR TREK DISCOVERY #2
STAR WARS ADV FORCES OF DESTINY AHSOKA & PADME
STAR WARS POE DAMERON #23
X-O MANOWAR (2017) #11
Brian
ACTION COMICS #996
BATMAN BEYOND #16
DETECTIVE COMICS #973
DOOMSDAY CLOCK #3
NIGHTWING THE NEW ORDER #6
PHOENIX RESURRECTION RETURN JEAN GREY #4
SEX CRIMINALS #21
STAR WARS POE DAMERON #23
TRANSFORMERS LOST LIGHT #13
X-MEN BLUE #20
X-MEN BLUE ANNUAL #1
Contact Us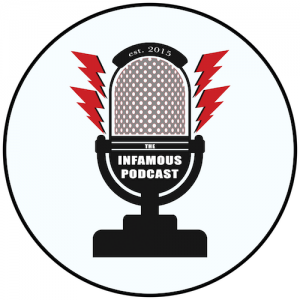 The Infamous Podcast can be found wherever podcasts are found on the Interwebs, feel free to subscribe and follow along on social media. And don't be shy about helping out the show with a 5-star review on Apple Podcasts to help us move up in the ratings.
@infamouspodcast
facebook/infamouspodcast
instagram/infamouspodcast
stitcher
Apple Podcasts
Google Play
contact@infamouspodcast.com
The music in this episodes is Moose from Bensound.com. The Infamous Podcast is Johnny Pottorf and Brian Tudor, and is produced and edited by Brian Tudor.

Subscribe today!