It's People… Peeeeople!!!
This week Johnny and Brian visit Santa Clarita to learn all about the new dieting craze.
Summary
Santa Clarita Diet is an American horror-comedy web television series created by Victor Fresco for the streaming service Netflix, starring Timothy Olyphant and Drew Barrymore. Fresco serves as the showrunner, and is an executive producer alongside Barrymore, Olyphant, Aaron Kaplan, Tracy Katsky, Chris Miller and Ember Truesdell.
The single-camera series premiered on February 3, 2017 and consists of 10 episodes. The first season has received generally positive reviews, with critics praising the cast and premise, but criticizing the number of graphic scenes.
Plot
Married couple Sheila and Joel are real estate agents in Santa Clarita, California. The couple's lives take a dark turn after Sheila goes through a transformation – becoming a zombie who feeds on human flesh.
Cast
Regulars
– Timothy Olyphant as Joel Hammond, Sheila's husband and Abby's father
– Drew Barrymore as Sheila Hammond, Joel's wife and Abby's mother
– Liv Hewson as Abby Hammond, Sheila and Joel's daughter
– Skyler Gisondo as Eric Bemis, the Hammond's neighbor Lisa's son and Dan's stepson
Recurring
– Ricardo Chavira as Dan Palmer, a sheriff's deputy and the Hammonds' neighbor
– Mary Elizabeth Ellis as Lisa Palmer, Dan's wife and Eric's mother
– Richard T. Jones as Rick, a police officer, the Hammond's neighbor, and Joel's friend
– Joy Osmanski as Alondra, Rick's wife
– Natalie Morales as Anne Garcia, a sheriff's deputy and co-worker of Dan
– Thomas Lennon as Novak, Abby's school principal
– Grace Zabriskie as Mrs. Bakavic, Novak's grandmother
– DeObia Oparei as Loki Hayes, a convicted felon
– Portia de Rossi as Cora Wolf, a scientist focused on the undead
Guest
– Nathan Fillion as Gary West, a realtor and the Hammonds' co-worker
– Andy Richter as Carl Coby, the Hammonds' boss
– Patton Oswalt as Dr. Hasmedi, a virologist
– Ryan Hansen as Bob Jonas, Lisa's lover
– Derek Waters as Anton, a conspiracy theorist
– Ravi Patel as Ryan, a convention goer
New Comics This Week
Johnny
ADAM STRANGE FUTURE QUEST SPECIAL #1
ANIMAL NOIR #2
BOOSTER GOLD FLINTSTONES SPECIAL #1
COMIC BOOK HISTORY OF COMICS #5
DIVINITY III STALINVERSE #4
GENERATION ZERO #8
GREEN LANTERN SPACE GHOST SPECIAL #1
IMAGE PLUS #12 (WALKING DEAD HERES NEGAN PT 12
KAMANDI CHALLENGE #3 (OF 12)
MARVEL PREVIEWS
MASK MOBILE ARMORED STRIKE KOMMAND #4
MOONSHINE #6
NINJAK #25
OUTCAST BY KIRKMAN & AZACETA #26
PREVIEWS
STAR TREK BOLDLY GO #6 SUBSCRIPTION VAR
SUICIDE SQUAD BANANA SPLITS SPECIAL #1
Brian
ALL NEW X-MEN #19
GREEN LANTERN SPACE GHOST SPECIAL #1
IMAGE PLUS #12
STAR-LORD #5
STAR TREK BOLDLY GO #6 SUBSCRIPTION VAR
TRANSFORMERS LOST LIGHT #4
X-MEN PRIME #1
Contact Us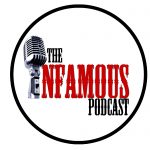 The Infamous Podcast can be found wherever podcasts are found on the Interwebs, feel free to subscribe and follow along on social media. And don't be shy about helping out the show with a 5-star review on iTunes to help us move up in the ratings.
@infamouspodcast
facebook/infamouspodcast
stitcher
iTunes
Google Play
contact@infamouspodcast.com
The music in this episodes is Moose from Bensound.com. The Infamous Podcast is Johnny Pottorf and Brian Tudor, and is produced and edited by Brian Tudor.

Subscribe today!