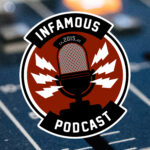 Shot Through a Wormhole
Johnny is still off playing around with Mickey Mouse down in Florida, so Brian is joined by friend of the show David Griffin (@griffinde) to talk about the classic science fiction television series Farscape. They also breakdown some news from The Flash Movie, and David shares his thoughts on Doctor Strange
Mentioned this Week
The Flash Loses Another Director
Doctor Strange Reactions
Young Justice Returns From the Dead
Farscape (1999)
Series Info
Farscape is a science fiction television series, produced originally for the Nine Network. The series was conceived by Rockne S. O'Bannon and produced by Jim Henson Productions and Hallmark Entertainment. The Jim Henson Company was responsible for the various alien make-up and prosthetics, and two regular characters (the animatronic puppets Rygel and Pilot) are entirely Creature Shop creations.
Although the series was planned for five seasons, it was abruptly cancelled after production had ended on its fourth season, ending the series on a cliffhanger. Co-producer Brian Henson later secured the rights to Farscape, paving the way for a three-hour miniseries to wrap up the cliffhanger, titled Farscape: The Peacekeeper Wars, which Henson directed. In 2007, it was announced that the creator was returning for a web-series but production has been repeatedly delayed. A comic book miniseries was released in December 2008 that was in continuity with both the series and the hoped-for webisodes.
Cast & Crew
Created by
Rockne S. O'Bannon
Starring
Ben Browder
Claudia Black
Virginia Hey
Anthony Simcoe
Gigi Edgley
Paul Goddard
Lani Tupu
Wayne Pygram
Jonathan Hardy
Source: Wikipedia
New Comics This Week
Brian
ALL NEW X-MEN #15
AMAZING SPIDER-MAN RENEW YOUR VOWS #1 NOW
CAPTAIN AMERICA STEVE ROGERS #7 NOW
CLONE CONSPIRACY #2 BAGLEY VAR
DETECTIVE COMICS #944
INVINCIBLE IRON MAN #1 NOW
STAR TREK BOLDLY GO #2
STAR WARS POE DAMERON #8
UNCANNY X-MEN #15
David
Too many to mention!
Contact Us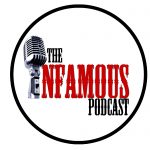 The Infamous Podcast can be found wherever podcasts are found on the Interwebs, feel free to subscribe and follow along on social media. And don't be shy about helping out the show with a 5 star review on iTunes to help us move up in the ratings.
@infamouspodcast
facebook/infamouspodcast
stitcher
iTunes
Google Play
contact@infamouspodcast.com
The music in this episodes is Pomade by Silent Partner. The Infamous Podcast is Johnny Pottorf and Brian Tudor, and is produced and edited by Brian Tudor.

Subscribe today!