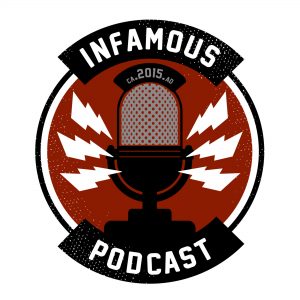 Halloween… More Than Candy
Something Halloween-y this way comes indeed! This week Brian and Johnny talk about some of their favorite horror comics, movies and tv shows. Plus… Did Glenn survive? And just how good was the Supergirl pilot? Oh, and this month's Marvel Collector Corps unboxing.
Supergirl Premiere
Is Glenn Alive?
Marvel Collector Corps
Order Your Marvel Collector Corps Box Today!
Halloween Topics
Horror Movies | Comics | TV Shows
Johnny:
Movies: Trick 'r Treat, Fright Night, Hellraiser, The Silence of the Lambs, Halloween
Comics: 30 Days of Night, The Walking Dead, Swamp Thing, Ghosts, Hellblazer
TV: Twilight Zone, Buffyverse, Friday the 13th: The Series, Freddy's Nightmares, Scream, G vs. E
Brian:
Movies: Saw, Rear Window, Shaun of the Dead, 28 Days Later & Night of the Living Dead, Event Horizon
Comics: The Walking Dead, The Strain, Colder, Locke & Key
TV: Outer Limits, Supernatural, Forever Knight, Grimm and Being Human (US)
Comics This Week
Brian:
ANGELA QUEEN OF HEL #1
BATMAN AND ROBIN ETERNAL #4
CAPTAIN AMERICA SAM WILSON #2
CHEWBACCA #2
FIGHT CLUB 2 #6
GRAYSON #13
ROBIN SON OF BATMAN #5
SPIDER-MAN 2099 #2
UNBEATABLE SQUIRREL GIRL #1
WE ARE ROBIN #5
Johnny:
ART OPS #1
BLACK MAGICK #1
BOOK OF DEATH #4
CHEWBACCA #2
FIGHT CLUB 2 #6
FLASH #45
FROM UNDER MOUNTAINS #2
HE MAN THE ETERNITY WAR #11
HOWLING COMMANDOS OF SHIELD #1
KANAN #7
MANIFEST DESTINY #18
PREVIEWS #326 NOVEMBER 2015
SECRET WARS OFFICIAL GUIDE OF MARVEL MULTIVERSE #1
SPIDER-MAN 2099 #2
VERTIGO QUARTERLY SFX #3
WE ARE ROBIN #5
WHAT IF INFINITY DARK REIGN #1
WHERE MONSTERS DWELL #5
WILDS END ENEMY WITHIN #2
Contact Us
The Infamous Podcast can be found wherever podcasts are found on the Interwebs, feel free to subscribe and follow along on social media. And don't be shy about helping out the show with a 5 star review on iTunes to help us move up in the ratings.
@infamouspodcast
facebook/infamouspodcast
stitcher
iTunes
theinfamouspodcast@gmail.com
The music in this episodes is Pomade by Silent Partner. The Infamous Podcast is Johnny Pottorf and Brian Tudor, and is produced and edited by Brian Tudor.
Additional Music this week:
'Alfred Hitchcock Presents' by Charles Ground
'Forever Knight' by Fred Mollin