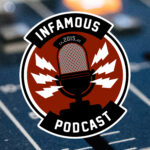 To Boldly Stay Put Outside a Wormhole
This week Johnny and Brian forgo the dangers of star travel and settle in on Deep Space Nine. Star Trek: Deep Space Nine was the first Star Trek not to follow the day-to-day adventures of an Enterprise, and was filled with political intrigue and conspiracy.
News Bites
Big Hero 6 actor Ryan Potter wants to play the Tim Drake version of Robin
DC Comics Opposes Titan's Trademark For "Titan Comics"
CIVIL WAR II Delayed Until End Of Year
Star Trek: Deep Space Nine (1993)
Summary
Star Trek: Deep Space Nine (DS9) focuses on the 24th century adventures of Captain Benjamin Sisko on space station Deep Space 9, an outpost situated near the mouth of a stable wormhole on the far reaches of explored space. Although Sisko commands Deep Space 9, the station actually belongs to the inhabitants of nearby Bajor, who requested Starfleet's protective presence after Bajoran freedom fighters put an end to the brutal Cardassian occupation of their world. Approximately a sixth of the station's 300 permanent residents are Starfleet personnel; there is also a sizable Bajoran militia presence. The rest of Deep Space 9's inhabitants are civilians, most of whom work in the station's Promenade, a kind of indoor marketplace. Initially, Sisko's mandate from Starfleet was to protect Bajor and the station from any hostiles who ventured into the area. But with the discovery of the nearby wormhole—a shortcut through space that leads directly to the uncharted Gamma quadrant—Sisko's mandate has expanded exponentially, as the region becomes the gateway to all manner of visitors, both friendly and extremely hostile.
Source: StarTrek.com 
History
DS9 premiered in 1993 and ran for seven seasons until 1999. Rooted in Gene Roddenberry's Star Trek universe, it was the first Trek spin-off created without direct involvement from Roddenberry, although he did give his blessing to the concept shortly before his death in 1991. The series was created by Rick Berman and Michael Piller, at the request of Brandon Tartikoff, and was produced by Paramount Television. Key writers, in addition to Berman and Piller, included showrunner Ira Steven Behr, Robert Hewitt Wolfe, Ronald D. Moore, Peter Allan Fields, Bradley Thompson, David Weddle, Hans Beimler, and René Echevarria.
DS9 began while Star Trek: The Next Generation was still on the air and there were a few crossover episodes between the two shows. The station's first appearance in TNG was during the sixth season episode "Birthright". In addition, two Next Generation characters, Miles O'Brien and (from Season 4 onwards) Worf, became regular members of DS9. The station also appeared in the Star Trek: Voyager pilot episode, "Caretaker".
Source: Wikipedia.com
Johnny's Recommended Episodes of DS9
Emissary (Season 1, Episode 1)
Q-Less (Season 1, Episode 7)
Duet (Season 1, Episode 18)
In the Hands of the Prophets (Season 1, Episode 19)
The Homecoming (Season 2 , Ep 1)
The Circle (Season 2 , Ep 2)
The Siege (Season 2 , Ep 3)
Blood Oath (Season 2 , Ep 19)
The Maquis Parts 1 & 2 (Season 2 , Ep 21 & 22)
Crossover (Season 2, Ep 23)
The Jem'Hadar (Season 2, Ep 26)
The Search Parts 1 & 2 (Season 3, Ep 1 & 2)
Equilibrium (Season 3, Ep 4)
Second Skin (Season 3, Ep 5)
Defiant (Season 3, Ep 9)
Improbable Cause (Season 3, Ep 20)
The Die Is Cast (Season 3, Ep 21)
Shakaar (Season 3, Ep 24)
The Adversary (Season 3, Ep 26)
The Way of the Warrior (Season 4, Ep 1)
The Visitor (Season 4, Ep 2)
Our Man Bashir (Season 4, Ep 9)
Homefront (Season 4, Ep 10)
Paradise Lost (Season 4, Ep 11)
Return to Grace (Season 4, Ep 13)
For the Cause (Season 4, Ep 21)
Broken Link (Season 4, Ep 25)
Apocalypse Rising (Season 5, Ep 1)
Looking for par'Mach in All the Wrong Places (Season 5 , Ep 3)
Trials and Tribble-ations (Season 5, Ep 6)
In Purgatory's Shadow (Season 5, Ep 14)
By Inferno's Light (Season 5, Ep 15)
Soldiers of the Empire (Season 5, Ep 21)
Children of Time (Season 5, Ep 22)
Call to Arms (Season 5, Ep 26)
All of Season 6 and 7
New Comics This Week
Johnny
ASTRO CITY #38
BRIGGS LAND #2
DOOM PATROL #1
FAITH (ONGOING) #3
FIX #5
FLASH #6
GREEN LANTERNS #6
HADRIANS WALL #1 (OF 8)
HAL JORDAN AND THE GREEN LANTERN CORPS #4
HOUSE OF PENANCE #6 (OF 6)
RESIDENT ALIEN THE MAN WITH NO NAME #1 (OF 4)
KONG OF SKULL ISLAND #3
LETTER 44 #27
PROMETHEUS LIFE AND DEATH #4
SPIDER-MAN 2099 #15 CW2
STAR WARS FORCE AWAKENS ADAPTATION #4 (OF 6)
WRATH OF THE ETERNAL WARRIOR #11
Brian
ALL NEW X-MEN #13
AVATAR LAST AIRBENDER TP VOL 13 NORTH SOUTH PART 1
CIVIL WAR II AMAZING SPIDER-MAN #4 (OF 4)
DETECTIVE COMICS #940
SPIDER-MAN #8
SPIDER-MAN 2099 #15 CW2
SPONGEBOB COMICS #60
UNCANNY INHUMANS #13 CW2
WONDER WOMAN #6 VAR ED
Contact Us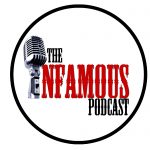 The Infamous Podcast can be found wherever podcasts are found on the Interwebs, feel free to subscribe and follow along on social media. And don't be shy about helping out the show with a 5 star review on iTunes to help us move up in the ratings.
@infamouspodcast
facebook/infamouspodcast
stitcher
iTunes
Google Play
contact@infamouspodcast.com
The music in this episodes is Pomade by Silent Partner. The Infamous Podcast is Johnny Pottorf and Brian Tudor, and is produced and edited by Brian Tudor.

Subscribe today!