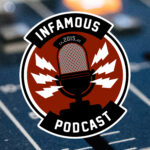 To Boldly Go Back to the Beginning
This week Johnny and Brian are closing out Star Trek series month, as the look back at how it got started with Star Trek Enterprise. They are also joined by the KidBot07 to talk about the 2016 Cincinnati Comic Expo, including interviews with artists Todd Nauck and Joe Corroney.
Cincinnati Comic Expo Recap
Interviews
Todd Nauck
http://toddnauck.com/
Facebook
YouTube
Twitter
Instagram
Joe Corroney
http://www.joecorroney.com/
Facebook
Twitter
Instagram
Star Trek Enterprise (2001)
Synopsis
Star Trek: Enterprise (ENT) focuses on the 22nd century adventures of Captain Jonathan Archer aboard the Enterprise NX-01 during the early days of interstellar travel. The NX designation indicates that this Enterprise is an experimental prototype; Archer's ship is Earth's first vessel designed for long-range exploration of the galaxy. Prior to the development of warp engines that could reach a velocity of warp 5, missions of this nature were impossible. At warp 2, only a handful of inhabited planets were within a year's travel from Earth. But at warp 5, that number increases to ten thousand planets! It is Archer's job to visit as many of those worlds as he can. At 190 meters long, the NX-01 is a bit smaller than Kirk's Enterprise, and carries a crew complement of just eighty-three men and women, all human, with the exception of the Vulcan science officer and the Denobulan doctor. Unlike the starships of the four other Star Trek series, this Enterprise doesn't have deflector shields or phasers, but it does come equipped with a phase cannon and a rudimentary transporter that functions efficiently most of the time.
Source: StarTrek.com
History
After being asked to produce a fifth Star Trek series by UPN, Braga and Berman sought to create a more basic and relatable series set after the events of the film Star Trek: First Contact. The episodes concentrated on a core trio of characters, Captain Jonathan Archer (Scott Bakula), Commander Charles "Trip" Tucker III (Connor Trinneer) and Sub-commander T'Pol (Jolene Blalock). It was filmed on the Paramount lot in Los Angeles, California, on the same stages which had housed Star Trek series and films since the abandoned Star Trek: Phase II in the late 1970s. In addition to dropping the Star Trek prefix, Enterprise also differed from earlier series in the franchise by using "Faith of the Heart" by Russell Watson as the theme tune. This differed from orchestral themes used in previous series, prompting a negative reaction from fans.
The pilot, "Broken Bow", was received positively by critics with praise for the writing and the cast and the ratings were good enough that a full seven season order was expected. However, reviews became more mixed as the first season went on and by the following season, critics were calling the series "broken" as the ratings dropped. These reviews improved during the last two seasons, but ratings continued to decline and UPN cut both the initial orders for the third and fourth seasons by two episodes each before cancelling the series in 2005. The finale "These Are the Voyages…" was particularly poorly received by critics, with complaints directed at the inclusion of characters from Star Trek: The Next Generation and the unnecessary death of Tucker. Prior to cancellation, work had already begun planning episodes for the fifth season.
Source: Wikipedia.com
Johnny's Recommended Episodes
Broken Bow (Season 1, Ep 1 & 2)
Strange New World (Season 1, Ep 4)
Unexpected (Season 1, Ep 5)
The Andorian Incident (Season 1, Ep 7)
Cold Front (Season 1, Ep 11)
Shadows of P'Jem (Season 1, Ep 15)
Detained (Season 1, Ep 21)
Two Days and Two Nights (Season 1, Ep 25)
Shockwave: Part 1 (Season 1, Ep 26)
Shockwave: Part 2 (Season 2, Ep 1)
Carbon Creek (Season 2, Ep 2)
A Night in Sickbay (Season 2, Ep 5)
The Communicator (Season 2, Ep 8)
Precious Cargo (Season 2, Ep 11)
Dawn (Season 2, Ep 13)
Cease Fire (Season 2, Ep 15)
Future Tense (Season 2, Ep 16)
Judgment (Season 2, Ep 19)
Horizon (Season 2, Ep 20)
Cogenitor (Season 2, Ep 22)
First Flight (Season 2, Ep 24)
Bounty (Season 2, Ep 25)
The Expanse (Season 2, Ep 26)
The Xindi (Season 3, Ep 1)
Anomaly (Season 3, Ep 2)
Rajiin (Season 3, Ep 4)
Impulse (Season 3, Ep 5)
The Shipment (Season 3, Ep 7)
Twilight (Season 3, Ep 8)
Similitude (Season 3, Ep 10)
Carpenter Street (Season 3, Ep 11)
Proving Ground (Season 3, Ep 13)
Stratagem (Season 3, Ep 14)
Harbinger (Season 3, Ep 15)
Hatchery (Season 3, Ep 17)
Azati Prime (Season 3, Ep 18)
Damage (Season 3, Ep 19)
The Forgotten (Season 3, Ep 20)
E2 (Season 3, Ep 21)
The Council (Season 3, Ep 22)
Countdown (Season 3, Ep 23)
Zero Hour (Season 3, Ep 24)
All of Season Four
New Comics This Week
Johnny
ALIENS DEFIANCE #5
ASTRO CITY #39
BACK TO THE FUTURE #12
BACK TO THE FUTURE CITIZEN BROWN #5
BATMAN #7
BATMAN BEYOND REBIRTH #1
BLOODSHOT REBORN #17
CAPTAIN AMERICA STEVE ROGERS #5
CRYPTOCRACY #4
DESCENDER #15
GUIDE MARVEL CINEMATIC UNIV MARVELS AVENGERS AGE ULTRON #1
HAL JORDAN AND THE GREEN LANTERN CORPS #5
HILLBILLY #3
HORRORHOUND #61
IMAGE PLUS #6 (WALKING DEAD HERES NEGAN PT 6)
MAE #5
MASK REVOLUTION #1
MOON GIRL AND DEVIL DINOSAUR #11
OUTCAST BY KIRKMAN & AZACETA #21
PREVIEWS #337
SAGA #38
STAR TREK WAYPOINT #1
STAR WARS #23
TALES FROM THE DARKSIDE #4
TARZAN ON THE PLANET OF THE APES #1
TOTALLY AWESOME HULK #10
WEB WARRIORS #11
X-O MANOWAR #50
Brain
BATMAN BEYOND REBIRTH #1
CAPTAIN AMERICA SAM WILSON #13 CW2
CAPTAIN AMERICA STEVE ROGERS #5 CW2
DETECTIVE COMICS #941 VAR ED
EXTRAORDINARY X-MEN #14
JOSIE & THE PUSSYCATS #1 CVR A REG AUDREY MOK
MASK REVOLUTION #1
MOON GIRL AND DEVIL DINOSAUR #11
NOVA #11
SAGA #38 (MR)
STAR WARS #23
TARZAN ON THE PLANET OF THE APES #1
TEEN TITANS REBIRTH #1 VAR ED
THIEF OF THIEVES #35 (MR)
TITANS #3 VAR ED
TOTALLY AWESOME HULK #10 CW2
X-MEN 92 #7
Contact Us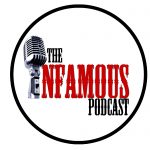 The Infamous Podcast can be found wherever podcasts are found on the Interwebs, feel free to subscribe and follow along on social media. And don't be shy about helping out the show with a 5 star review on iTunes to help us move up in the ratings.
@infamouspodcast
facebook/infamouspodcast
stitcher
iTunes
Google Play
contact@infamouspodcast.com
The music in this episodes is Pomade by Silent Partner. The Infamous Podcast is Johnny Pottorf and Brian Tudor, and is produced and edited by Brian Tudor.

Subscribe today!