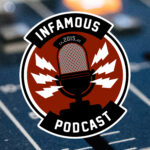 To Boldly Go on for Seven Seasons
This week Johnny and Brian jump 400 years into the future to follow the crew of the USS Enterprise 1701-D, a galaxy class starship and breakdown Star Trek The Next Generation as they continue celebrating the 50th anniversary of Star Trek. They also introduce a new segment on the show… the #CertifiedInfamous Reading List! All this plus they are joined again by friend of the show YouTuber David Griffin!
#CertifiedInfamous Reading List
Manifest Destiny Vol 1. – The 1804 adventures of Lewis & Clark… Monster Hunters!
Star Trek The Next Generation (1987)
Synopsis
Star Trek: The Next Generation (TNG) focuses on the 24th century adventures of Captain Jean-Luc Picard aboard the U.S.S. Enterprise (NCC-1701-D). This incarnation of the famous starship is much larger than the one captained by James T. Kirk a century earlier, and, accordingly, it carries a larger crew complement: 1,012 men, women…and, surprisingly, children. This era's Starfleet Command believes that men and women are more likely to sign up for long-term exploratory missions if they think of their ship as home. Thus, Picard's crew enjoys many of the comforts they'd have otherwise left behind, including a wide variety of recreational opportunities, "replicated" food dishes to suit every palate, and quarters large enough to share with spouses and offspring. There are schools for the children and a bar (stocked with synthetic alcohol, or synthehol) where the adults can unwind. However, the ongoing mission—no longer limited to a mere five years—remains virtually the same as it was during Kirk's time: to seek out new life and new civilizations, and to boldly go where no one has gone before.
Source: StarTrek.com
History
Star Trek: The Next Generation moved the universe forward roughly a century past the days of James T. Kirk and Spock. The series depicted a new age in which the Klingons were allies of the Federation, though the Romulans remained adversaries. New threats included the Ferengi (although they were later used more for comic relief), the Cardassians, and the Borg. While Star Trek: The Original Series was clearly made in the 1960s, the first two seasons of The Next Generation show all the markings of a 1980s product, complete with Spandex uniforms.
As with the original Star Trek, TNG was still very much about exploration, "boldly going where no one has gone before". Similarly, the plots captured the adventures of the crew of a starship, namely the USS Enterprise-D. Despite the apparent similarities with the original series, the creators of TNG were adamant about creating a bold, independent vision of the future. The public did not widely accept the show on its own terms until the airing of "The Best of Both Worlds", which marked a shift towards higher drama, serious plot lines, and a less episodic nature. This helped pave the way for Star Trek: Deep Space Nine and its two-year-long Dominion War arc and preceding build-up, as well as the third and fourth seasons of Star Trek: Enterprise. Star Trek: Voyager capitalized on the heightened crew relationships and familial bonds first seen on The Next Generation. DS9, on the other hand, balanced political intrigue, character development, and series-long plot threads with a rerun-friendly format.
Source: Memory Alpha
Recommended by Johnny
Here is a list of TNG Episodes Johnny recommends watching:
Encounter at Farpoint (ep 1, season 1)
Skin of Evil (ep 22, season 1)
Q Who (ep 16, season 2)
The Emissary (ep 20, season 2)
Yesterday's Enterprise (ep 15, season 3)
Sins of the Father (ep 17, season 3)
Sarek (ep 23, season 3)
The Best of Both Worlds (ep 26, season 3-ep 1, season 4)
Family (ep 2, season 4)
Reunion (ep 7, season 4)
The Drumhead (ep 21, season 4)
Redemption (ep 26, season 4 – ep 1, season 5)
Disaster (ep 5, season 5)
Unification (ep 7 & 8, season 5)
Relics (ep 4, season 6)
Chain of Command (ep 10 & 11, season 6)
Tapestry (ep 15, season 6)
Dark Page (ep 7, season 7)
Parallels (ep 11, season 7)
The Pegasus (ep 12, season 7)
Lower Decks (ep 15, season 7)
Firstborn (ep 21, season 7)
All Good Things… (ep 25, season 7)
New Comics This Week
Johnny
A&A #7
ALL NEW ALL DIFFERENT AVENGERS #14
COLOR YOUR OWN WOMEN OF POWER
ECLIPSE #1
EVERAFTER FROM THE PAGES OF FABLES
NIGHTWING #4
NINJAK #19
PAPER GIRLS #9
SHERIFF OF BABYLON #10 (OF 12)
SKYBOURNE #1
STAR WARS POE DAMERON #6
WALKING DEAD #158
WOODS #25
Brian
BATMAN #6 VAR ED
DOCTOR STRANGE #11
DRIFTER #14 CVR B SANDOVAL (MR)
FASTER THAN LIGHT #10
GREEN ARROW #6
INVINCIBLE IRON MAN #13 CW2
JUGHEAD #9 CVR C VAR MOK
MARVEL TSUM TSUM #2 (OF 4) CLASSIFIED CONNECTING B VAR
NIGHTWING #4 VAR ED
PAPER GIRLS #9
STAR WARS POE DAMERON #6
UNCANNY X-MEN #12
UNFOLLOW #11 (MR)
WALKING DEAD #158
Contact Us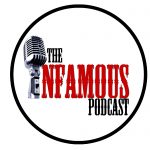 The Infamous Podcast can be found wherever podcasts are found on the Interwebs, feel free to subscribe and follow along on social media. And don't be shy about helping out the show with a 5 star review on iTunes to help us move up in the ratings.
@infamouspodcast
facebook/infamouspodcast
stitcher
iTunes
Google Play
contact@infamouspodcast.com
The music in this episodes is Pomade by Silent Partner. The Infamous Podcast is Johnny Pottorf and Brian Tudor, and is produced and edited by Brian Tudor.

Subscribe today!