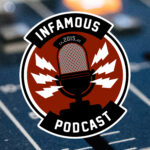 This is the Five Year Mission
This week Johnny and Brian kick the Star Trek into HIGH GEAR! With September 6th being the 50th anniversary of the 1966 premiere of the premiere on NBC, they kick off Star Trek month where they will be looking back at all of the different series.  They also pay respects to Gene Wilder, finally learn were Thor was during Civil War, and have some great news about the Netflix Original Series Stranger Things.
News Bites
RIP Gene Wilder
Who is on Team Thor?
Stranger Things Heads to the Upside Down for Season 2
Star Trek: The Original Series (1966)
Synopsis
The original Star Trek series focuses on the 23rd century adventures of Captain James T. Kirk and the U.S.S. Enterprise (NCC-1701), a powerful interstellar spacecraft dispatched by Earth-based Starfleet Command to explore the galaxy. Kirk commands a crew of 430 men and women aboard his starship, which can travel at speeds surpassing the speed of light. Kirk's five-year mission—and his mandate from Starfleet—is to seek out new life and new civilizations, and to boldly go where no man has gone before.
Source: StarTrek.com
History
Star Trek: The Original Series (formerly called just Star Trek) is the first Star Trek series. The first episode of the show aired on 6 September 1966 on CTV in Canada followed on 8 September 1966 on NBC in America. The show was created by Gene Roddenberry as a "Wagon Train to the Stars". Star Trek was set in the 23rd century and featured the voyages of the starship Enterprise. Star Trek was later informally dubbed The Original Series, or TOS, after several spin-offs aired. The show lasted three seasons until canceled in 1969. When the show first aired on TV, and until budgetary issues in its third season resulted in a significant drop in quality, Star Trek regularly performed respectably in its time slot. After it was canceled and went into syndication, however, its popularity exploded. It featured themes such as a Utopian society and racial equality, and the first African-American officer in a recurring role. Ten years later, Star Trek: The Motion Picture reunited the cast on the big screen aboard a refurbished USS Enterprise.
New Comics This Week
Johnny
4001 AD #4
ALIENS DEFIANCE #4
BLOODSHOT REBORN #16
CRYPTOCRACY #3
FUTURE QUEST #4
GRANT MORRISONS AVATAREX #2
IMAGE PLUS #5 (WALKING DEAD HERES NEGAN PT 5)
MAE #4
PREDATOR VS JUDGE DREDD VS ALIENS #2
PREVIEWS #336
ROUGH RIDERS #5
SAGA #37
SPIDER-MAN 2099 #14
STAR WARS HAN SOLO #3
THUNDERBOLTS #4
X-O MANOWAR #49
Brian
AMAZING SPIDER-MAN #17
ASTONISHING ANT-MAN #11 CW2
CIVIL WAR II CHOOSING SIDES #5
DEADPOOL VS GAMBIT #4 (OF 5)
GUARDIANS OF GALAXY #11 CW2
IMAGE PLUS #5
JUPITERS LEGACY VOL 2 #3 (OF 5)
MIGHTY ZODIAC #5
NOVA #10
SAGA #37
SPIDER-MAN #7 CW2
SPIDER-MAN 2099 #14 CW2
STAR WARS HAN SOLO
TMNT UNIVERSE #1
TOKYO GHOST #10
X-MEN 92 #6
Contact Us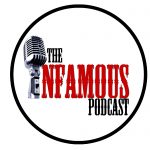 The Infamous Podcast can be found wherever podcasts are found on the Interwebs, feel free to subscribe and follow along on social media. And don't be shy about helping out the show with a 5 star review on iTunes to help us move up in the ratings.
@infamouspodcast
facebook/infamouspodcast
stitcher
iTunes
Google Play
contact@infamouspodcast.com
The music in this episodes is Pomade by Silent Partner. The Infamous Podcast is Johnny Pottorf and Brian Tudor, and is produced and edited by Brian Tudor.

Subscribe today!