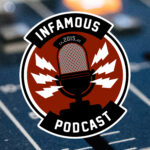 Didn't We Say Something About Source Material?!?
This week on the show Johnny and Brian quickly watch/geek out over the Rogue One trailer, then it is down to business talking about the Walking Dead Season 6 finale, then they FINALLY review Daredevil Season 2 from Netflix.
Rogue One: A Star Wars Story Trailer
In theaters this December! Check out the Trailer here (like you have't watched it 10 times already!)
Supergirl/Flash Crossover
We are late to the table talking about this fun little event, but we know you can't wait to hear our thoughts on this so here they are… spoiler alert… we liked it!
The Walking Dead Season 6 Finale
So the season 6 finale of the Walking Dead has come and gone, and the only real fatality is the time wasted watching that crap-fest and the poor cameraman to got brained by Lucille.
"I think it has a pretty strong following, just wish they would leave Gimple and Kirkman off there. When Nicotero or some of the other production people are on it's good, but otherwise it can be a yawnfest." – Johnny, when discussing Talking Dead
Daredevil Season 2 Review
From amazing fight scenes to new characters joining the heroes of Hell's Kitchen (both in and out of masks, looking at you Foggy Nelson!), season 2 was full of twist, turns and punishment!
New Comics This Week
Johnny
BLACK PANTHER #1
CONTEST OF CHAMPIONS #7
EMPRESS #1
ESCAPE FROM NEW YORK #16
FIX #1
GOLD KEY ALLIANCE #1
GREEN LANTERN #51
GRIZZLY SHARK #1
MIGHTY MORPHIN POWER RANGERS #2
NINJAK #14
ROUGH RIDERS #1
SHERIFF OF BABYLON #5
SPIDER-MAN 2099 #9
SPIDER-WOMEN ALPHA #1
STAR TREK ONGOING #56
STAR WARS POE DAMERON #1
SURVIVORS CLUB #7
UNFOLLOW #6
WALKING DEAD #153
WOODS #21
Brian
ARCHIE #7
BLACK PANTHER #1
GREEN ARROW #51
GREEN LANTERN #51
INVINCIBLE IRON MAN #8
SPIDER-MAN 2099 #9
STAR WARS POE DAMERON #1
UNCANNY X-MEN #6
UNFOLLOW #6
WALKING DEAD #153
Contact Us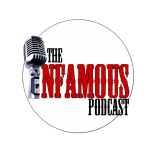 The Infamous Podcast can be found wherever podcasts are found on the Interwebs, feel free to subscribe and follow along on social media. And don't be shy about helping out the show with a 5 star review on iTunes to help us move up in the ratings.
@infamouspodcast
facebook/infamouspodcast
stitcher
iTunes
theinfamouspodcast@gmail.com
The music in this episodes is Pomade by Silent Partner. The Infamous Podcast is Johnny Pottorf and Brian Tudor, and is produced and edited by Brian Tudor.

Subscribe today!