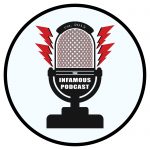 Every Animal Was Kung Fu Fighting!
This week Johnny and Brian are joined again by comic book writing veteran J. Torres. J. is here to talk about The Might Zodiac Vol. 1 (hopefully Vol. 2 will be on the way soon), Bro Bots Vol 2. and what is it like to be a professional comic book writer in the current climate. There is also a special appearance by Brian's daughter Hayley who is J's biggest fan!
News Bites
The Orville Trailer
The Gifted Trailer
DC Justice League/Power Rangers 5 & 6 Cancelled?
War for the Planet of the Apes New Trailer
Agents of SHIELD pushed to 2018
J Torres Returns!
J. Torres is a Filipino-born Canadian comic book writer. He is perhaps best known for his run on DC Comics' Teen Titans Go, the Eisner-nominated Alison Dare, and the Junior Library Guild/TD Summer Reading Club title Bigfoot Boy. Winner of the Shuster Award for "Outstanding Writer," Torres has worked with characters from A (Archies) to Z (The Mighty Zodiac) and many more in between (Avatar, Batman, Ninja Scroll, Simpsons, WALL-E, Wonder Woman, Yo Gabba Gabba, and X-Men to name a few).
Find J. Online
New Comics This Week
Johnny
ANIMAL NOIR #4
BRITANNIA WE WHO #2
CURSE WORDS #5
FLASH #22
GREEN LANTERNS #23
HORRORHOUND #65
INVINCIBLE #136
JUSTICE LEAGUE/POWER RANGERS #4
KONG OF SKULL ISLAND #11
MASK MOBILE ARMORED STRIKE KOMMAND #6
NEIL GAIMAN AMERICAN GODS SHADOWS #3
NIGHTWING #21
NINJAK #27
ROSE #2
STAR TREK TNG MIRROR BROKEN #1
STAR WARS #31
STAR WARS POE DAMERON #15
WILD STORM #4
Brian
ARCHIE #20 CVR B
BATMAN #23 VAR ED
FLASH #22 LENTICULAR VAR ED
GENERATION X #1
INVINCIBLE #136
MIGHTY THOR #19
NIGHTWING #21 VAR ED
SECRET EMPIRE #2
STAR TREK TNG MIRROR BROKEN #1
STAR WARS #31
STAR WARS POE DAMERON #15
SUPER SONS #4 VAR ED
X-MEN GOLD #4
Contact Us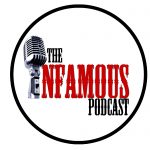 The Infamous Podcast can be found wherever podcasts are found on the Interwebs, feel free to subscribe and follow along on social media. And don't be shy about helping out the show with a 5-star review on iTunes to help us move up in the ratings.
@infamouspodcast
facebook/infamouspodcast
stitcher
iTunes
Google Play
contact@infamouspodcast.com
The music in this episodes is Moose from Bensound.com. The Infamous Podcast is Johnny Pottorf and Brian Tudor, and is produced and edited by Brian Tudor.

Subscribe today!