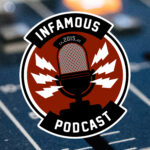 The First Family of PIXAR is Back Baby!
This week on the podcast Johnny and Brian (who is sick, but the show must go on) talk Lucasfilm news, the Disney/20th Century deal, and review the latest PIXAR hit The Incredibles 2!
News Bites
Star Wars Spinoffs on Hold?
21st Century Fox and Disney Find the Magic Number
The Incredibles 2 (2018)
Summary
Three months following Syndrome's defeat in the previous film, the Parr family – Bob, Helen, Dash, Violet and Jack-Jack – continue operating under their superhero identity, the Incredibles. The movie starts off from the final moments in the previous film, when the Incredibles tried to stop the Underminer from robbing Metroville Bank, which failed, and the authorities become concerned over the level of damage caused by the incident. As a result, Rick Dicker informs the Parr family that his department's "Super Relocation" program is being shut down, forcing supers across the world to permanently adhere to their secret identities, and he relocates the family to a motel as that is all he can do for them. Soon thereafter, Bob and Helen, along with family friend Lucius Best – the superhero Frozone –, are contacted by Winston Deavor, a superhero fan, telecommunications tycoon, and owner of DEVTECH, who proposes a publicity stunt to regain the general public's support of supers.
Cast & Crew
Directed by
Brad Bird
Produced by
John Walker
Nicole Paradis Grindle
Written by
Brad Bird
Edited by
Stephen Schaffer
Production company
Walt Disney Pictures
Pixar Animation Studios
Distributed by
Walt Disney Studios Motion Pictures
Release date
June 15, 2018 (United States)
Running time
118 minutes
Budget
$200 million
Box office (AS OF RECORDING)
$328.2 million
Cast
Craig T. Nelson as Bob Parr / Mr. Incredible
Holly Hunter as Helen Parr / Elastigirl
Sarah Vowell as Violet Parr
Huck Milner as Dashiell "Dash" Parr
Eli Fucile as Jack-Jack Parr
Nicholas Bird provides the vocal effects of Jack-Jack's monster form.
Samuel L. Jackson as Lucius Best / Frozone
Bob Odenkirk as Winston Deavor
Catherine Keener as Evelyn Deavor
Brad Bird as Edna Mode
Jonathan Banks as Rick Dicker
Michael Bird as Tony Rydinger
Sophia Bush as Karen / Voyd
Phil LaMarr as Krushauer and He-Lectrix
Paul Eiding as Reflux
Isabella Rossellini as The Ambassador
Bill Wise as Screenslaver / Pizza Guy
John Ratzenberger as The Underminer
Kimberly Adair Clark as Honey Best
New Comics This Week – Sponsored by comiXology
When you check out make sure to use the code 'Infamous' to get $5 off when you spend $15!


Johnny
AMAZING SPIDER-MAN #801
AVENGERS #3
BLACK HAMMER AGE OF DOOM #3
CAPTAIN AMERICA #704
GIDEON FALLS #4
PLANET OF THE APES URSUS #6
SHANGHAI RED #1
SKYWARD #3
STAR WARS POE DAMERON #28
TRUE BELIEVERS ANT-MAN INCREDIBLE SHRINKING DOOM #1
TRUE BELIEVERS SCOTT LANG ASTONISHING ANT-MAN #1
Brian
AMAZING SPIDER-MAN RENEW YOUR VOWS #20
BATMAN #49
HIT-GIRL #5
OBLIVION SONG BY KIRKMAN & DE FELICI #4
STAR WARS POE DAMERON #28
X-MEN GOLD #30
Contact Us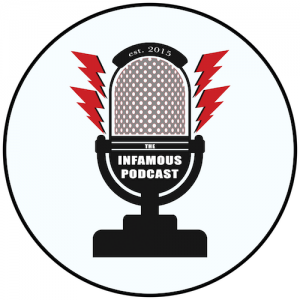 The Infamous Podcast can be found wherever podcasts are found on the Interwebs, feel free to subscribe and follow along on social media. And don't be shy about helping out the show with a 5-star review on Apple Podcasts to help us move up in the ratings.
@infamouspodcast
facebook/infamouspodcast
instagram/infamouspodcast
stitcher
Apple Podcasts
Google Play
contact@infamouspodcast.com
The music in this episodes is Moose from Bensound.com. The Infamous Podcast is Johnny Pottorf and Brian Tudor and is produced and edited by Brian Tudor.

Subscribe today!