Into the Black Hole and Out the Other Side
The Black Hole is a 1979 American science fiction film directed by Gary Nelson and produced by Walt Disney Productions. The film stars Maximilian Schell, Robert Forster, Joseph Bottoms, Yvette Mimieux, Anthony Perkins, and Ernest Borgnine, while the voices of the main robot characters are provided by Roddy McDowall and Slim Pickens (both unbilled). The music for the film was composed by John Barry.
Nearing the end of a long mission exploring deep space, the spacecraft USS Palomino is returning to Earth. The crew consists of Captain Dan Holland, First Officer Lieutenant Charlie Pizer, journalist Harry Booth, ESP-sensitive scientist Dr. Kate McCrae, the expedition's civilian leader Dr. Alex Durant and the robot V.I.N.CENT ("Vital Information Necessary CENTralized"). – Wikipedia
Director: Gary Nelson
Starring:
Maximilian Schell
Anthony Perkins
Robert Forster
Joseph Bottoms
Yvette Mimieux
Ernest Borgnine
Roddy McDowall
Slim Pickens
New Comics This Week
Johnny
A&A #4
ASTRO CITY #36
BACK TO THE FUTURE CITIZEN BROWN #2
CIVIL WAR II #2
DESCENDER #12
GREEN LANTERNS #1
I HATE FAIRYLAND #6
INVINCIBLE #129
LUCIFER #7
MANIFEST DESTINY #20
MIGHTY ZODIAC #3
SCOOBY APOCALYPSE #2
STAR WARS #20
STAR WARS HAN SOLO #1
TALES FROM THE DARKSIDE #1
TITANS REBIRTH #1
WRATH OF THE ETERNAL WARRIOR #8
Brian
AMAZING SPIDER-MAN #14
ASTONISHING ANT-MAN #9
CIVIL WAR II #2
CIVIL WAR II X-MEN #1
GREEN ARROW #1
GREEN LANTERNS #1
INVINCIBLE #129
JUGHEAD #7
MIGHTY ZODIAC #3
NOVA #8 CW2
STAR WARS #20
STAR WARS HAN SOLO #1
TITANS REBIRTH #1
UNCANNY INHUMANS #10
UNCANNY X-MEN #8 AW 
Contact Us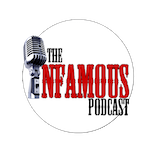 The Infamous Podcast can be found wherever podcasts are found on the Interwebs, feel free to subscribe and follow along on social media. And don't be shy about helping out the show with a 5 star review on iTunes to help us move up in the ratings.
@infamouspodcast
facebook/infamouspodcast
stitcher
iTunes
Google Play
contact@infamouspodcast.com
The music in this episodes is Pomade by Silent Partner. The Infamous Podcast is Johnny Pottorf and Brian Tudor, and is produced and edited by Brian Tudor.

Subscribe today!