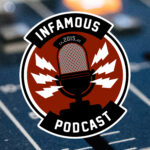 The Mad Queen Will Not Be Stopped
This week Johnny and Brian are talking season 6 of Game of Thrones, looking back at their favorite moments, and looking ahead with season 7 predictions. Can Brian be more wrong in season 7 than he was in season 6? Also, there is a new Iron Man, Netflix is The CW's rebound streaming network and more!
News Bites
There is a New Iron Man in These Parts
The CW and Netflix Get Cozy (sorry Hulu)
Hikaru Sulu Has Some News for His Parents in Star Trek Beyond
Pokemon Go is Here
Game of Thrones Season 7 Delayed
Game of Thrones Season 6
The Red Woman S6, Ep1
The fate of Jon Snow is revealed. Daenerys is brought before Khal Moro. Tyrion gets used to living in Meereen. Ramsay sends his dogs after Theon and Sansa. Ellaria and the Sand Snakes make their move. Cersei mourns for Myrcella.
Home S6, Ep2
Bran trains with the Three-Eyed Raven. Tommen meets with Cersei. Tyrion makes a bold move. Theon leaves while at Pyke new issues arise. Ramsay's brother is born. Davos asks Melisandre for a miracle.
Oathbreaker S6, Ep3
Daenerys arrives at Vaes Dothrak. Sam and Gilly sail for Horn Hill. Arya trains as No One. Varys finds information on the Sons of the Harpy. Ramsay receives a gift. Tommen meets with the High Sparrow. At Castle Black, a miracle occurs.
Book of the Stranger S6, Ep4
Sansa arrives at Castle Black. Tyrion makes a deal with the Slave Masters. Jorah and Daario sneak into Vaes Dothrak. Ramsay sends a letter to Jon. Theon arrives at Pyke. Cersei and Olenna Tyrell plot against the High Sparrow.
The Door S6, Ep5
Sansa and Jon make plans. Arya is given another chance to prove herself. Jorah confesses a secret to Daenerys. Tyrion meets with a Red Priestess. Yara finds her rule tested. Bran discovers the origin of the White Walkers.
Blood of My Blood S6, Ep6
Bran and Meera find a new ally. Gilly meets Sam's family. Arya makes a difficult choice. The Lannisters and Tyrells march against the High Sparrow.
The Broken Man S6, Ep7
Jon and Sansa gather troops. Jaime arrives at Riverrun. Olenna Tyrell plans to leave King's Landing. Theon and Yara plan a destination. Arya makes plans to leave.
No One S6, Ep8
Brienne arrives at Riverrun. Arya seeks shelter. Jaime meets with Edmure Tully. Cersei challenges the Faith. Sandor Clegane hunts for revenge. Tyrion faces the consequences of earlier decisions.
Battle of the Bastards S6, Ep9
Jon and Sansa face Ramsay Bolton on the fields of Winterfell. Daenerys strikes back at her enemies. Theon and Yara arrive in Meereen.
The Winds of Winter S6, Ep10
Cersei and Loras Tyrell stand trial by the gods. Daenerys prepares to set sail for Westeros. Davos confronts Melisandre. Sam and Gilly arrive in Oldtown. Bran discovers a long kept secret. Lord Frey has an uninvited guest.
New Comics This Week
Johnny
4001 AD SHADOWMAN #1
BLOODSHOT REBORN BLOODSHOT ISLAND DIRECTORS CUT #1
EMPRESS #4
FLINTSTONES #1
FUTURE QUEST #2
GREEN LANTERNS #2
JUSTICE LEAGUE REBIRTH #1
PEANUTS FRIENDS FOREVER 2016 SPECIAL #1
SHERIFF OF BABYLON #8
SPIDER-MAN 2099 #12
STAR WARS HAN SOLO #2
STAR WARS POE DAMERON #4
TOKYO GHOST #8
TOTALLY AWESOME HULK #8
UNFOLLOW #9
WALKING DEAD #156
WOODS #24
Brian
AMAZING SPIDER-MAN #15
BATMAN #2
CAPTAIN AMERICA SAM WILSON #11
CIVIL WAR II X-MEN #2
FASTER THAN LIGHT #8
GREEN ARROW #2
GREEN LANTERNS #2
INVINCIBLE IRON MAN #11
PAPER GIRLS #7
SPIDER-MAN 2099 #12
STAR WARS HAN SOLO #2
STAR WARS POE DAMERON #4
TOKYO GHOST #8
TOTALLY AWESOME HULK #8
UNFOLLOW #9
WALKING DEAD #156
Contact Us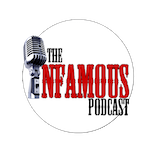 The Infamous Podcast can be found wherever podcasts are found on the Interwebs, feel free to subscribe and follow along on social media. And don't be shy about helping out the show with a 5 star review on iTunes to help us move up in the ratings.
@infamouspodcast
facebook/infamouspodcast
stitcher
iTunes
Google Play
contact@infamouspodcast.com
The music in this episodes is Pomade by Silent Partner. The Infamous Podcast is Johnny Pottorf and Brian Tudor, and is produced and edited by Brian Tudor.

Subscribe today!