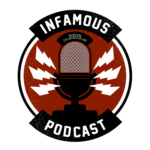 In this bonus episode, Brian sits down with director Aharon Keshales to talk about his movie South of Heaven, filmmaking, and deconstructing genres. You don't want to miss this one.
Episode Index
Intro: 0:11
Aharon Keshales: 0:07
Aharon Keshales Interview
Find Aharon on Twitter https://twitter.com/aharon1keshales
Find Aharon on Instagram https://www.instagram.com/aharon_keshales/?hl=en
Bio
Keshales was born in Jaffa, Israel, to a Sephardic Jewish family. He grew up in Bat Yam, Israel. He served as a soldier in the Intelligence Corps of the Israel Defense Forces. Then studied at the Tel Aviv University's film school, where he later became a lecturer until completing his graduate degree in the interdisciplinary program at the Faculty of Arts.
At the same time, Keshales worked as film critic for Ynet, Globes, and Rating Magazine; and also created the film blog "Piranha Karina".
Credits
Director
Once Upon a Time in Palestine (announced)
2021 South of Heaven
2014 ABCs of Death 2 (segment "F is for Falling")
2013 Big Bad Wolves
2010 Rabies
Writer
Once Upon a Time in Palestine (screenplay) (announced)
2022 Lobo Feroz (post-production)
2021 South of Heaven (screenplay by) / (story by)
2013 Big Bad Wolves (written by)
2010 Rabies
Producer
2021 South of Heaven (producer – produced by)
2021 Gunpowder Milkshake (executive producer)
Infamous Shirts for Naked Bodies

…

You'll feel "shirty" when you buy our gear from the Flying Pork Apparel Co.
New Comics This Week – Sponsored by comiXology

Contact Us
The Infamous Podcast can be found wherever podcasts are found on the Interwebs, feel free to subscribe and follow along on social media. And don't be shy about helping out the show with a 5-star review on Apple Podcasts to help us move up in the ratings.
@infamouspodcast
facebook/infamouspodcast
instagram/infamouspodcast
stitcher
Apple Podcasts
Spotify
Google Play
iHeart Radio
contact@infamouspodcast.com
Our theme music is 'Skate Beat' provided by Michael Henry, with additional music provided by Michael Henry. Find more at MeetMichaelHenry.com.
The Infamous Podcast is hosted by Brian Tudor and Darryl Jasper, is recorded in Cincinnati, Ohio. The show is produced and edited by Brian Tudor.



Subscribe today!