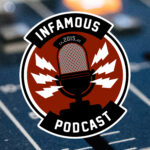 Born to Draw
This week Johnny and Brian sit down and talk with artist Joe Corroney in this extended interview episode. Joe shares how he became a professional artist, what it is like to work for Lucasfilms, how he got into comics and more! Make sure you listen all the way to the end of the episode because Johnny and Brian have a special grab bag selection for the next episode of Cover Up!
Who is Joe Corroney?
Joe Corroney has been illustrating official Star Wars and Star Trek artwork for books, games, trading cards, comic books, posters, prints and magazines since 1997. Some of the other comic books he's illustrated include X-Files, True Blood, and GI Joe for IDW Publishing, Doctor WHO for Titan Comics, Farscape for BOOM! Studios, The Phantom for Moonstone Books and Crimson Dynamo for Marvel Comics. Currently, he's developing his creator owned comic book series, Death Avenger and continuing to create new Star Wars artwork for Disney and Lucasfilm.
Other licenses and professional publishers he has illustrated for are Marvel Comics' Avengers, Indiana Jones, The Walking Dead, The Hobbit, The Lord of the Rings, Assassin's Creed, Frozen, Heroes, Random House Publishing/Del Rey Books, Simon & Schuster/Pocket Books, DC Comics, CBS Studios, Hasbro, Becker & Mayer! Books, Topps, Wizards of the Coast, XBox, Sony Pictures, IDG Entertainment, Upper Deck, Rittenhouse Archives, Paizo Publishing, White Wolf Publishing, Cinemagraphix, Last Unicorn Games and West End Games.
He was also the instructor for the Comic Book Illustration and Digital Illustration courses at the Columbus College of Art and Design in Columbus, Ohio for ten years and has taught the Ohio State University's Summer Comic Book Workshop as well.
Joe runs a full-time illustration studio and can be commissioned or contracted for work. You can contact him at joe@joecorroney.com. or at http://www.joecorroney.com/
Where to Find Joe on the Road This Year
NEXT: Emerald City Comic Con
Seattle, WA
March 2nd-5th, 2017
Wizard World Cleveland
Cleveland, OH
March 17th-19th, 2017
Gem City Comic Con
Dayton, OH
April 1st-2nd, 2017
Star Wars Celebration Orlando
Orlando, FL
April 13th-16th, 2017
C2E2
Chicago, IL
April 21st-23rd, 2017
Motor City Comic Con
Novi, MI
May 19th-21st, 2017
Denver Comic Con
Denver, CO
June 30th-July 2nd, 2017
Indy Pop Con
Indianapolis, IN
July 7th-9th, 2017
Comic-Con International
San Diego, CA
July 19th-23rd, 2017
Wizard World Columbus
Columbus, OH
August 4th-6th, 2017
Terrificon
Uncasville, CT
August 18th-20th, 2017
Wizard World Chicago
Chicago, IL
August 24th-27th, 2017
New York Comic Con
New York City, NY
October 5th-8th, 2017
New Comics This Week
Johnny
ANIMAL NOIR #1
AVENGERS #5
BIG TROUBLE LITTLE CHINA ESCAPE NEW YORK #6
EVERAFTER FROM THE PAGES OF FABLES #7
EXTREMITY #1
FAITH (ONGOING) #9
GREEN LANTERNS #18
IMAGE PLUS #11 (WALKING DEAD HERES NEGAN PT 11
MASK MOBILE ARMORED STRIKE KOMMAND #3
NIGHTWING #16
PAPER GIRLS #12
PREVIEWS/MARVEL PREVIEWS
ROYAL CITY #1
SPIDER-MAN 2099 #21
STAR TREK GOLD KEY 100 PAGE SPECTACULAR
WALKING DEAD #165
WOODS #30
X-FILES DEVIATIONS 2017
Brian
BATMAN #18
CHAMPIONS #6
IMAGE PLUS #11
NIGHTWING #16 VAR ED
PAPER GIRLS #12
STAR WARS #29
WALKING DEAD #165
Contact Us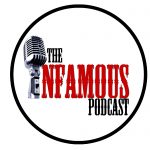 The Infamous Podcast can be found wherever podcasts are found on the Interwebs, feel free to subscribe and follow along on social media. And don't be shy about helping out the show with a 5-star review on iTunes to help us move up in the ratings.
@infamouspodcast
facebook/infamouspodcast
stitcher
iTunes
Google Play
contact@infamouspodcast.com
The music in this episodes is Moose from Bensound.com. The Infamous Podcast is Johnny Pottorf and Brian Tudor, and is produced and edited by Brian Tudor.

Subscribe today!