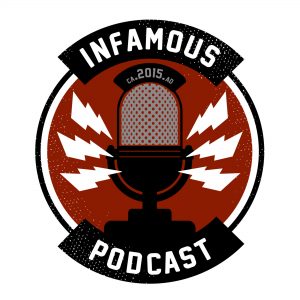 Lava Finds a Way
This week on the podcast Johnny and Brian travel back to Isla Nublar to see what is happening with those pesky dinosaurs clones. Then they spend the episode reviewing the latest Jurassic World outing.
Jurassic World: Fallen Kingdom (2018)
Summary
Three years after the incident at Jurassic World, Isla Nublar has been abandoned. A small team of mercenaries arrives on the island to collect DNA from the Indominus Rex, whose remains lie at the bottom of the park's lagoon. After sending a bone fragment to the surface, the team is attacked by the park's Mosasaurus and Tyrannosaurus rex. As the team barely escapes, the lagoon gate is left open, allowing the Mosasaurus to escape into the ocean.
In the United States mainland, a U.S. Senate hearing debates whether Isla Nublar's dinosaurs should be saved from an impending volcanic eruption. Mathematician Dr. Ian Malcolm testifies that the dinosaurs should be allowed to perish to correct the mistake John Hammond made by cloning them long ago. Meanwhile, Jurassic World's former operations manager, Claire Dearing, has created the Dinosaur Protection Group to save the dinosaurs. When the Senate rules against rescuing the animals, Claire is contacted by Benjamin Lockwood, Hammond's former partner.
Cast & Crew
Directed by
J. A. Bayona
Produced by
Frank Marshall
Patrick Crowley
Belén Atienza
Written by
Colin Trevorrow
Derek Connolly
Based on Characters by
Michael Crichton
Music by
Michael Giacchino
Cinematography
Óscar Faura
Edited by
Bernat Vilaplana
Production companies
Universal Pictures
Amblin Entertainment
The Kennedy/Marshall Company
Legendary Pictures
Distributed by
Universal Pictures
Release date
June 22, 2018
Running time
128 minutes[4]
Budget
$170–187 million
Box office
$717 million (as of recording)
Cast
Chris Pratt as Owen Grady
Bryce Dallas Howard as Claire Dearing
Rafe Spall as Eli Mills
Justice Smith as Franklin Webb
Daniella Pineda as Dr. Zia Rodriguez
James Cromwell as Sir Benjamin Lockwood
Toby Jones as Gunnar Eversol
Ted Levine as Ken Wheatley
B.D. Wong as Dr. Henry Wu
Isabella Sermon as Maisie Lockwood
Geraldine Chaplin as Iris
Jeff Goldblum as Dr. Ian Malcolm
New Comics This Week – Sponsored by comiXology
When you check out make sure to use the code 'Infamous' to get $5 off when you spend $15!


Johnny
ASTRO CITY #52
DESCENDER #31
MARVEL PREVIEWS VOL 04 #12
MOON GIRL AND DEVIL DINOSAUR #32
OUTCAST BY KIRKMAN & AZACETA #36
PREVIEWS
SAGA #53
STAR WARS DOCTOR APHRA #21
STAR WARS LANDO DOUBLE OR NOTHING #2
THANOS WINS TP
TRUE BELIEVERS ANT-MAN & HAWKEYE AVENGERS ASSEMBLE #1
TRUE BELIEVERS ANT-MAN PRESENTS IRON MAN GHOST MACHINE #1
Brian
BATMAN BEYOND #21
DETECTIVE COMICS #983
SAGA #53
SEX CRIMINALS #25
STAR WARS DOCTOR APHRA #21
STAR WARS LANDO DOUBLE OR NOTHING #2
X-MEN BLUE #30
Contact Us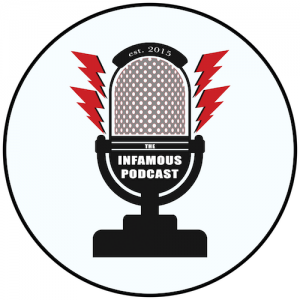 The Infamous Podcast can be found wherever podcasts are found on the Interwebs, feel free to subscribe and follow along on social media. And don't be shy about helping out the show with a 5-star review on Apple Podcasts to help us move up in the ratings.
@infamouspodcast
facebook/infamouspodcast
instagram/infamouspodcast
stitcher
Apple Podcasts
Google Play
contact@infamouspodcast.com
The music in this episodes is Moose from Bensound.com. The Infamous Podcast is Johnny Pottorf and Brian Tudor and is produced and edited by Brian Tudor.

Subscribe today!