Where Oh Where Will We Find Our Wonderful Toys?
This week on the show Johnny and Brian review the latest Avengers: Infinity War Trailer, Talk about the official word about the Toys r Us closings while giving some ideas of what they would like to see next from a national toy retailer, and then they review the latest season of the Netflix Original series Voltron: Legendary Defender.
News Bites
Avengers: Infinity War Trailer
Toys R Us
Amazon Has Considered Buying Some Toys R Us Stores
5 reasons Toys R Us failed to survive bankruptcy
Toys R Us stores may be closing, but name will live on
Voltron: Legendary Defender Season 5
Summary
Shocked by Prince Lotor coming to their rescue in the fight against the evil witch Haggar, the Paladins struggle with whether or not they can really trust him. Though suspicious, Team Voltron is able to liberate more rebels with the aid of Lotor's intel. Just as things start to look hopeful, Zarkon strikes, resulting in a shocking chain of events.
Cast & Crew
Executive producer(s)
Joaquim Dos Santos
Lauren Montgomery
Ted Koplar
Bob Koplar
Yoo Jae Myung
Producer(s)
Choi Goun
Kim Young Hyun
Kim Seul Ki
Lee Soo Kyung
Production company(s)
DreamWorks Animation
World Events Productions
Studio Mir
Distributor
Netflix Streaming Services
NBCUniversal Television Distribution
Voice Cast
Josh Keaton as Takashi "Shiro" Shirogane
Steven Yeun as Keith – The Red Paladin
Jeremy Shada as Lance – The Blue Paladin
Bex Taylor-Klaus as Katie "Pidge" Holt – The Green Paladin
Tyler Labine as Hunk – The Yellow Paladin
Kimberly Brooks as Princess Allura – Crown Princess of Altea, the daughter of King Alfor
Rhys Darby as Coran – The Royal advisor to Princess Allura's family
Neil Kaplan as Emperor Zarkon – The Emperor of the ruthless Galra Empire
Cree Summer as Witch Haggar – Zarkon's primary advisor, and leader of the Druids
A.J. Locascio as Prince Lotor – The son of Zarkon and Honerva (Witch Haggar)
Episodes
The Prisoner
SYNOPSIS
After a daring mission at a key Galra outpost, the team considers a risky alliance. One Paladin leads a journey to retrieve an important prisoner.
Blood Duel
SYNOPSIS
Faced with a painful decision, the Paladins reluctantly come to an agreement with Zarkon. Haggar comes to grips with memories from the past.
Postmortem
SYNOPSIS
A power struggle erupts within the Galra. As the Paladins argue over their next move, an attack forces them to save themselves and the Olkari.
Kral Zera
SYNOPSIS
Shiro acts against the wishes of the other Paladins. Powerful Galra from around the empire convene for the Kral Zera ceremony.
Bloodlines
SYNOPSIS
Keith is sent to find a fellow Blade named Krolia and locate a powerful weapon. Lance, Hunk and Pidgereprogram a robot to have fun.
White Lion
SYNOPSIS
The team searches for a portal to a mysterious, fabled Altean land called Oriande. Shiro starts to feel like there's something wrong with him.
New Comics This Week – Sponsored by comiXology
When you check out make sure to use the code 'Infamous' to get $5 off when you spend $15!


Johnny
DESCENDER #28
HORRORHOUND #70
KICK-ASS #2
OUTCAST BY KIRKMAN & AZACETA #34
SPIDER-MEN II TP
STAR WARS #45
STAR WARS POE DAMERON #25
TRUE BELIEVERS VENOM DARK ORIGIN #1
TRUE BELIEVERS VENOM FLASHPOINT #1
WEAPON H #1
Brian
AMAZING SPIDER-MAN RENEW YOUR VOWS #17
BATMAN #43
KICK-ASS #2
MIGHTY THOR #705
NIGHTWING #41
STAR WARS #45
STAR WARS POE DAMERON #25
SUPER SONS #14 VAR ED
WEAPON H #1
X-MEN GOLD #24 LEG
Contact Us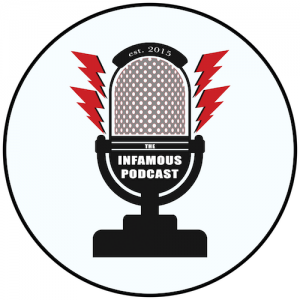 The Infamous Podcast can be found wherever podcasts are found on the Interwebs, feel free to subscribe and follow along on social media. And don't be shy about helping out the show with a 5-star review on Apple Podcasts to help us move up in the ratings.
@infamouspodcast
facebook/infamouspodcast
instagram/infamouspodcast
stitcher
Apple Podcasts
Google Play
contact@infamouspodcast.com
The music in this episodes is Moose from Bensound.com. The Infamous Podcast is Johnny Pottorf and Brian Tudor and is produced and edited by Brian Tudor.

Subscribe today!