Look Who Canceled the Apocalypse
Johnny and Brian are drift compatible this week! The guys are taking a look at one of their favorite monster movies in recent years, Pacific Rim, the first member of the #CertifiedInfamousMovieWatchlist. They also discuss the cast of the Defenders, talk Talia al Ghul on Arrow, and break down the newest Wonder Woman Trailer!
News Bites
The Defenders on Netflix, who's on the team?
Arrow Casts Talia al Ghul!
Wonder Woman gets a new trailer.
Pacific Rim (2013)
Summary
Pacific Rim is a 2013 American science fiction monster film directed by Guillermo del Toro, and starring Charlie Hunnam, Idris Elba, Rinko Kikuchi, Charlie Day, Burn Gorman, Robert Kazinsky, Max Martini, and Ron Perlman. The screenplay is by Travis Beacham and del Toro, with a story by Beacham.
The film is set in the future, when Earth is at war with the Kaiju, colossal monsters which have emerged from an interdimensional portalon the bottom of the Pacific Ocean. To combat the monsters, humanity unites to create the Jaegers, gigantic humanoid mechas each controlled by at least two pilots, whose minds are joined by a neural bridge. Focusing on the war's later days, the story follows Raleigh Becket, a washed-up Jaeger pilot called out of retirement and teamed with rookie pilot Mako Mori as part of a last-ditch effort to defeat the Kaiju.
History
Principal photography began on November 14, 2011 in Toronto and lasted through April 2012. The film was produced by Legendary Pictures and distributed by Warner Bros.. It was released on July 12, 2013 including in 3D and IMAX 3D, receiving generally positive reviews; the visual effects, action sequences and the nostalgic style were highly praised. While the film was a box-office disappointment in the United States, it was highly successful in other territories. It earned a worldwide total of more than $411 million—$114 million in China alone, its largest market—becoming Del Toro's most commercially successful film to date.
A sequel with the working title Pacific Rim: Maelstrom was announced in 2014, and, following delays, is now to be directed by Steven S. DeKnight and produced by Del Toro, for a scheduled release of February 23, 2018.
Cast & Crew
Directed by
Guillermo del Toro
Produced by
Guillermo del Toro
Thomas Tull
Jon Jashni
Mary Parent
Screenplay by
Travis Beacham
Guillermo del Toro
Story by
Travis Beacham
Starring
Charlie Hunnam as Raleigh Becket
Idris Elba as Stacker Pentecost
Rinko Kikuchi as Mako Mori
Charlie Day as Dr. Newton Geiszler
Rob Kazinsky as Chuck Hansen
Max Martini as Herc Hansen
Ron Perlman as Hannibal Chau
Clifton Collins, Jr. as Ops Tendo Choi
Source: Wikipedia
New Comics This Week
Johnny
BITCH PLANET #9
CHAMPIONS #2
CRYPTOCRACY #5
EVERAFTER FROM THE PAGES OF FABLES #3
FAITH #5
GREEN LANTERNS #10
NIGHTWING #8
REVOLUTION #4
SHADE THE CHANGING GIRL #2
SHERIFF OF BABYLON #12
SOUTHERN BASTARDS #15
SPIDER-MAN 2099 #17
WALKING DEAD #160
WOODS #27
Brian
BATMAN #10
CHAMPIONS #2
DEATH OF X #3
NIGHTWING #8 VAR ED
REVOLUTION #4 (OF 5) SUBSCRIPTION VAR D
SPIDER-MAN 2099 #17
TRANSFORMERS TILL ALL ARE ONE REVOLUTION #1
UNFOLLOW #13
UNWORTHY THOR #1
WALKING DEAD #160
Contact Us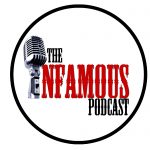 The Infamous Podcast can be found wherever podcasts are found on the Interwebs, feel free to subscribe and follow along on social media. And don't be shy about helping out the show with a 5 star review on iTunes to help us move up in the ratings.
@infamouspodcast
facebook/infamouspodcast
stitcher
iTunes
Google Play
contact@infamouspodcast.com
The music in this episodes is Pomade by Silent Partner. The Infamous Podcast is Johnny Pottorf and Brian Tudor, and is produced and edited by Brian Tudor.

Subscribe today!