Ninja Turtles, Star Wars, And Justice League… It's Good to be a Geek
This week on the show Johnny and Brian take a look at the Justice League Box Office, look ahead to the new Teenage Mutant Ninja Turtles 2D 2018 reboot, and break down the first half of the final season of Star Wars: Rebels. Oh, and the Incredibles 2 preview finally dropped!
The teaser trailer for "Incredibles 2" is here.
Everyone's favorite family of superheroes is back in "Incredibles 2" – but this time Helen (voice of Holly Hunter) is in the spotlight, leaving Bob (voice of Craig T. Nelson) at home with Violet (voice of Sarah Vowell) and Dash (voice of Huck Milner) to navigate the day-to-day heroics of "normal" life. It's a tough transistion for everyone, made tougher by the fact that the family is sttransition of baby Jack-Jack's emerging superpowers. When a new villain hatches a brilliant and dangerous plot, the family and Frozone (voice of Samuel L. Jackson) must find a way to work together again—which is easier said than done, even when they're all Incredible.
Justice League Comes Up Short With $94 Million U.S. Debut Box Office 
Warner Bros.-DC's costly "Justice League" misfired with a $94 million opening weekend at the North American box office — $2 million short of the studio's estimates on Sunday.
The final result caps a disappointing domestic debut that fell far short of expectations, which had been at $110 million before "Justice League" opened on Friday at 4,051 locations. "Justice League" wound up launching with only the eighth-largest opening of 2017 and ranks as the 56th-biggest domestic launch of all time behind 2014's "Guardians of the Galaxy."
Nickelodeon's Teenage Mutant Ninja Turtles animated series is wrapping up its final season and will mark the end of the Turtles' run in 3D animation. But there are a few things certain in this world, and one is that there will pretty much always be a Teenage Mutant Ninja Turtles cartoon on the air somewhere, so when the door to one sewer lair closes, another opens.
The new TMNT animated series scheduled to kick off in 2018 on Nickelodeon will be called Rise of the Teenage Mutant Ninja Turtles and this one is going back to 2D animation, something that seems to be coming back into fashion with Disney's upcoming DuckTales reboot (which looks great) and the impending return of Samurai Jack on Adult Swim.
Following a holiday break, Star Wars Rebels will be back in early 2018 for its final run of episodes leading up to the top-secret series finale.
Episodes
S04 E01 · Heroes of Mandalore: Part 1
S04 E02 · Heroes of Mandalore: Part 2
S04 E03 · In the Name of the Rebellion: Part One
S04 E04 · In the Name of the Rebellion: Part Two
S04 E05 · The Occupation
S04 E06 · Flight of the Defender
S04 E07 · Kindred
S04 E08 · Crawler Commanders
S04 E09 · Rebel Assault
New Comics This Week
Johnny
ASTRO CITY #49
BIG TROUBLE IN LITTLE CHINA OLD MAN JACK #3
COPPERHEAD #16
DOOMSDAY CLOCK #1
FLASH #35
HORRORHOUND #68
KAMANDI CHALLENGE #11
SHERLOCK FRANKENSTEIN & LEGION OF EVIL #2
STAR WARS #39
X-O MANOWAR (2017) #9
Brian
ACTION COMICS #992
AMAZING SPIDER-MAN RENEW YOUR VOWS #13
BATMAN BEYOND #14
CABLE #151
DETECTIVE COMICS #969
DOOMSDAY CLOCK #1
NIGHTWING THE NEW ORDER #4
OPTIMUS PRIME #13
STAR WARS #39
X-MEN GOLD #16
Contact Us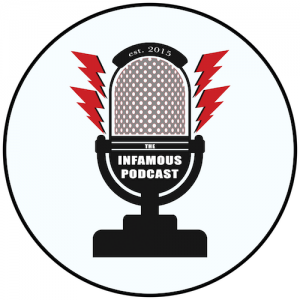 The Infamous Podcast can be found wherever podcasts are found on the Interwebs, feel free to subscribe and follow along on social media. And don't be shy about helping out the show with a 5-star review on Apple Podcasts to help us move up in the ratings.
@infamouspodcast
facebook/infamouspodcast
instagram/infamouspodcast
stitcher
Apple Podcasts
Google Play
contact@infamouspodcast.com
The music in this episodes is Moose from Bensound.com. The Infamous Podcast is Johnny Pottorf and Brian Tudor, and is produced and edited by Brian Tudor.

Subscribe today!