The Toys That Made Us Geeks
This week Johnny and Brian are talking Toys, Toys, Toys! As they look at the Netflix docuseries 'The Toys That Made Us' and talk about how the season one toys affected them growing up. Then they will discuss the merits of the toys they have selected for season 2, and maybe give some suggestions for the next round of toys. But before they get to the toys Johnny FINALLY finished reading Thrawn, so they have a quick chat about the book.
Star Wars: Thrawn (also known simply as Thrawn) is a Star Wars novel by Timothy Zahn, published on April 11, 2017, by Del Rey Books. It chronicles the origins of Grand Admiral Thrawn, a popular character originating from the Star Wars Legends line of works, which were declared non-canon to the franchise after Lucasfilm redefined Star Wars continuity in April 2014. The novel was announced in July 2016 alongside news that the character Thrawn would be reintroduced into the Star Wars franchise on the 3D CGI animated television series Star Wars Rebels.
A sequel to the novel, titled Thrawn: Alliances, was announced during New York Comic Con in October 2017 and is scheduled to be released in 2018.
Originally published: April 11, 2017
Author: Timothy Zahn
Preceded by: Rogue One YA Character Novel
Followed by: Star Wars: A New Dawn
Page count: 448
Publisher: Del Rey Books
The Toys That Made Us
Summary
The Toys That Made Us is an American television series created by Brian Volk-Weiss. The first four episodes of the series began streaming on Netflix on December 22, 2017, and the next four will be released in 2018. The 8-episode documentary series focuses on the history of important toy lines. The first four episodes focused on the Star Wars, He-Man, Barbie, and G.I. Joe toy lines.
Cast & Crew
Created by
Brian Volk-Weiss
Directed by
Tom Stern
Narrated by
Donald Ian Black
Season 1 Episode List
"Star Wars"
In 1977, after being rejected by Mattel and Hasbro, Lucasfilm signed with Kenner Products to have toys produced for their sci-fi film Star Wars. This was a huge gamble, as Kenner was a small toy company at the time and the negotiation process started late due to George Lucas' secrecy over the ship designs. Since then, toy sales of the Star Wars franchise have totaled to US$14 billion worldwide.
"Barbie"
In a toy industry dominated by the male demographic, Mattel co-founder Ruth Handler broke new ground in 1959 when she took a concept based on the German Bild Lilli doll and introduced the world to Barbie. The toy line has since become the largest selling doll and one of the most influential toys in modern history, selling over a billion dolls globally.
"He-Man"
Searching for a new toy line for boys, designers at Mattel saw inspiration from Frank Frazetta's artworks, as well as their creative imagination, and launched the Masters of the Universe action figures. The toy line dominated in sales from US$38.2 million in 1982 to US$400 million in 1986 before its demise in 1987 as a result of sales dropping to US$7 million and the critical and financial failure of the live-action film adaptation.
"G.I. Joe"
Introduced in 1964, Hasbro's G.I. Joe: America's Movable Fighting Man was the first action figure in toy history, but an oil crisis and declining sales led to the line's demise in 1978. Desperate to hold their own against Kenner's Star Wars line, Hasbro took inspiration from the Reagan-era Cold War to revive the line as G.I. Joe: A Real American Hero in 1982, making over US$51 million that year and becoming one of the most influential boys' toys of all time.
LEGO
Transformers
Hello Kitty
Star Trek
New Comics This Week – Sponsored by comiXology

Johnny
COPPERHEAD #18
FUTURE QUEST PRESENTS #6
KONG ON PLANET OF APES #3 (all covers)
PACIFIC RIM AFTERMATH #1
STAR WARS #42
STAR WARS ADV FORCES OF DESTINY HERA
STAR WARS ADVENTURES #6
Brian
BATMAN #39
CHAMPIONS #16
LEGEND OF KORRA TP VOL 02 TURF WARS PT 2
MIGHTY THOR #703
NIGHTWING #37
OPTIMUS PRIME #15
STAR WARS #42
STAR WARS ADV FORCES OF DESTINY HERA
SUPER SONS #12
X-MEN GOLD #20
Contact Us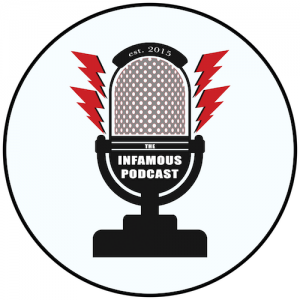 The Infamous Podcast can be found wherever podcasts are found on the Interwebs, feel free to subscribe and follow along on social media. And don't be shy about helping out the show with a 5-star review on Apple Podcasts to help us move up in the ratings.
@infamouspodcast
facebook/infamouspodcast
instagram/infamouspodcast
stitcher
Apple Podcasts
Google Play
contact@infamouspodcast.com
The music in this episodes is Moose from Bensound.com. The Infamous Podcast is Johnny Pottorf and Brian Tudor and is produced and edited by Brian Tudor.

Subscribe today!