Trailers, Bats and Rants… Oh My!
This week Johnny and Brian are talking about the amazing slew of new trailers for all the great new movies and tv shows coming out over the next few months. They also discuss the Batfleck rumors circulating around if Ben Affleck will or won't reprise his role as the Dark Knight in a new movie. Finally, Brian gets up on a soapbox to rail against Marvel Comics new policy on including digital comics with the purchase of the hard copy edition.
News Bites
Ben Affleck Rumored to be Leaving Batman
Brian's Rant About Marvel's New Digital Comics Policy
Latest Trailers
Guardians of the Galaxy
Logan
Transformers: The Last Knight
Ghost in the Shell
Life
The Fate of the Furious
Pirates of the Caribbean: Dead Men Tell No Tales
Stranger Things Season 2
Samurai Jack Season 5
Avengers: Infinity War Preview
New Comics This Week
Johnny
BATMAN TMNT ADVENTURES #4
CAPTAIN AMERICA STEVE ROGERS #11
GENERATION ZERO #7
GREEN LANTERNS #17
HE-MAN THUNDERCATS #5
INVINCIBLE #133
KONG OF SKULL ISLAND #8
MANIFEST DESTINY #26
NIGHTWING #15
SAVAGE #4
STAR TREK BOLDLY GO #5 SUBSCRIPTION VAR
STAR WARS POE DAMERON #11
WALKING DEAD #164
WILD STORM #1
Brian
BATMAN #17
CLONE CONSPIRACY #5
INVINCIBLE #133
NIGHTWING #15
SEX CRIMINALS #16
STAR TREK BOLDLY GO #5
SUPER SONS #1 VAR ED
UNCANNY X-MEN #18 IVX
WALKING DEAD #164
Contact Us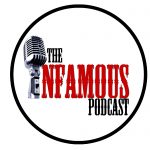 The Infamous Podcast can be found wherever podcasts are found on the Interwebs, feel free to subscribe and follow along on social media. And don't be shy about helping out the show with a 5-star review on iTunes to help us move up in the ratings.
@infamouspodcast
facebook/infamouspodcast
stitcher
iTunes
Google Play
contact@infamouspodcast.com
The music in this episodes is Moose from Bensound.com. The Infamous Podcast is Johnny Pottorf and Brian Tudor, and is produced and edited by Brian Tudor.

Subscribe today!