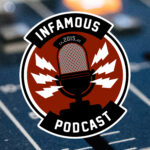 Immortal Badassery!
This week on the podcast Brian and Darryl geek out about the Netflix Original movie 'The Old Guard' starring Charlize Theron (and other people, but come on it's Charlize!). Plus looking at the trailer for Project Power, some Mandalorian news, the Witcher is headed back into productions, and a Bad Batch animated series coming to Duh+ in 2021!
News Bites
The Mandalorian Universe Expands with New Star Wars Books and Comics
The Mandalorian's Giancarlo Esposito Teases Moff Gideon's Darksaber Skills and Force Powers
The Witcher Season 2 Resumes Production In August
Star Wars: The Bad Batch, and all-new animate series, to debut on Disney+ in 2021
'Project Power' Official Trailer on Netflix 8/14/2020
The Old Guard (2020)
Summary
Led by a warrior named Andy (Charlize Theron), a covert group of tight-knit mercenaries with a mysterious inability to die have fought to protect the mortal world for centuries. But when the team is recruited to take on an emergency mission and their extraordinary abilities are suddenly exposed, it's up to Andy and Nile (KiKi Layne), the newest soldier to join their ranks, to help the group eliminate the threat of those who seek to replicate and monetize their power by any means necessary. Based on the acclaimed graphic novel by Greg Rucka and directed by Gina Prince-Bythewood (LOVE & BASKETBALL, BEYOND THE LIGHTS), THE OLD GUARD is a gritty, grounded, action-packed story that shows living forever is harder than it looks.
Cast
Charlize Theron as Andy / Andromache of Scythia
KiKi Layne as Nile Freeman, a former US Marine who served in Afghanistan
Matthias Schoenaerts as Booker / Sebastian Le Livre, once a French soldier who fought under Napoleon
Marwan Kenzari as Joe / Yusuf Al-Kaysani, a Muslim warrior who had participated in the Crusades, as well as Nicky's lover
Luca Marinelli as Nicky / Nicoló di Genova, a former Crusader. He and Joe started off as enemies but became lovers after discovering their immortality
Chiwetel Ejiofor as James Copley, former CIA agent grieving the loss of his wife from ALS
Harry Melling as Steven Merrick, greedy CEO of a pharmaceutical empire
Van Veronica Ngo as Quynh
Anamaria Marinca as Dr. Meta Kozak
Joey Ansah as Keane
Crew
Directed by
Gina Prince-Bythewood
Produced by
David Ellison
Dana Goldberg
Don Granger
Charlize Theron
AJ Dix
Beth Kono
Marc Evans
Screenplay by
Greg Rucka
Based on The Old Guard by
Greg Rucka
Leandro Fernández
Music by
Volker Bertelmann
Dustin O'Halloran
Cinematography
Tami Reiker
Barry Ackroyd
Edited by
Terilyn A. Shropshire
Production company
Skydance Media
Denver and Delilah Productions
Marc Evans Productions
Distributed by
Netflix
Release date
July 10, 2020 (United States)
Running time
125 minutes
Budget
$70 million
Production
In March 2017, Skydance Media picked up the rights to adapt the comic The Old Guard, written by Greg Rucka and illustrated by Leandro Fernandez, into a film. Rucka's contract stipulated that a major scene highlighting the romance between the characters Joe and Nicky from the comic book must also be in the film adaptation.
On July 2018, they hired Gina Prince-Bythewood to direct with Rucka adapting his comic book to screenplay and Skydance's David Ellison, Dana Goldberg and Don Granger producing. With a budget of about $70 million, Prince-Bythewood became the first black woman to direct a big-budget comic book film. In March 2019, Netflix picked up worldwide rights to the film and agreed to finance it with Skydance. Charlize Theron joined the film and also produced with Beth Kono, A.J. Dix, Marc Evans, and Skydance's David Ellison, Dana Goldberg, and Don Granger.
KiKi Layne was confirmed to star in the film after Netflix picked up the rights. In May 2019, Marwan Kenzari, Matthias Schoenaerts, and Luca Marinelli joined the cast of the film. In June 2019, Chiwetel Ejiofor, Harry Melling, and Veronica Ngo joined the cast of the film. At Ngo's request, details of her character were changed from the comic book. In an interview, Rucka said "When Veronica was cast, she said I'm not Japanese, I'm Vietnamese. [Director Gina Prince-Bythewood] reached out to me and said 'Can we accommodate that?' and I was like, 'Absolutely.' […] Noriko becomes Quynh, Quynh is now Vietnamese. It really was as simple as wanting to honor that, and be respectful of that". The other change to the character was the character's death. "In the comic, Quynh/Noriko is washed overboard during a storm rather than deliberately drowned. According to Rucka, that was partially a logistical change to save money. […] But Quynh's new 'death,' solidified by Prince-Bythewood's suggestion of the iron maiden imagery, served an important narrative and tonal role as well".
Principal photography for the film began in Europe in mid-May 2019. Filming took place in Morocco, the United Kingdom, and at Shepperton Studios in England.[citation needed] Sandwich in Kent was used as a double for the French town Goussainville. Sandwich's Discovery Park doubled as Merrick Pharmaceutical headquarters throughout the film.
Dustin O'Halloran and Hauschka composed the film score. Lakeshore Records released the soundtrack on July 10, 2020, coinciding with the film streaming release.
Release
The Old Guard was released on July 10, 2020, on Netflix. It was the top-streamed item on the site over its first weekend.
Reception
On review aggregator website Rotten Tomatoes, the film holds an approval rating of 82% based on 184 reviews, with a weighted average of 6.55/10. The site's critics consensus reads: "The Old Guard is occasionally restricted by genre conventions, but director Gina Prince-Bythewood brings a sophisticated vision to the superhero genre – and some knockout action sequences led by Charlize Theron." At Metacritic, the film has a weighted average score of 70 out of 100, based on 43 critics, indicating "generally favorable reviews".
Kate Erbland of IndieWire gave the film a "B+" and said: "Steeped in hand-to-hand action… but with enough ballistic firepower to kit out a small civil war, every action sequence is more than awe-inspiring; they're necessary to the film itself. Superhero battles that are eye-popping and narratively motivated? Oh, yeah." Owen Gleiberman of Variety called the film a "watchable franchise wannabe" and wrote: "Chunks of the picture are logy and formulaic (it dawdles on for two hours), but the director, Gina Prince-Bythewood (making a major lane change after Love & Basketball and The Secret Life of Bees), stages the fight scenes with ripe executionary finesse, and she teases out a certain soulful quality in her cast."
Manuel São Bento of MSB Reviews gave the film a "B-", and said: "All in all, The Old Guard continues Netflix's trend of original action films boasting riveting set pieces, even though it doesn't quite reach Extraction's level. Greg Rucka delivers a screenplay packed with intriguing lore, which is well-explored and well-established for (what should be) the first movie in a new franchise." Although he praised Theron and Layne's performances, he also felt that the "use of electropop songs throughout the whole film" were "cringe-worthy" and took away from the film. He felt that the film did not live up to its full potential.
Kevin Fallon of The Daily Beast highlighted that The Old Guard "is the first movie without gay superheroes, or the extremely (extremely) rare action film to feature queer characters and acknowledge their romance. […] The sexuality of the characters is matter-of-fact and inconsequential to their ability to kick total-and-complete ass, yet also given the dignity of expressing and showing their love, which is extremely consequential to their daily lives—and has been for a millennia. Which is just about as long as it felt like we've been waiting for this". Benjamin Lee, for The Guardian, wrote, "in 2020, it really shouldn't be such a big deal, but watching a form of unfettered queer love exist within the confines of a fantastical comic book adaptation, aimed at a wide audience, felt major to me". Lee highlighted that this was able to occur because the film premiered on Netflix, however, "the downside is that when the film does inevitably become a streaming hit this weekend, studios won't have a box office total to use as proof, to show that people aren't terrified by two men kissing, a dumb indicator for sure but one that industry heads still desire". Anna Menta of Decider wrote "I hadn't read The Old Guard comic, and I didn't know that writer Greg Rucka had stipulated in his contract that, whenever or however the film got made, it had to include that scene. So when it happened, well, it felt—and still does feel—like a huge freakin' deal. […] It's just as passionate, just as charged, and just as sensual as Han and Leia, Peter and MJ, Peeta and Katniss, or any other heterosexual couple who's had a big kiss moment in an action movie over the years".
Infamous Shirts for Naked Bodies

…

You'll feel "shirty" when you buy our gear from the Flying Pork Apparel Co.
New Comics This Week – Sponsored by comiXology

Brian
DARK NIGHTS DEATH METAL #2
EMPYRE #1 (OF 6) CHRISTOPHER 2-PACK ACTION FIGURE VAR
FANTASTIC FOUR #21
GIANT-SIZE X-MEN MAGNETO #1
NIGHTWING #72
STRANGE ADVENTURES #3
Contact Us
The Infamous Podcast can be found wherever podcasts are found on the Interwebs, feel free to subscribe and follow along on social media. And don't be shy about helping out the show with a 5-star review on Apple Podcasts to help us move up in the ratings.
@infamouspodcast
facebook/infamouspodcast
instagram/infamouspodcast
stitcher
Apple Podcasts
Spotify
Google Play
iHeart Radio
contact@infamouspodcast.com
Our theme music is 'Skate Beat' provided by Michael Henry, with additional music provided by Michael Henry. Find more at MeetMichaelHenry.com.
The Infamous Podcast is hosted by Brian Tudor and recorded in Cincinnati, Ohio. The show is produced and edited by Brian Tudor.



Subscribe today!