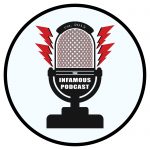 Dragons, Arrows to the Face and Celebrity Pictures!
On this week's episode, Johnny and Brian talk about the latest happenings on the Walking Dead, and break down the differences between the comic book and the show. Then not to be left out Game of Thrones 6th Season premiere is just weeks away (April 24th) so they give a mini breakdown/review of season 5 to get you in the mood to head back to Westeros! Finally, with spring and summer upon us they talk about what it is like to go to a comic con/expo and give some tips and tricks to help make the event enjoyable all around!
The Walking Dead
Episode Recap Season 6 Episode 14: Twice as Far
After a minor victory against The Saviors, a supply run led by Daryl turns chaotic when he and his group cross paths with Dwight.
Differences between the book and the show thus far
Source: ScreenRant
Game of Thrones
Differences between the book and the show thus far
Brian's Order of Songs of Ice and Fire:
A Dance with Dragons (2011)
A Storm of Swords (2000)
A Game of Thrones (1996)
A Clash of Kings (1998)
A Feast for Crows (2005)
Source: AWOIAF
Con Etiquette
Con season is upon us and there are some things to know for newbie and vet attendees alike when it comes to making it an enjoyable event for everyone.
Con Survival Essentials:
Backpack Or Messenger Bag
Keep your hands free so that you can greet other attendees, carry food, or shop the vendors with ease. Fan purchases can become heavy as you walk around the convention floor.
Camera
Between the guest appearances and cosplayers in attendance, you will want to keep a charged camera (with memory card) handy to remember the fun times.
Phone/Battery Charger
There's nothing more disappointing then waiting in line to meet someone and the camera or phone battery dying. Bring your phone charger or an additional fully charged battery for your electronic devices. Invest in a multiple-device charging pad.
Money… lots and lots of money
Seasoned attendees will tell you that the most important thing to carry is extra cash. A majority of the vendors only accept cash payments and the on location ATMs charge large withdrawal fees. Those additional dollars can quickly amount to the expense of purchasing a new autograph, custom sketch, or signed graphic novel.
Make Sure You're Connected
Invest in a good WIFI provider or plan if you intend to share events in real time on your social media accounts or need to make calls. Many venues do not receive cell phone reception in specific areas, making a simple phone call, text, or Instagram post a rather frustrating experience. At the Javits Center in NYC, service for one computer connection can run around $29.95 a day or $69.95 for the entire weekend. Ouch.
Put your best face forward when meeting your icons.
Spending the day in a crowded, hectic space can be sweaty and exhausting. Don't forget to wear comfortable shoes, bring a small hairbrush, and a packet of blotting tissues (for taking photos).
Stay energized
Before heading out, remember to pack healthy drinks and snacks (e.g., Power bars, pretzels, an apple or a sandwich) to tide you over between meals and prevent you from falling asleep during your panels. Extra bottles of water are your friend and can usually be refilled at one of the venue's many drink fountains.
Extra Sharpies
An extra set of markers for autograph sessions and your networking card are additional must have items.
New Comics This Week
Johnny
ALL NEW ALL DIFFERENT AVENGERS #7
ART OPS #6
BILL & TED GO TO HELL #2
BLOODSHOT REBORN ANNUAL 2016 #1
CONTEST OF CHAMPIONS #6
GI JOE DEVIATIONS (ONE SHOT)
JACKED #5
LAST GANG IN TOWN #4
OBI-WAN AND ANAKIN #3
OUTCAST BY KIRKMAN & AZACETA #17
RINGSIDE #5
ROCKETEER AT WAR #2
STAR WARS #17
TOTALLY AWESOME HULK #4
X-O MANOWAR #45
Brian
ANGELA QUEEN OF HEL #6
CIRCUIT BREAKER #1
DELETE #1 (MR)
GRAYSON #18
OBI-WAN AND ANAKIN #3
RINGSIDE #5
STAR WARS #17
TOTALLY AWESOME HULK #4
UNCANNY X-MEN #5
WE ARE ROBIN #10
Contact Us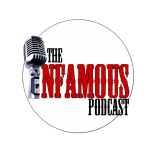 The Infamous Podcast can be found wherever podcasts are found on the Interwebs, feel free to subscribe and follow along on social media. And don't be shy about helping out the show with a 5 star review on iTunes to help us move up in the ratings.
@infamouspodcast
facebook/infamouspodcast
stitcher
iTunes
theinfamouspodcast@gmail.com
The music in this episodes is Pomade by Silent Partner. The Infamous Podcast is Johnny Pottorf and Brian Tudor, and is produced and edited by Brian Tudor.

Subscribe today!