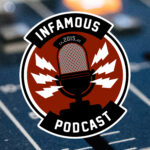 D23, Doctor Who, Game of Thrones and More!
This week Johnny and Brian are talking about the Star Wars and Marvel news from D23, Doctor Who News, Game of Thrones Season 7 Episode 1, and they review War for the Planet of the Apes.
George Romero RIP
George A. Romero, 'Night of the Living Dead' creator, dies at 77
Martin Landau RIP
Martin Landau, Actor Who Won an Oscar for 'Ed Wood,' Dies at 89
Doctor Who
Jodie Whittaker: Doctor Who's 13th Time Lord to be a woman
D23
Marvel
AVENGERS: INFINITY WAR 
This Is Your First Look at Avengers: Infinity War's Thanos
Star Wars
GALAXY'S EDGE REVEALED AS NAME OF STAR WARS LANDS IN DISNEY PARKS
NEW STAR WARS: THE LAST JEDI BEHIND-THE-SCENES FOOTAGE REVEALED
War for the Planet of the Apes (2017)
Summary
War for the Planet of the Apes is a 2017 American science fiction film directed by Matt Reeves and written by Mark Bomback and Reeves. A sequel to Rise of the Planet of the Apes (2011) and Dawn of the Planet of the Apes (2014), it is the third installment in the Planet of the Apes reboot series. The film stars Andy Serkis, Woody Harrelson, Steve Zahn, Amiah Miller, Karin Konoval and Terry Notary, and follows the confrontation between the apes, led by Caesar, and the humans for control of Earth.
Cast & Crew
Directed by
Matt Reeves
Produced by
Peter Chernin
Dylan Clark
Rick Jaffa
Amanda Silver
Written by
Mark Bomback
Matt Reeves
Based on Characters created by
Rick Jaffa
Amanda Silver
Starring
Andy Serkis
Woody Harrelson
Steve Zahn
Music by
Michael Giacchino
Game of Thrones 
Dragonstone (Season 7, Episode 1)
Jon organizes the defense of the North; Cersei tries to even the odds; Daenerys comes home.
New Comics This Week
Johnny
BACK TO THE FUTURE #21
BITCH PLANET TRIPLE FEATURE #2
BRITANNIA WE WHO #4
CURSE WORDS #6
DESCENDER #22
GREEN LANTERNS #27
I HATE FAIRYLAND #14
INVINCIBLE #138
KILL THE MINOTAUR #2
MAGNUS #2
MASK MOBILE ARMORED STRIKE KOMMAND #8
SECRET WEAPONS #2
SPIDER-MAN 2099 #25
STAR WARS DARTH MAUL #5
STAR WARS POE DAMERON #17
Brian
ALL NEW GUARDIANS OF GALAXY #6
AMAZING SPIDER-MAN RENEW YOUR VOWS #9
ARCHIE #22 CVR A
ASTONISHING X-MEN #1
BATMAN #27
INVINCIBLE #138
NIGHTWING #25
SECRET EMPIRE #6
STAR WARS DARTH MAUL #5
STAR WARS POE DAMERON #17
TOTALLY AWESOME HULK #21 WMD
SUPER SONS #6 VAR ED
X-MEN GOLD #8 SE
Contact Us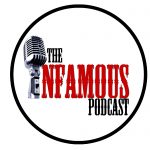 The Infamous Podcast can be found wherever podcasts are found on the Interwebs, feel free to subscribe and follow along on social media. And don't be shy about helping out the show with a 5-star review on iTunes to help us move up in the ratings.
@infamouspodcast
facebook/infamouspodcast
instagram/infamouspodcast
stitcher
iTunes
Google Play
contact@infamouspodcast.com
The music in this episodes is Moose from Bensound.com. The Infamous Podcast is Johnny Pottorf and Brian Tudor, and is produced and edited by Brian Tudor.

Subscribe today!