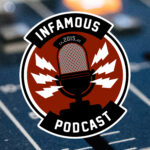 We Fight for the User
This week on Episode 50, Johnny and Brian finish up Disney Sci-Fi month by talking about TRON! They also have some quick news bites and what about that Game of Thrones Season 6 Finale!
News Bites
Starman Movie Remake
Batman vs. Superman Ultimate Cut Steps out of the Shadows
Captain America's Hydra Roots Explained
Star Trek New Movie Universe by Any Other Name
TRON(s) (Legacy)
TRON the 1982 science fiction film written and directed by Steven Lisberger, based on a story by Lisberger and Bonnie MacBird, was produced by Walt Disney Productions. The film stared Jeff Bridges as a computer programmer who was transported inside the software world of a mainframe computer where he interacts with programs in his attempt to escape. Bruce Boxleitner, David Warner, Cindy Morgan, and Barnard Hughes star in supporting roles.
Source: Wikipedia
TRON: Legacy, the 2010 action film directed by Joseph Kosinski from a screenplay written by Adam Horowitz and Edward Kitsis, was based on a story by Horowitz, Kitsis, Brian Klugman and Lee Sternthal. The a sequel to the 1982 film Tron, featured Jeff Bridges and Bruce Boxleitner reprising their roles as Kevin Flynn and Alan Bradley, respectively, as well as Garrett Hedlund, Olivia Wilde, and Michael Sheen. The story follows Flynn's son Sam, who responds to a message from his long-lost father and is transported into a virtual reality called the Grid, where Sam, his father and the algorithm Quorra, stop the malevolent program CLU from invading the human world.
Source: Wikipedia
TRON: Uprising was an animated series and part of the Tron franchise, set between the movies Tron and Tron: Legacy. A total of 19 episodes (a prelude and 18 for the first season) were produced and aired on Disney XD in the United States from May 18, 2012 to January 28, 2013.
Source: Wikipedia
New Comics This Week
Johnny
ALL NEW ALL DIFFERENT AVENGERS #11
ART OPS #9
BLACK PANTHER #3
BLOODSHOT REBORN #14
CAPTAIN AMERICA STEVE ROGERS #2
COLORING DC WONDER WOMAN TP
CRYPTOCRACY #1
DARTH VADER #22
HAUNTED MANSION #4
HILLBILLY #1
INDOCTRINATION #1
JUDGE DREDD (ONGOING) #7
LEGEND #2
MAE #2
PREVIEWS #334 JULY 2016
ROCKETEER AT WAR #4
SPIDER-GWEN ANNUAL #1
X-O MANOWAR #47
Brian
BLACK PANTHER #3
CAPTAIN MARVEL #6 CW2
CRYPTOCRACY #1 (MR)
DARTH VADER #22
EXTRAORDINARY X-MEN #11 AW
GRAYSON ANNUAL #3
JUPITERS LEGACY VOL 2 #1 CVR A QUITELY (MR)
STAR-LORD #8
UNCANNY INHUMANS #11 CW2
UNCANNY X-MEN #9 AW
Contact Us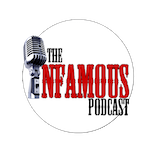 The Infamous Podcast can be found wherever podcasts are found on the Interwebs, feel free to subscribe and follow along on social media. And don't be shy about helping out the show with a 5 star review on iTunes to help us move up in the ratings.
@infamouspodcast
facebook/infamouspodcast
stitcher
iTunes
Google Play
contact@infamouspodcast.com
The music in this episodes is Pomade by Silent Partner. The Infamous Podcast is Johnny Pottorf and Brian Tudor, and is produced and edited by Brian Tudor.

Subscribe today!