Who is Mark Grayson?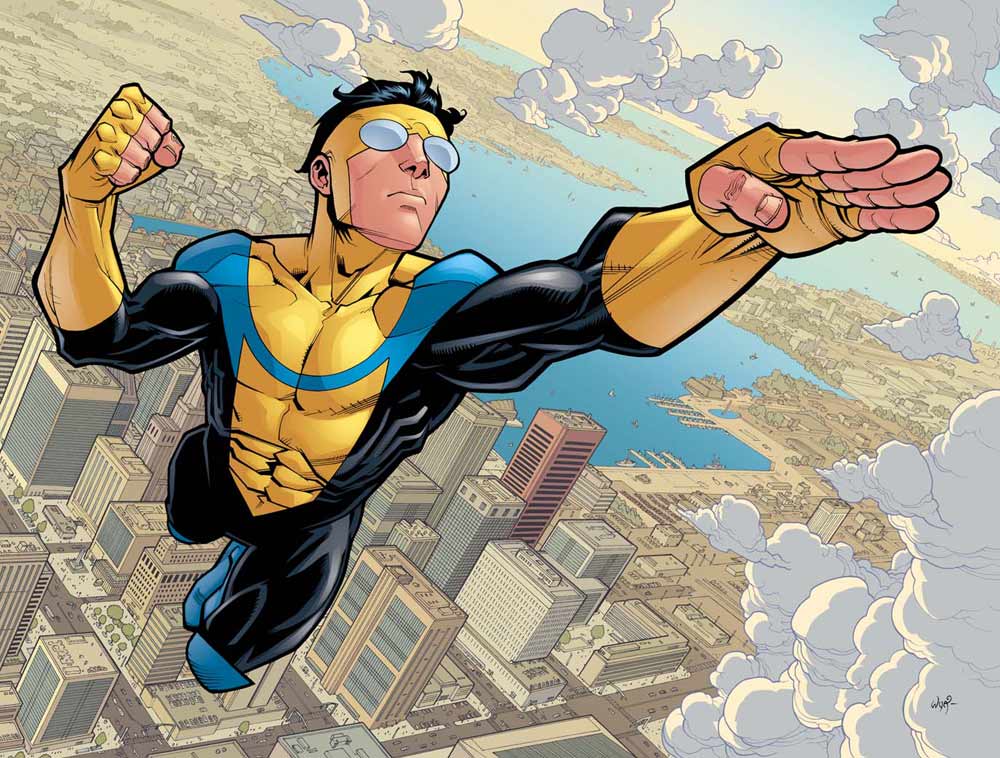 This week Johnny and Brian are taking an in-depth look at one of their favorite comic books, Invincible, from Image Comics. Invincible is the story of Mark Grayson and the trials and tribulations that come alone when an average teenager becomes one of the most powerful beings in the Universe.
New Bites
Why J. Michael Straczynski is Leaving Comics
Marvel Netflix Schedule for Future Shows
Does Suicide Squad Deserve a Low Rotten Tomatoes Score?
Invincible The Universe's Best Superhero Comic
Summary:
Invincible is, Mark Grayson, the teenaged son of Omni-Man, an extraterrestrial superhero of the Viltrumite race. Invincible inherited his father's superhuman strength and ability to fly and he has sworn to protect the Earth. He has had trouble adjusting to his newfound powers and coping with the reality of his origins.
History:
Invincible first appeared in Tech Jacket #1 (November 2002), before graduating to his own self-titled regular series in 2003, as the premier title in Image's then-new superhero line.
Robert Kirkman has been the sole writer of the series, Cory Walker and Ryan Ottley have contributed the art. Cory Walker co-created the book and provided art from #1 to #7. Ryan Ottley assumed art duties with issue #8 and has been pencilling since.
Invincible also appeared in Marvel Team-Up Vol. 3 #14, which was collected in Marvel Team-Up Volume 3: League Of Losers. This story occurs "between the pages" of Invincible #33.
Cast of Characters:
Family:
Omni-Man: Mark's father Nolan, formerly the greatest super-hero of Earth.
Debbie Grayson: Mark's mother, adopted mother of Oliver Grayson.
Oliver Grayson: Mark's alien half-brother. The result of a relationship between Nolan and a member of an alien race who have short life spans, growing at a rapidly increased rate compared to humans, though his father's DNA is slowing his aging over time. Although his mother is an insect-like humanoid, he resembles a Viltrumite/human with purple skin (later fades to pink). Taking first the sobriquet of Kid Omni-Man and then Young Omni-Man, he attempts to rehabilitate Omni-Man memories in the general public.
Atom Eve: Former classmate of Mark's and member of the Teen Team. Eve was created as a result of a government experiment to create super-beings. Can manipulate all matter, although a mental block has previously stopped her from creating and manipulating living things. Previously dating Invincible, the couple are now engaged and have a daughter Terra.
Friends and Allies:
Allen the Alien: Previously a Champion Evaluation Officer who worked for the Coalition of Planets. He traveled on a tight schedule and tested the skills of various powered heroes on each planet in order to determine if there is a suitable "champion" to defend that planet. Currently promoted to leader of the Coalition of Planets.
William Francis Clockwell: Mark's roommate and best friend.
Cecil Stedman: Government liaison and head of the clandestine Global Defense Agency.
Donald Ferguson: Cecil's assistant, Guardians of the Globe contact, and android.
Art Rosenbaum: Tailor of superhero costumes and family friend of the Graysons.
Other Heroes:
The Immortal: Apparently unkillable leader of the Guardians of the Globe. Currently is married to Dupli-Kate. It's suggested in flashbacks that one of his past identities was in fact Abraham Lincoln. In the present storyline is alive. Revealed to rule the world in the far future, where he is finally killed by Invincible at his own behest.
Black Samson: Lost his powers (and with them, his Guardian status) for a while before recovering them very abruptly.
Robot: Former leader of the Teen Team and leader of the Guardians of the Globe until replaced by the Immortal. Not an actual robot, but a drone body controlled by a malformed human living in life-support tank, he cloned a new human body for himself using Rex Splode's DNA with the help of the Mauler twins. Recently became romantically involved with Monster Girl.
Rex Splode: Former member of the Teen Team and the Guardians of the Globe. Sacrificed himself to kill a hostile alternate-dimension Invincible.
Dupli-Kate: Former Member of the Teen Team and the Guardians of the Globe. Creates an army of duplicates of herself.
Bulletproof: Initially turned down of membership in the Guardians of the Globe, Bulletproof did later join the team and is currently a member. (In a related note, Bulletproof was one of the proposed names for the title character before the series saw print.)
Shrinking Ray: Former member of the Guardians of the Globe, now dead.
Monster Girl: A girl who was cursed by a gypsy, now able to turn into a large troll like being with super-strength. A side effect is that with each change into Monster-girl, her normal self becomes younger physically. Her boyfriend, Robot, however found a cure for the curse, allowing her to develop normally.
The Shapesmith: A Martian, disguised as human Rus Livingston, who uses his metamorphic powers to change his shape. Currently a fugitive of Mars for allowing the Sequid fiasco to occur.
Darkwing: Formerly Night Boy, The Original Darkwing's sidekick. He continued Darkwing's legacy but snapped and started killing criminals until Invincible apprehended him. A reformed Darkwing joined the Guardians of the Globe. He can teleport himself and others via the Shadow-verse using any shadow large enough to envelop him. Dragged one of the extra-dimensional Invincibles into the Shadow-verse and his fate is still unclear. Presumed dead.
Fightmaster and Drop Kick: Two time-travelling martial arts masters who stole the Declaration of Independence. From the same era as the future insane Immortal.
Enemies:
Mauler Twins: An evil super-strong scientist and his clone, whom both continuously argue as to which is the original. After the original was definitely killed, making them both clones, they switched to arguing which is the original clone. Recently both Mauler twins were killed by Kid Omni-Man; with no one alive to clone them it is uncertain if they will come back.
Angstrom Levy: A disfigured genius with the ability to leap across dimensions
The Viltrumite Empire: Invincible and Omni-Man's people.
Titan: Titan can encase his body in super-strong, nearly invulnerable rock. Titan first appeared in Capes. Titan was a member of the organized crime group The Order, until Mister Liu revoked his membership.
Battle Beast: One of Machine Head's several henchman, a catlike alien. He is later released from imprisonment on the Viltrumite Prison Warship where Allen the Alien and Omni-Man were held, and Allen the Alien used his insatiable lust for battles to coax him into helping in their jailbreak.
The Flaxans: Aliens from another dimension, in which time passes at a dramatically faster pace.
Machine Head: A crime boss with a robotic head.
D.A. Sinclair: A young and reclusive scientist at Upstate University, is the creator of the "Reanimen", robotic zombies intended to be "the soldiers of the future". Was last seen working on building reanimen using the corpses of the extra-dimensional Invincibles.
Doc Seismic: A villain with special gauntlets that enable him to induce earthquakes. Also controls an army of lava men and other subterranean monsters.
Rus Livingston: An astronaut accidentally left on Mars, he's been attacked and made a host of the psychic Sequids.
The Lizard League: A group of lizard-themed terrorists, they are parodies of fictional reptile based villain groups The Serpent Society, HYDRA and Cobra. The Lizard League consisted of King Lizard, Komodo Dragon, Salamander, and Iguana, along with an army of human followers; their secret headquarters lies in the Florida Everglades and bears a striking resemblance to a Cobra Terror Drome. King Lizard is the only member of the Lizard League to currently be alive.
Conquest: An elderly, battle-scarred member of the Viltrumite Empire and Invincible's most powerful enemy. A psychopath who loves to fight and kill.
Invincible Collected Editions:
Invincible Vol. 1: Family Matters
Invincible Vol. 2: Eight is Enough
Invincible Vol. 3: Perfect Strangers
Invincible Vol. 4: Head of the Class
Invincible Vol. 5: The Facts of Life
Invincible Vol. 6: A Different World
Invincible Vol. 7: Three's Company
Invincible Vol. 8: My Favorite Martian
Invincible Vol. 9: Out of This World
Invincible Vol. 10: Who's the Boss?
Invincible Vol. 11: Happy Days
Invincible Vol. 12: Still Standing
Invincible Vol. 13: Growing Pains
Invincible Vol. 14: The Viltrumite War
Invincible Vol. 15: Get Smart
Invincible Vol. 16: Family Ties
Invincible Vol. 17: What's Happening?
Invincible Vol. 18: The Death of Everyone
Invincible Vol. 19: The War at Home
Invincible Vol. 20: Friends
Invincible Vol. 21: Modern Family
Invincible Vol. 22: Reboot?
Presents: Atom Eve & Rex Splode, Vol. 1
New Comics This Week
Johnny
4001 AD WAR MOTHER #1
ANIMOSITY #1
GREEN LANTERNS #4
JUSTICE LEAGUE #2
KILL OR BE KILLED #1
NIGHTWING #2
PAPER GIRLS #8
SHERIFF OF BABYLON #9 (OF 12)
Brian
BATMAN #4
BATTLESTAR GALACTICA VOL 3 #1 CVR D ADAMS
DOCTOR STRANGE #10
FASTER THAN LIGHT #9
GREEN ARROW #4
GREEN LANTERNS #4
INVINCIBLE IRON MAN #12 CW2
JUGHEAD #8 CVR C VAR SIMONSON
MARVEL TSUM TSUM #1 (OF 4) CLASSIFIED CONNECTING A VAR
NIGHTWING #2 VAR ED
PAPER GIRLS #8
TOKYO GHOST #9 CVR B ALBUQUERQUE (MR)
UNCANNY INHUMANS #12 CW2
UNCANNY X-MEN #11
UNFOLLOW #10 (MR)
WALKING DEAD #157 CVR B ADAMS (MR)
Contact Us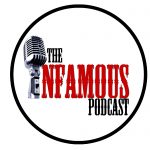 The Infamous Podcast can be found wherever podcasts are found on the Interwebs, feel free to subscribe and follow along on social media. And don't be shy about helping out the show with a 5 star review on iTunes to help us move up in the ratings.
@infamouspodcast
facebook/infamouspodcast
stitcher
iTunes
Google Play
contact@infamouspodcast.com
The music in this episodes is Pomade by Silent Partner. The Infamous Podcast is Johnny Pottorf and Brian Tudor, and is produced and edited by Brian Tudor.

Subscribe today!