Inhumans, Mutants, and Reboots… Oh My!
This week Johnny and Brian decided to make theirs Marvel! They are talking about the 2 newest Marvel property TV Series with the Inhumans on ABC and The Gifted, the future of Mutantkind, on Fox. Finally, they are taking a look at the Marvel Comics Legacy #1, the latest reboot attempt from the House of Ideas.
Marvel's Inhumans  (ABC)
Summary
Marvel's Inhumans, or simply Inhumans, is an American television series created for ABC by Scott Buck, based on the Marvel Comics race of the same name. It is set in the Marvel Cinematic Universe (MCU), sharing continuity with the films and other television series of the franchise. The series is a Marvel and IMAX Entertainment project, produced by ABC Studios and Marvel Television in association with Devilina Productions. Buck serves as showrunner.
The series is centered on Black Bolt, portrayed by Anson Mount, and other members of the Inhuman Royal Family. Serinda Swan, Ken Leung, Eme Ikwuakor, Isabelle Cornish, Ellen Woglom, and Iwan Rheon also star.
Cast & Crew
Created by
Scott Buck
Based on
Inhumans
by Stan Lee
Jack Kirby
Starring
Anson Mount
Serinda Swan
Ken Leung
Eme Ikwuakor
Isabelle Cornish
Ellen Woglom
Iwan Rheon
The Gifted (Fox)
Summary
The Gifted is an American television series created for Fox by Matt Nix, based on Marvel Comics' X-Men properties. It is connected to the X-Men film series, set in an alternate timeline where the X-Men have disappeared. The show is produced by 20th Century Fox Television in association with Marvel Television, with Nix serving as showrunner.
The series stars Stephen Moyer and Amy Acker as ordinary parents who take their family on the run after they discover their children's mutant abilities. Sean Teale, Jamie Chung, Coby Bell, Emma Dumont, Blair Redford, Natalie Alyn Lind, and Percy Hynes White also star in the show
Cast & Crew
Created by
Matt Nix
Starring
Stephen Moyer
Amy Acker
Sean Teale
Jamie Chung
Coby Bell
Emma Dumont
Blair Redford
Natalie Alyn Lind
Percy Hynes White
Marvel Legacy (2017) #1
Summary
It begins at the dawn of the human race, and ends with a child's prayer! In between, empires fall, mysteries brew, secrets are revealed, quests are undertaken and legends are forged! All leading up to the dramatic return you've been waiting for — and one you've been dreading! Jason Aaron (MIGHTY THOR) and Esad Ribic (SECRET WARS) usher in a new dawn — one whose rays will touch every corner of the Marvel Universe in the days to come! MARVEL LEGACY: It's everything you've been longing for — and more!
Credits
Written by
Jason Aaron
Art by
Daniel Acuna
Jim Cheung
Russell Dauterman
Stuart Immonen
Greg Land
Pepe Larraz
Alex Maleev
Ed McGuinness
Steve McNiven
Esad Ribic
Chris Samnee
Cover by
Joe Quesada
New Comics This Week
Johnny
BATMAN THE DAWNBREAKER #1 (METAL)
GREEN LANTERNS #32
I HATE FAIRYLAND SPEC ED CVR A YOUNG
JOURNEY SW LAST JEDI CAPT PHASMA #3
MANIFEST DESTINY #31
NIGHTWING #30
PAPER GIRLS #16
SHADOWMAN/RAE SREMMURD #1
SLOTS #1
STAR WARS #37
STAR WARS DARTH VADER #6
VOLTRON LEGENDARY DEFENDER VOL 2 #1
WALKING DEAD #172
WAR FOR PLANET OF THE APES #4
Brian
ALL NEW GUARDIANS OF GALAXY #11
ASTONISHING X-MEN #4
BATMAN #32
BATMAN WHITE KNIGHT #1
NIGHTWING #30 VAR ED
ROCKET GIRL #10
STAR WARS #37
STAR WARS DARTH VADER #6
WALKING DEAD #172
X-MEN GOLD #13
Contact Us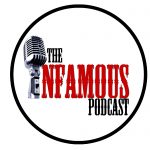 The Infamous Podcast can be found wherever podcasts are found on the Interwebs, feel free to subscribe and follow along on social media. And don't be shy about helping out the show with a 5-star review on iTunes to help us move up in the ratings.
@infamouspodcast
facebook/infamouspodcast
instagram/infamouspodcast
stitcher
iTunes
Google Play
contact@infamouspodcast.com
The music in this episodes is Moose from Bensound.com. The Infamous Podcast is Johnny Pottorf and Brian Tudor, and is produced and edited by Brian Tudor.

Subscribe today!