Friends Don't Let Friends Stream Boring Stuff!
This week Johnny and Brian are talking about some pretty awesome streaming finds to get your new year started off right! They are talking about the films Spectral, Midnight Special, and the HBO Original Series The Leftovers.
News Bite
Star Wars Rebels Season 3.5 Trailer

What We Found Streaming This Week
Spectral (Streaming on Netflix)
Plot
Spectral is an American military science fiction film directed by Nic Mathieu, released on December 9, 2016 on Netflix.
In a war-torn city, a lone Delta Force operative is instantly killed by a mysterious figure invisible to the naked eye.
In Virginia, DARPA researcher Dr. Mark Clyne is informed by his supervisor that he is to be flown to Moldova, where the US military is currently deployed in the ongoing Moldovan War, as his expertise is required regarding a line of hyperspectral imaging goggles of his design that have been issued to troops there.
After arriving at a US Military Air Base on the outskirts of Chișinău, he meets with General Orland, the leader of US troops in the region and CIA officer Fran Madison, who runs the Delta Force missions alongside the military. He is shown several pieces of footage captured by the goggles worn by troops in the field, each showing a mysterious translucent apparition that is humanoid in form and is able to kill almost instantly. Knowing it is something other than interference, Orland wants Clyne's expert opinion before forwarding the findings and footage to his superiors back in the United States. Conversely, Madison believes the sightings to be members of the insurgency (former soldiers loyal to the previous totalitarian regime) wearing an advanced form of active camouflage and has orders from her superiors in Washington, DC to retrieve a sample.
Cast & Crew
Directed by
Nic Mathieu
Produced by
Jon Jashni
Thomas Tull
Screenplay by
George Nolfi
Story by
Ian Fried
Nic Mathieu
Starring
James Badge Dale
Max Martini
Emily Mortimer
Bruce Greenwood
Midnight Special (Streaming on HBO)
Plot
Midnight Special is a 2016 American-Greek science fiction film written and directed by Jeff Nichols, it was selected to compete for the Golden Bear at the 66th Berlin International Film Festival.
In a motel, Roy Tomlin and his friend Lucas watch an AMBER Alert for 8-year old Alton Meyer and his reported abductor, Roy, while the boy plays on the floor.
At the Ranch, a religious cult in rural Texas, Pastor Calvin Meyer dispatches two of his parishioners to retrieve Alton. He then faces his congregation as the FBI storms their church. Agent Paul Sevier asks Calvin how numbers sent via encoded satellite transmissions made their way into his sermons. Calvin explains that Alton speaks in tongues and gave the numbers to Calvin. As Alton's powers grew, his mother abandoned him, and members of the Ranch have been raising him. It is also noted in this sequence that Roy is Alton's father
After a violent confrontation with a state trooper, Roy and Lucas seek cover at the home of Elden, a former Ranch member. During the night, an earthquake seems to wake Roy and Lucas. When they break down the door to Alton's room, they find him communing with Elden by shooting blinding beams of light directly from his eyes into Elden's. Roy knocks Elden out and covers up Alton, who is extremely photosensitive. They take Elden's van and continue on toward a location that Alton specified. Members of the Ranch seem to know this location, but the FBI is desperately trying to figure out where the trio are headed.
Cast & Crew
Directed by
Jeff Nichols
Produced by
Sarah Green
Brian Kavanaugh-Jones
Written by
Jeff Nichols
Starring
Jaeden Lieberher
Michael Shannon
Joel Edgerton
Kirsten Dunst
Adam Driver
Sam Shepard
Music by
The Leftovers (Streaming on HBO)
Plot
The Leftovers is an American television drama series created by Damon Lindelof and Tom Perrotta, airing on HBO. It is based on Perrotta's novel of the same name.
The Leftovers takes place three years after a global event called the "Sudden Departure", the inexplicable, simultaneous disappearance of 140 million people, 2% of the world's population, on October 14, 2011. Following that event, mainstream religions declined, and a number of cults emerged, most notably the Guilty Remnant.
The story focuses primarily on the Garvey family and their acquaintances in the fictional town of Mapleton, New York. Kevin Garvey is the Chief of Police. His wife Laurie has joined the Guilty Remnant. Their son Tommy has left home for college, and their daughter Jill is acting out. The second season moves the main characters to the fictional town of Jarden, Texas.
Cast & Crew
Created by
Damon Lindelof
Tom Perrotta
Based on The Leftovers by
Tom Perrotta
Starring
Justin Theroux
Amy Brenneman
Christopher Eccleston
Liv Tyler
Chris Zylka
Margaret Qualley
Carrie Coon
Emily Meade
Amanda Warren
Ann Dowd
Michael Gaston
Max Carver
Charlie Carver
Annie Q.
Janel Moloney
Regina King
Kevin Carroll
Jovan Adepo
Jasmine Savoy-Brown
Scott Glenn
Theme music composer
Max Richter (season 1)
Opening theme
"Let the Mystery Be" by Iris DeMent (season 2)
New Comics This Week
Johnny
A&A #11
AUTUMNLANDS TOOTH & CLAW #14
BIG TROUBLE LITTLE CHINA ESCAPE NEW YORK #4
CANNIBAL #4
CHAMPIONS #4
EVERAFTER FROM THE PAGES OF FABLES #5
FAITH #7
NIGHTWING #12
SAGA #41
SPIDER-MAN 2099 #19
STAR TREK BOLDLY GO #4 SUBSCRIPTION VAR
WALKING DEAD #162
Brian
CAPTAIN AMERICA SAM WILSON #17
CHAMPIONS #4
NIGHTWING #12 VAR ED
NOVA #2
OPTIMUS PRIME #2
SAGA #41
SPIDER-MAN 2099 #19
STAR TREK BOLDLY GO #4
UNWORTHY THOR #3
Contact Us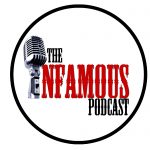 The Infamous Podcast can be found wherever podcasts are found on the Interwebs, feel free to subscribe and follow along on social media. And don't be shy about helping out the show with a 5-star review on iTunes to help us move up in the ratings.
@infamouspodcast
facebook/infamouspodcast
stitcher
iTunes
Google Play
contact@infamouspodcast.com
The music in this episodes is Moose from Bensound.com. The Infamous Podcast is Johnny Pottorf and Brian Tudor, and is produced and edited by Brian Tudor.

Subscribe today!