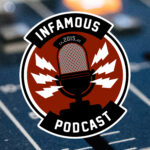 When Bad Comic Book Movies Go Fantastically Wrong
Quick Hits
Weekend Box Office… Mission Impossible: Rogue Nation Wins! Support good movies
Westworld on HBO by creator Jonathan Nolan (Momento, The Dark Knight)

A dark odyssey about the dawn of artificial consciousness and the future of sin. The one-hour drama features actors Anthony Hopkins, Ed Harris, Evan Rachel Wood, James Marsden, Thandie Newton, Jeffrey Wright, Sidse Babett Knudsen, Rodrigo Santoro, Shannon Woodward, Ingrid Bolsø Berdal, Ben Barnes, Jimmi Simpson, Clifton Collins, Jr., Simon Quarterman and Angela Sarafyan.
Main Topic
Fantastic Four Movie Review… 8% Rotten Tomatoes… $26.2 Million 3 Day Opening
Critics Consensus: Dull and downbeat, this Fantastic Four proves a woefully misguided attempt to translate a classic comic series without the humor, joy, or colorful thrills that made it great.

4 Take Aways

Kate Mara's awful wig

Drunk Driving the Teleporter

Characters didn't seem interested in the roles
Chronicle 1.5

Missing the heart of the film… (Ben Grimm)
Missing the conscience of the film… (Sue Storm)
Miles Teller was not cerebral
Johnny Storm was too angry and not so much the prankster or trickster
Franklin Storm was disingenuous
Comic Book movie missing the element of discovery… they didn't freak the fuck out… they just knew how to use their powers

Josh Trank was really just the wrong director without the true voice of what kind of style he needs
Vs. the 2005 movie
Top 5 #Certified Infamous… Movies So Far in 2015
Mad Max Fury Road — 98% Rotten Tomatoes
Avengers: Age of Ultron — 74% Rotten Tomatoes 
Ant Man — 79% Rotten Tomatoes
It Follows — 96% Rotten Tomatoes
Mission Impossible: Rogue Nation — 92% Rotten Tomatoes

Honorable Mention: Jurassic World 79%, Ex Machina 92%
What The Flick?
Movies we are excited for for the rest of 2015

Hunger Games: Mocking Jay: Part 2
Contact Us
The Infamous Podcast can be found wherever podcasts are found on the Interwebs, here's where to go:
@infamouspodcast
facebook/infamouspodcast
stitcher
iTunes
theinfamouspodcast@gmail.com
The music in this episodes is Pomade by Silent Partner. The Infamous Podcast is Brain Williams and Brian Tudor, and is produced and edited by Brian Tudor.