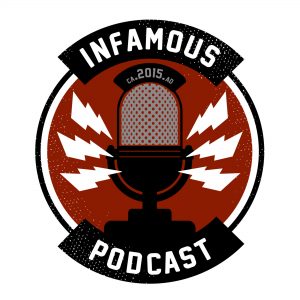 The Punisher Doing What He Does Best
This week on the podcast Johnny and Brian are giving their spoiler review of the latest Netflix Marvel Series, The Punisher!
The Punisher (2017)
Summary
Marvel's The Punisher, or simply The Punisher, is an American web television series created for Netflix by Steve Lightfoot, based on the Marvel Comics character of the same name. It is set in the Marvel Cinematic Universe (MCU), sharing continuity with the films and other television series of the franchise, and is a spin-off of Marvel's Daredevil. The series is produced by Marvel Television in association with ABC Studios and Bohemian Risk Productions, with Lightfoot serving as showrunner.
The series revolves around Frank Castle, who uses lethal methods to fight crime as the vigilante "the Punisher". Jon Bernthal reprises the role as Castle from Daredevil. Ebon Moss-Bachrach, Ben Barnes, Amber Rose Revah, Deborah Ann Woll, Daniel Webber, Jason R. Moore, Paul Schulze, Jaime Ray Newman, and Michael Nathanson also star. A television series centered on the Punisher received a put-pilot commitment at Fox in 2011, but that project fell through. In June 2015, Bernthal was cast as the character to appear in the second season of Daredevil. Development on a spin-off titled The Punisher began by January 2016, before the second season of Daredevil was released. In April 2016, Marvel and Netflix ordered the series, confirmed Bernthal's involvement and announced Lightfoot as executive producer and showrunner. Filming began in New York City in October 2016 and concluded in April 2017.
The Punisher premiered in New York City on November 6, 2017, with the full season of thirteen episodes released on November 17, 2017 on Netflix.
Crew
Created by
Steve Lightfoot
Based on Punisher by
Gerry Conway
John Romita, Sr.
Ross Andru
Executive producer(s)
Tom Shankland
Allie Goss
Laura Delahaye
Kris Henigman
Alan Fine
Stan Lee
Joe Quesada
Karin Zriek
Cindy Holland
Jim Chory
Jeph Loeb
Steve Lightfoot
Location(s)
New York City
Running time
49–58 minutes
Production company(s)
Marvel Television
ABC Studios
Bohemian Risk Productions
Distributor
Netflix
Cast
Main
Jon Bernthal as Frank Castle / Punisher
Ebon Moss-Bachrach as David Lieberman / Micro
Ben Barnes as Billy Russo
Amber Rose Revah as Dinah Madani
Daniel Webber as Lewis Wilson
Paul Schulze as William Rawlins
Jason R. Moore as Curtis Hoyle
Michael Nathanson as Sam Stein
Jaime Ray Newman as Sarah Lieberman
Deborah Ann Woll as Karen Page
Recurring
C. Thomas Howell as Carson Wolf
Shohreh Aghdashloo as Farah Madani
Geoffrey Cantor as Mitchell Ellison
Clancy Brown as Major Ray Schoonover
Delaney Williams as O'Connor
Kelli Barrett as Maria Castle
Aidan Pierce Brennan as Frank Castle Jr.
Nicolette Pierini as Lisa Castle
Kobi Frumer as Zach Lieberman
Ripley Sobo as Leo Lieberman
Tony Plana as Rafael 'Rafi' Hernandez
Jordan Mahome as Isaac
Shez Sardar as Ahmad Zubair
Jeb Kreager as Gunner Henderson
Guest
Mary Elizabeth Mastrantonio as Marion James
Rob Morgan as Turk Barrett
Royce Johnson as Brett Mahoney
Tim Guinee as Clay Wilson
Rick Holmes as Stan Ori
Episode List
3 AM
After exacting revenge on the people responsible for the deaths of his wife and children, Frank Castle uncovers a conspiracy that runs deeper than New York's criminal underworld.
Two Dead Men
A mysterious phone call forces Frank's hand. Meanwhile, Madani goes digging for suspects and Curtis delivers a message.
Kandahar
Frank skips the subtlety while interrogating Micro. Brutal memories of top-secret missions shed light on Frank's past.
Resupply
Madani and Sam plan a delicate operation, Curtis tries to connect with Lewis, and Frank encourages Micro to get his hands dirty.
Gunner
Frank and Micro go looking for answers from a reluctant witness. Madani and Sam learn of a looming investigation. Rawlins sees a ghost.
The Judas Goat
With Frank in bad shape, Micro calls on Curtis for help. Madani and Russo continue to mix business with pleasure. Lewis stands up for his rights.
Crosshairs
Lewis struggles with the ramifications of his actions. Frank and Micro pursue another face from the past. Madani and Sam go bug hunting.
Cold Steel
Russo opens up to Madani about his past, Sarah shares her concerns about her son with Frank, and a decoy operation takes a turn.
Front Toward Enemy
Following a deadly explosion, Karen lands in a bomber's crosshairs — and Frank isn't happy about it. Meanwhile, Curtis makes a grisly discovery.
Virtue of the Vicious
An attack on a high-profile politician is examined (and re-examined) through different perspectives. Madani faces a painful truth.
Danger Close
As danger knocks on Sarah's door, Frank takes his quest for vengeance to the next level with some help from an unexpected ally.
Home
Frank makes a damning confession. A shootout leaves Sarah wondering what to believe. Rawlins goes in for the kill, once and for all.
Memento Mori
As the authorities close in, an exhausted but unbroken Frank vows to put an end to the war that has consumed his life.
New Comics This Week
Johnny
ETERNITY #2
HAL JORDAN AND THE GREEN LANTERN CORPS #33
MANIFEST DESTINY #32
STAR TREK BOLDLY GO #14
STAR TREK DISCOVERY #1
STAR WARS ADVENTURES #4
STAR WARS JEDI REPUBLIC MACE WINDU #4
STAR WARS POE DAMERON #21
WAR MOTHER #4
Brian
BATMAN ANNUAL #2
JEAN GREY #9
JOHN WICK #1
STAR TREK BOLDLY GO #14
STAR WARS ADVENTURES #4
STAR WARS JEDI REPUBLIC MACE WINDU #4
STAR WARS POE DAMERON #21
SUPER SONS ANNUAL #1
TRANSFORMERS LOST LIGHT #11
X-MEN BLUE #16
Contact Us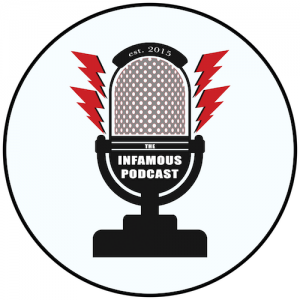 The Infamous Podcast can be found wherever podcasts are found on the Interwebs, feel free to subscribe and follow along on social media. And don't be shy about helping out the show with a 5-star review on Apple Podcasts to help us move up in the ratings.
@infamouspodcast
facebook/infamouspodcast
instagram/infamouspodcast
stitcher
Apple Podcasts
Google Play
contact@infamouspodcast.com
The music in this episodes is Moose from Bensound.com. The Infamous Podcast is Johnny Pottorf and Brian Tudor, and is produced and edited by Brian Tudor.

Subscribe today!