What to Expect to When You're Waiting… for New Stuff to Come Out
This week on the Infamous Podcast: Colton Haynes returns to Arrow, Black Bolt plans to find new life and new civilizations (and talk this time), Han Solo gets a fun new trailer, and Johnny and Brian talk about the power and problems of expectations.
News Bites
Arrow: Colton Haynes Officially Returning as Season 7 Regular
Star Trek: Discovery Adds Anson Mount In Key Role For Season 2
New Solo: a Star Wars Story Trailer
Expectations
There have been a lot of really good movies, tv shows, and comic books to be released over the past few years. However, you'd think everything coming out in the "geek/nerd" genre is utter garbage if you spend more than a few minutes on the Internet (with the exception of Black Panther, everyone loves Black Panther).
Why is this happening? Are we getting tired of consuming our favorite characters across multiple mediums? Is there a fatigue? No, the problem is expectations. Since we all have a voice with social media, blogs, podcasts, and video streaming there has been a swell in the expectations and fan ownership of their favorite stories. But is this a good thing? Discuss.
Here are some RECENT examples of unreal expectations and fan backlash:
The Last Jedi
Justice League
Iron Fist
Ready Player One
War for the Planet of the Apes
Power Ranger
New Comics This Week – Sponsored by comiXology
When you check out make sure to use the code 'Infamous' to get $5 off when you spend $15!


Johnny
CAPTAIN AMERICA #700
EXILES #1
GIDEON FALLS #2
OBLIVION SONG BY KIRKMAN & DE FELICI #2
PLANET OF THE APES URSUS #4
RESIDENT ALIEN #1 (OF 4) ALIEN IN NEW YORK
ROBOCOP CITIZENS ARREST #1
STAR WARS DARTH VADER #14
STAR WARS THRAWN #3
TRUE BELIEVERS INFINITY GAUNTLET #1
TRUE BELIEVERS THANOS RISING #1
VS #3
Brian
CAPTAIN AMERICA #700
CHAMPIONS #19
DETECTIVE COMICS #978
OBLIVION SONG BY KIRKMAN & DE FELICI #2
STAR WARS DARTH VADER #14
STAR WARS THRAWN #3
X-MEN BLUE #25
X-MEN RED #3
Contact Us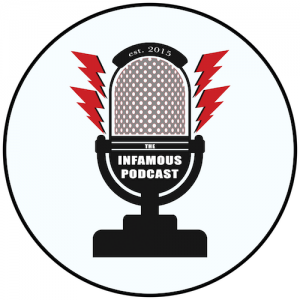 The Infamous Podcast can be found wherever podcasts are found on the Interwebs, feel free to subscribe and follow along on social media. And don't be shy about helping out the show with a 5-star review on Apple Podcasts to help us move up in the ratings.
@infamouspodcast
facebook/infamouspodcast
instagram/infamouspodcast
stitcher
Apple Podcasts
Google Play
contact@infamouspodcast.com
The music in this episodes is Moose from Bensound.com. The Infamous Podcast is Johnny Pottorf and Brian Tudor and is produced and edited by Brian Tudor.

Subscribe today!