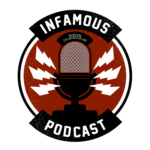 The Boys are Back and So is The Gore
This week on the podcast, Brian and Darryl have a ton of NEWS BITES, talk Supes and Lolo episode 13, and The Boys are BACK!
Episode Index
Intro: 0:07
Top Gun Maverick Box Office: 04:37
Trailers (Prey, Warrior Nun 2, A League of Their Own, Cabinet of Curiosities, Black Adam): 10:24
Supes and Lolo: 39:49
The Boys: 54:44
News Bites
Top Gun Maverick Box Office https://www.boxofficemojo.com/release/rl2500036097/
Prey | Official Trailer | Hulu https://www.youtube.com/watch?v=WhD3xAIZzeg
Warrior Nun Season 2 | Official Teaser | Netflix https://www.youtube.com/watch?v=FS5_aHvF70U
A League of Their Own – Official Teaser | Prime Video https://www.youtube.com/watch?v=kmsrff-pRJ8
GUILLERMO DEL TORO'S CABINET OF CURIOSITIES Official Teaser | Netflix https://www.youtube.com/watch?v=YMUm_Upaqdw
Black Adam – Official Trailer https://www.youtube.com/watch?v=X0tOpBuYasI
Superman and Lois (Season 2 Episode 13)
Out of 5 Long Way Rounds In a Super Suit
Darryl: 4/5
Brian: 3.5/5
Title: "All Is Lost"
Directed by: Elaine Mongeon
Written by: Kristi Korzec
Release Date: June 7, 2022
Summary
Flashbacks show Ally and Lucy's first interactions five years prior. John learns about Natalie's suit and tries to destroy it only to find it impenetrable. Jordan asks Lana if he can reveal his secret to Sarah, but she tells him to stay away. Lana later worries that she's been making too many wrong decisions and is consoled by Kyle. Clark cheers Jordan up by training him at the Fortress. Meanwhile, Lois, Sam, and Chrissy locate Lucy at a cabin in Burnham Woods with other Inverse Society members. Ally arrives and begins siphoning Sam's energy, forcing Lucy to call for Superman. He arrives, and Ally siphons his energy too. Chrissy contacts John and Natalie, who both suit up. After Ally leaves, they're able to revive him and bring him and Sam back to the DOD, where Lucy tearfully reconciles with Sam. Since Superman has been weakened to the point of being a normal human, John tells Jordan, Jonathan, and Natalie that they're all going to have to step up. Ally instructs Lana-Rho to finish off Superman and begins merging the two worlds.
The Boys Season 3 (Episode 1 – 3)
Out of 10 Torn "Peeps"
Darryl: 7/10
Brain: 6.75/10
Title: "Payback"
Directed by: Phil Sgricca
Written by: Craig Rosenberg
Release Date: June 3, 2022
Summary
One year after Stormfront's public controversy, Butcher and most of the Boys work as contractors for Neuman's Bureau of Superhero Affairs to apprehend problematic Supes, with Hughie as their liaison. Edgar offers Annie, who is now publicly dating Hughie, co-captaincy of the Seven to rebuild Vought's reputation, to Homelander's dismay. Edgar also attempts to sell V24, a new Compound V variant that provides temporary enhancements, to U.S. Secretary of Defense Robert Singer to no avail. Maeve secretly meets with Butcher, asking him to look up Payback, a superhero group whose popularity faded after the Seven was formed, and find out the truth about the death of their leader, Soldier Boy, in hopes of finding something that can kill Homelander. She also gives him several V24 vials, which he contemplates using. While leaving work, Hughie spots a man named Tony, who claims to be Neuman's best friend, and calls her Nadia. He follows the pair into an alleyway, where Tony urges her to tell the truth about "Red River". She refuses, prompting Tony to retaliate before she kills him, unaware of Hughie's presence.
Title: "The Only Man in The Sky"
Directed by: Phil Sgricca
Written by: David Reed
Release Date: June 3, 2022
Summary
While the Boys investigate Soldier Boy's death, Hughie visits Red River, an orphanage for superpowered children, and copies its records. Frenchie and Kimiko confront Crimson Countess, Soldier Boy's widow, at Voughtland, but she escapes, mistakenly killing a Homelander mascot in the process. Butcher confronts Soldier Boy's former sidekick Gunpowder but is injured in the ensuing gunfight. Butcher calls Hughie and agrees to stop using violence, but a disillusioned Hughie informs him about Neuman's powers, changing his mind. Butcher takes a dose of V24 and re-confronts Gunpowder, easily defeating him and learning that Soldier Boy died in Nicaragua while on a mission for the CIA led by Mallory. Angered by the discovery, Butcher kills Gunpowder. On his ex-wife's advice, MM rejoins the Boys. In preparation for his upcoming birthday celebration, Homelander pressures Annie to act deferential toward him, but she rebuffs him with Edgar's support. After Stormfront commits suicide hours before the celebration, Homelander melts down during the festivities, ranting that Vought's executives are attempting to control him and insisting that the world needs him because he is the "real hero".
Title: "Barbary Coast"
Directed by: Julian Holmes
Written by: Anslem Richardson & Geoff Aull
Release Date: June 3, 2022
Summary
Following Homelander's rant, his approval ratings among rural white men skyrocket, leading Vought's executives to take a more passive attitude toward his actions, much to Homelander's delight. Amidst pressure from Homelander during the reality TV show American Hero, Annie's childhood friend and ex-boyfriend Supersonic joins the Seven while the Deep is reinstated. Homelander then announces that he and Annie are in love, to which she reluctantly acquiesces. Meanwhile, Mallory reveals Payback was deployed to assist the CIA in fighting a communist government in Nicaragua during the Cold War but were destroyed during an attack by Nicaraguan and Russian soldiers, with Black Noir being critically injured and Soldier Boy being reportedly killed by a Russian superweapon. Enraged that Mallory did not reveal the superweapon's existence to him earlier and still suffering from V24's side effects, Butcher storms out and blames Ryan for Becca's death.
Infamous Shirts for Naked Bodies

…

You'll feel "shirty" when you buy our gear from the Flying Pork Apparel Co.
Contact Us
The Infamous Podcast can be found wherever podcasts are found on the Interwebs, feel free to subscribe and follow along on social media. And don't be shy about helping out the show with a 5-star review on Apple Podcasts to help us move up in the ratings.
@infamouspodcast
facebook/infamouspodcast
instagram/infamouspodcast
stitcher
Apple Podcasts
Spotify
Google Play
iHeart Radio
contact@infamouspodcast.com
Our theme music is 'Skate Beat' provided by Michael Henry, with additional music provided by Michael Henry. Find more at MeetMichaelHenry.com.
The Infamous Podcast is hosted by Brian Tudor and Darryl Jasper, is recorded in Cincinnati, Ohio. The show is produced and edited by Brian Tudor.



Subscribe today!