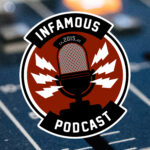 And the NEEEEW!
This week on the podcast, Brian and Darryl are talking about Heels Episode 2, City Primeval Episode 5, and a slate of News Bites.
Episode Index
Intro: 0:07
Captain Kirk: 1:38
Wonder Woman 3: 6:29
Dave Portnoy: 12:38
Heels: 18:35
Justified: 35:54
News Bites
Timothy Olyphant Lost Captain Kirk Role in 'Star Trek' Trilogy, Says J.J. Abrams Told Him: 'I Found a Guy, Younger, Who's Really Good' https://variety.com/2023/film/news/timothy-olyphant-failed-star-trek-audition-captain-kirk-1235693705/
'Wonder Woman 3' Won't Fly in the New DC Universe, Despite Gal Gadot Teasing Development Plans https://variety.com/2023/film/news/gal-gadot-wonder-woman-3-not-in-development-1235693545/
Dave Portnoy Paid $1 (Yes, One Dollar) to Buy Barstool Sports Back From Penn https://variety.com/2023/digital/news/dave-portnoy-barstool-sports-paid-one-dollar-penn-entertainment-1235692418/
Heels (Season 2, Episode 2)
Out of 5 Team-Ups with Your Worst Enemys
Darryl: 3.65/5
Brian: 3.5/5
Title: "The Journey is the Obstacle"
Directed by: Peter Segal
Written by: Mike O'Malley, Patrick Pierut, Michael Waldron
Aired: August 4, 2023
Summary:
Ace begins what he hopes will be his journey of spiritual awakening. Back in Duffy, The collective elation from the South Georgia State Fair is fading fast. The financial vultures are circling after the DWL's success.
Justified: City Primeval (Episode 5)
Out of 5 Is She Really Raylan's Types
Darryl: 2.5/5
Brian: 2.78/5
Title: "You Good?"
Directed by: Kevin Rodney Sullivan
Written by: Eisa Davis & Chris Provenzano
Aired: August 8, 2023
U.S. Viewers: 5,730,000
Summary:
Raylan (Timothy Olyphant) wakes up, discovering that he slept with Carolyn (Aunjanue Ellis) last night. Carolyn states that they will not mention the event, saying their status quo has not changed at all. As he walks out, he meets Jamal (Amin Joseph), who takes a dislike to Raylan.
Mansell (Boyd Holbrook) meets with Sweety (Vondie Curtis-Hall) to discuss any potential targets in the Judge's book. Sweety suggests Burt Dickey (David Cross), a real estate agent in Bloomfield Hills, which Mansell accepts. They visit Dickey and blackmail him into giving up money to have his name removed from the book. Sweety asks for $30,000 but settles for $10,000, infuriating Mansell. That night, Mansell breaks into Dickey's house to retrieve an expensive painting. As the Judge's case has barely made any progress, Downey (Marin Ireland) states that they need to go back to the beginning. Raylan and Wendell (Victor Williams) check on the crime scene but won't find anything through the witnesses and they are unable to reach Detective Raymond Cruz to know more about Mansell.
Infamous Shirts for Naked Bodies

…

You'll feel "shirty" when you buy our gear from the Flying Pork Apparel Co.
Contact Us
The Infamous Podcast can be found wherever podcasts are found on the Interwebs, feel free to subscribe and follow along on social media. And don't be shy about helping out the show with a 5-star review on Apple Podcasts to help us move up in the ratings.
@infamouspodcast
facebook/infamouspodcast
instagram/infamouspodcast
stitcher
Apple Podcasts
Spotify
Google Play
iHeart Radio
contact@infamouspodcast.com
Our theme music is 'Skate Beat' provided by Michael Henry, with additional music provided by Michael Henry. Find more at MeetMichaelHenry.com.
The Infamous Podcast is hosted by Brian Tudor and Darryl Jasper, is recorded in Cincinnati, Ohio. The show is produced and edited by Brian Tudor.



Subscribe today!